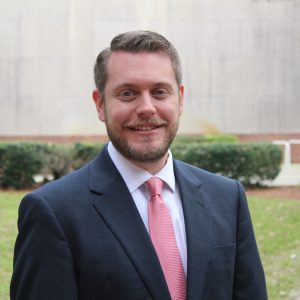 Harrison Hove
Interim Director - Innovation News Center
Senior Lecturer and Associate Chair - Department of Journalism
Bio
Harrison Hove is a senior lecturer and associate chair in the Journalism Department. In addition, he serves as interim director of the Innovation News Center, the college's state-of-the-art, multimedia newsroom, and director of the UF Summer Media Institute, an immersive learning experience for high school students from across the country and globe.
Hove, B.S. Telecommunication 2005, joined UFCJC in 2017. He was named UF Teacher of the Year in 2021 and received a UF Center for Teaching Excellence Rising Star Award in 2021 and 2022. He received first place in the 2021 Association for Education in Journalism and Mass Communication Promising Professors Awards competition sponsored by the Mass Communication and Society Division. Hove's online "Broadcast Writing Bootcamp" course received a 2021 UF Center for Teaching Excellence Exemplary Online Award for instructional strategy.
Since 2018, Hove has mentored eight Hearst Journalism Award National Championship participants, including three national winners, and has advised students who have earned four national student Edward R. Murrow Awards and seven professional regional Murrow Awards.
Before joining the College, Hove was a news anchor, reporter and meteorologist at WCMH-TV (NBC4) in Columbus, Ohio. From 2008 – 2012, Hove was a reporter and meteorologist for the Ohio News Network where he once traveled to Antarctica for a news story. Prior to that, he was a reporter and meteorologist at KLFY-TV in Lafayette, La. He has won numerous industry awards, including the National Award for Excellence in Science Reporting from the American Meteorological Society, regional Emmy awards in 2011, 2012, 2013 and 2015, as well as 21 regional Emmy nominations.
Hove has Bachelor's degrees in Telecommunication and Political Science from UF, a B.S. in Meteorology from Florida State University, an M.A. in Journalism and Media Management from the University of Missouri, and is a Ph.D. candidate at UF in Higher Education Administration.
Areas of Expertise
Broadcast Journalism, Television News
News
Courses
Syllabi from the current and three previous semesters: