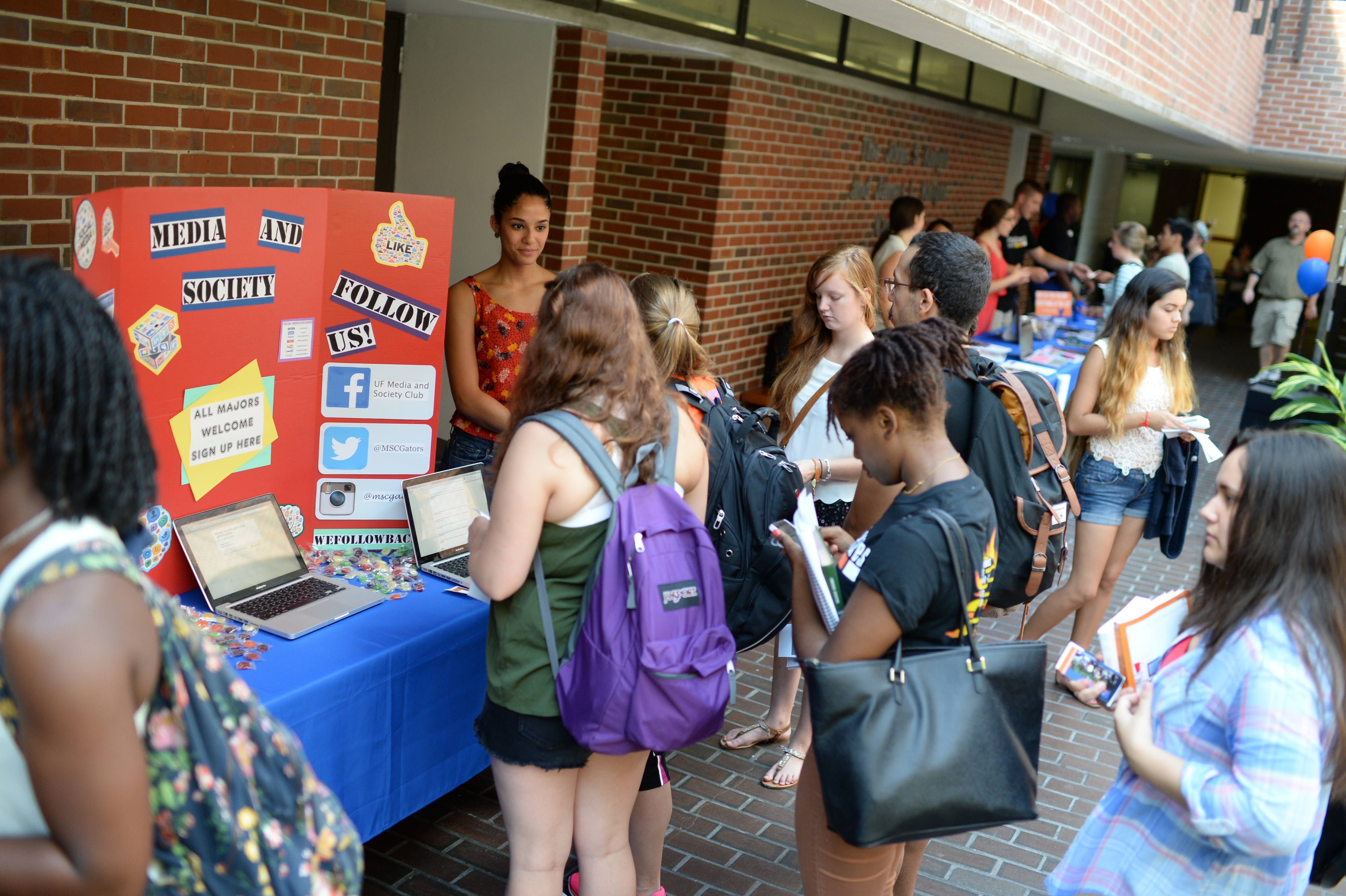 Student Organizations
The College of Journalism and Communications offers its students many opportunities to develop professionally and personally through student organizations. If you need assistance in determining what would be a good fit for you, you may contact Dr. Katrice Graham, Director of the Knight Division, for assistance at KGraham@jou.ufl.edu.
If you are in student organization leadership, please read this document on room reservations for registered student organizations.
The CJC will hold Student Involvement Day on Tuesday, September 12, 2023 from 10 a.m. to 3 p.m.
Advertising Organizations
Ad Society is the largest advertising student organization at the University of Florida. Students can network and build connections with both advertising industry professionals and with fellow students who share the same passion for advertising. Each year, Ad Society hosts guest speakers from leading advertising agencies, schedules trips to visit agencies around the country, sponsors workshops for professional development, and organizes social/networking events for members. All experience levels are welcome! Open to all majors.
Instagram: @ufadsociety
Website: ufadsociety.com
Email: ufadsociety@gmail.com
Elevate, a subgroup within Ad Society, is the only student-run advertising agency at UF. Students work with real clients on real projects. They gain valuable hands-on experience in areas such as account management, research, strategy, creative development, social media content creation, project management and media planning. There is no need for prior advertising knowledge to join Elevate! Applications open every fall. Open to all majors.
Instagram: @ufelevate
Website: ufadsociety.com
Email: ufeleavate@gmail.com
Advnt is a student organization focused on creativity in advertising. Each year, Advnt creates a digital and print portfolio that showcases the best creative advertising work on campus. The Advnt team is made up of copywriters, art directors, illustrators, project managers, social media strategists and web designers. It's a great place to learn more about the ins and outs of creative work within advertising. All experience levels are welcome! Open to all majors.
Instagram: @advntuf
Website: advntuf.wix.com/advnt
Email: ufadvnt@gmail.com
Journalism Organizations
UF AAJA is an organization under the Asian American Journalist Association. A non-profit organization aiming to connect journalist students and professionals across the nation through conferences, network, and AAPI awareness.
Facebook: Asian American Journalists Association
Association of LGBTQ Journalists (NLGJA)
The National Lesbian & Gay Journalists Association – The Association of LGBTQ Journalists is an organization of journalists, media professionals, educators and students who work within the news industry to foster fair and accurate coverage of lesbian, gay, bisexual and transgender issues. NLGJA opposes all forms of workplace bias and provides professional development for its members.
The purpose and mission of NLGJA's student chapter is to provide a network for LGBTQ student journalists and their allies, both on campus and in the greater Gainesville community
Email: NLGJAGator@gmail.com
Atrium magazine, named after the open space in Weimer Hall, is a student-produced publication that aims to tell true stories from Florida that are deeply reported and artfully told. It focuses on issues important or unique to the Sunshine State —  from the environment to changing demographics to racial justice.  The magazine tells stories of people whose voices have not always been heard and of communities that have been underserved. Compelling stories told both in print and through visual journalism.
Link: https://atriummag.org/
The Florida Magazine Student Association is a professional organization committed to serving the employment, educational and social needs of UF students interested in pursuing a career in magazine writing, editing, designing and/or publishing. FMSA connects its members to editors of local and national publications and to the faculty from the College of Journalism and Communications. Members have the opportunity to take part in resume critique workshops every semester, listen to inspiring guest speakers and gain a greater knowledge of the magazine world.
We are also a chapter of Ed2010, a community of young, eager magazine editors and magazine-editor wannabes who want to learn more about the industry and obtain editing positions. For more information, contact Ted Spiker.
Link: Florida Magazine Student Association on Facebook
The Gator Chapter of the National Association of Black Journalists, formerly known as the Association of Black Communicators, was founded in 1980 as the first minority organization in the University of Florida's College of Journalism and Communications. The name was changed in 2012 to reflect its relationship with the National Association of Black Journalists, the professional parent organization. In its 32 years of excellence, it has promoted and encouraged journalism and communications as a career for students while gaining operational support from the college's Knight Division.
Link: nabjgators.wordpress.com
Email: gatornabj@gmail.com
The National Association of Hispanic Journalists Gator Chapter is dedicated to the recognition and professional advancement of Hispanics in journalism.
Link: NAHJ on Facebook
Email: nahjatuf@gmail.com
The National Press Photographers Association is dedicated to the advancement of photojournalism, its creation, editing and distribution, in all news media. NPPA encourages photojournalists to reflect high standards of quality in their professional performance and in their personal code of ethics. NPPA vigorously promotes freedom of the press in all its forms. To this end, NPPA provides continuing educational programs and fraternalism without bias, as we support and acknowledge the best the profession has to offer. Our members include still and television photographers, editors, students and representatives of businesses that serve the photojournalism industry.
Link: nppa.org
Advisor: John Freeman
Orange & Blue is a student-run general-interest magazine produced by students enrolled in JOU4447c Applied Magazines at the University of Florida. The magazine is published twice a year. Inside, you can find spotlights on interesting finds in the local Gainesville area, including art, sports and news.
Link: https://oandbmagazine.wordpress.com/ 
Advisor: Nicole Irving
The Society of Professional Journalists is the leading national organization of student and professional journalists. Membership is open to all students who intend to embark on a career in media. The national organization is especially active in journalism ethics, freedom of information and cases involving the rights of reporters.
Link: UF SPJ on Facebook
Email: floridaspj@gmail.com
Sparks is an Asian American student-run magazine that aims to share the Asian American Pacific Islander experience with the community while elevate student voices.
Link: Sparks at UF on Facebook
Email: ufsparks.editor@gmail.com
Tower Yearbook
Tower Yearbook captures moments and documents memories for the University of Florida community. UF's first yearbook was published in 1910, originally titled "The Seminole." When the book made its revival years later, it was given a new, gator-centric name: The Tower. The Tower Yearbooks were consistently made up until 2008, where the book went on another hiatus. Tower made its return to campus in 2020 and the team now has a staff of photographers, interviewers, designers, and writers.
Facebook
Instagram
Email: uftoweryearbook@gmail.com
Advisor: Ted Spiker
Media Production, Management, and Technology Organizations
A mentorship program for students at the University of Florida College of Journalism and Communications aimed at helping every member become a well-rounded media professional
Link: Association for Media Professionals on Facebook
ChomPics is our national award-winning production group. An offshoot of National Broadcasting Society, students in ChomPics have produced a variety of comedy, dramatic, and entertainment news programs.
Link: ChomPics on Facebook
Email: chompicsproductions@gmail.com
The University of Florida chapter of the National Broadcasting Society provides students with opportunities to prepare for a career in the broadcast, production, or management fields. Make friends, learn about the business, and get vital job tips.
Link: Gator NBS on Facebook
Email: gatornbs@gmail.com
Public Relations Organizations
Public Relations students run Alpha PRoductions, Florida's largest student-run public relations firm.  As a division of the University of Florida's Public Relations Student Society of America chapter, Alpha PRoductions has more than 40 associates who work to perfect campaigns for seven to 10 clients every semester. Clients have included Levi's, STEM Florida and Tioga Dental.
Facebook: Alpha PRoductions
Instagram: @alphaproductions
Twitter: @AlphaPRoduction
Email: ufalphaproductions@gmail.com
The purpose of Asian Public Relations Student Association is to promote diverse experiences and voices within the College by creating an inclusive, judgement-free zone to discuss the intersections of Asian-American culture and the public relations field.
Facebook: Asian Public Relations Student Association
Instagram: @UFAPRSA
Twitter: @UFAPRSA
Email:  ufaprsacomms@gmail.com
Black Public Relations Student Society (BPRSS)
The nation's second Black Public Relations Student Society is here at the University it Florida! Our purpose is to advance the practice of public relations as a marketing discipline, serve as the voice for students of color who will soon be working in the communications field nationwide and empower members through support, resources and education. BPRSS offers guidance and assistance to University of Florida students interested in the media and communication industries. We strive for an increase in mentorship, collaboration, leadership, integrity, community engagement and success!"
Facebook: UF BPRSS
Instagram: @UFBPRSS
Twitter: @UFBPRSS
Email: ufbprss@gmail.com
Chomp
Chomp is part of a statewide organization under the name of the Florida Public Relations Association. The purpose of Chomp is to promote the highest standards of public relations ethics as defined in the Florida Public Relations Association's Code of Ethics. It will also provide forums for the effective exchange of public relations knowledge, ideas, trends and innovations while initiating educational programs concerning public relations. Chomp will strive to foster cooperation, friendship and professionalism among members, faculty, practitioners and other like-minded organizations. Chomp is affiliated with, and will work closely with the Gainesville Chapter of the Florida Public Relations Association incorporating professional relationships to help the members gain knowledge, internship/work experience and additional professional opportunities.
Instagram: @chompfpra
Facebook: @chompfpra
LinkedIn: Chomp FPRA
Email: chompfpra@gmail.com
Founded in 2018, HPRSA is the nation's first student-led public relations association dedicated to the interest and/or expertise of the Hispanic market. Its mission is to advance the practice of Hispanic public relations as a marketing discipline; to serve as the voice for students working in the Hispanic communications field nationwide; and to empower its members through resources, education and a community that will support them throughout their careers.
Instagram: @ufhprsa
LinkedIn: UF HPRSA
Twitter: @ufhprsa
Email: ufhprsa@gmail.com
The Public Relations Student Society of America is one of the most prestigious organizations at the University of Florida and one of the strongest and largest chapters in the nation. It provides superior pre-professional development that consistently places its members ahead of the competition in today's fierce job market.
Link: www.alphaprssa.org
Facebook: UF PRSSA
Instagram: @ufprssa
Twitter: @ufprssa
Email: ufprssa@gmail.com
Sports Media Organizations
Association for Women in Sports Media (AWSM)
AWSM@Florida is UF's collegiate chapter of the Association for Women in Sports Media. AWSM@Florida hopes to help students get their dream job in sports, whether it's journalism, public or media relations, advertising, broadcast or anything in between. AWSM@Florida provides all kinds of resources for students to get involved in the field, such as speakers, events and networking opportunities with fellow sports-loving students and media professionals.
Email: ufawsm@gmail.com
Sports Media Society
UF Sports Media Society promotes development and cohesion among students interested in sports journalism, communication, and information within the College of Journalism and Communications.
Advisor: Eric Esterline
Special Interest Organizations
Public Interest Communications Student Association
The Public Interest Communications Student Association aspires to cultivate the development of communicators interested in effecting positive social change with an emphasis on science-driven approaches. PICSA offers opportunities to learn and grow in the public interest communications field through education, hands-on experience and community. 
Email: floridapicsa@gmail.com
Instagram: @floridapicsa
Facebook: @floridapicsa
Twitter: @floridapicsa
LinkedIn: @floridapicsa
Advisor: Angela Bradbery
Science Communigators trains students to translate science for public consumption. Our articles and videos highlight UF research and esoteric scientific concepts — geared toward a lay audience. We also host events and offer resources to improve science literacy and help students communicate science.
Graduate Student Organizations
GSMCA is a student run organization in the College of Journalism and Communications. It serves as the liaison between the College of Journalism of Mass Communication, the Graduate Student Council and the graduate students. The association's primary purpose is to assist, advise, and inform incoming and currently enrolled graduate students about the program, the university, and living in Gainesville.
General Organizations
CMA EDU is a campus-based program that gathers college students in celebration of their love for music and gives them an inside look into the music industry. In return, CMA leverages these groups for research, marketing, and promotional use on their respective campuses.
Link: CMA EDU on Facebook
HCA was founded in 1992. Its membership encompasses students from all college majors. Based on total Hispanic enrollment, HCA has the highest percentage of participation of any of the college's minority student media organizations.
Link: Hispanic Communicators Association
Email: hcaatuf@gmail.com
The Journalism and Communications Ambassadors are dedicated to promoting high standards of excellence in the University of Florida's College of Journalism & Communications by giving all students access to opportunities for both academic and personal development. This is accomplished by hosting the official college tours, serving as volunteers for various college events and programs, and providing meaningful resources and mentorship to current students.
Facebook: @ufjca
Instagram: @ufjca
Twitter: @ufjca
Website: jca.jou.ufl.edu
Email: ufjcapresident@gmail.com