The College of Journalism and Communications is a leader in preparing
the next generation of communication professionals and scholars.
Join us in our exploration of how effective storytelling,
based on progressive research, can drive social change.
Our immersion programs allow students to gain
hands-on experience working alongside professionals.
CJC also provides life-long learning opportunities for professionals
to improve skills and career advancement.
CJC Insights
View All Insights
Culturally Appropriate Breast Cancer and Environmental Risk Messages: Targeting Racially and Ethnically Diverse Mothers
---
Breast cancer is the most common cancer among women in the United States. It's also the leading cause of death for women globally. But educational information that doesn't take into account cultural differences among women may not be as effective as communication embracing those differences.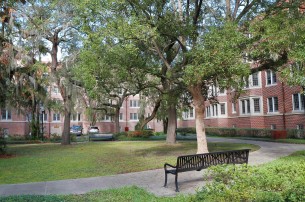 Clay Calvert Comments on Rescinding College Admissions Over Racist Social Media Posts
August 3, 2020
---
View More News