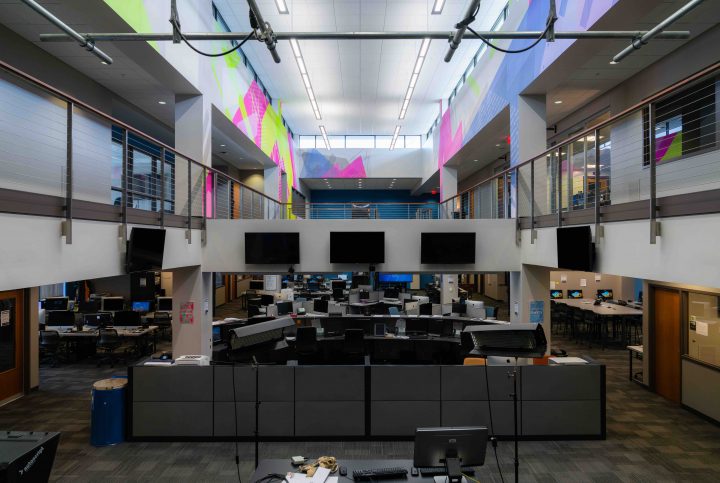 Innovation News Center
The Innovation News Center is the home of the College's news, weather and sports operations. The two-story, 14,000-square-foot space provides nearly 100 seats for reporters, producers and editors working together to report the news in English and Spanish for the College's many distribution channels, including WUFT-TV, WUFT-FM 89.1, ESPN 98.1/850 WRUF-AM, WRUF-TV 6, wuft.org, wruf.com and other affiliated platforms.
The facility, which opened in 2012, allows the College's students to learn to report for multiple platforms in a real-world environment that prepares them to produce content at any type of media organization.
The INC is organized around the super desk. Producers and editors from television, web and radio converge in the multi-platform driven space to  manage the most current local, national and international news. Adjacent are pods of seating for journalism and telecommunication students as they report and produce stories. Sprinkled throughout are television and radio editing stations and audio booths. The space also includes a mini-studio (or "live-shot area") where students create video content for streaming and for broadcast on WUFT-TV and WRUF-TV.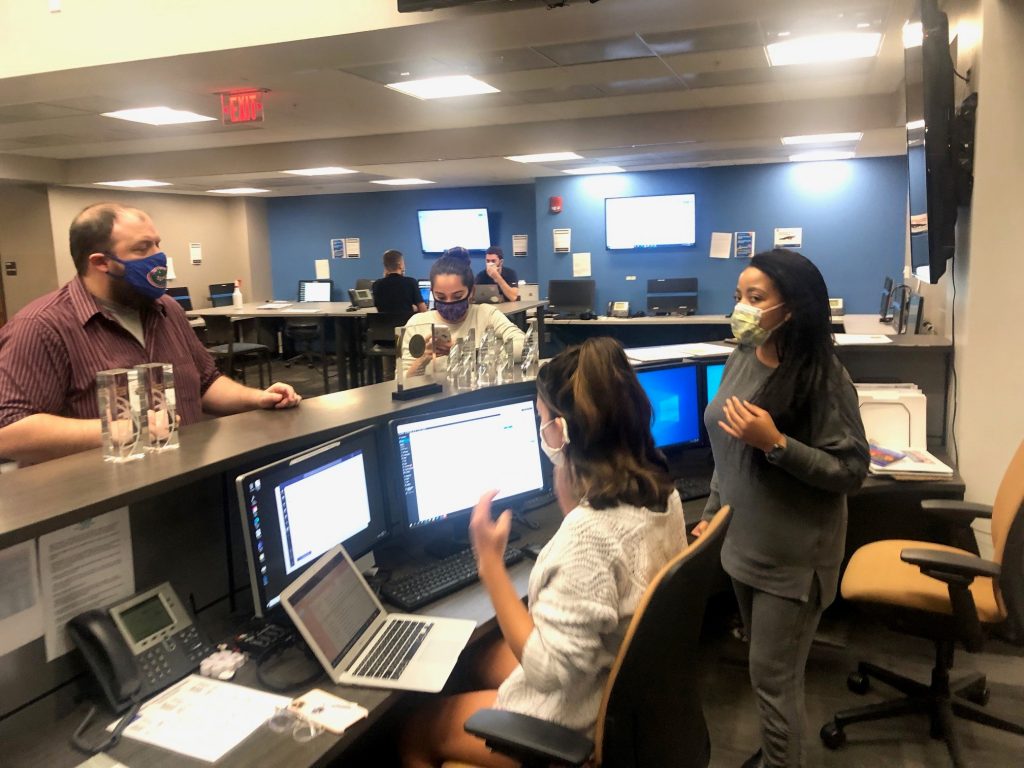 For a list of news awards won by student journalists, click here.
The second-floor space includes a video editing laboratory, a conference room and the College's multi-platform contemporary hit radio station, GHQ, operated by students. All of these spaces overlook the news floor and are connected by two open staircases and bathed in natural light from the clerestory window overhead.
What We Do
The Innovation News Center produces more than six hours of broadcast content every day, plus digital stories, for the media properties that the College controls. These products include:
Live News on Morning Edition and All Things Considered
From 6 to 10 a.m. and 4 to 7 p.m. weekdays, professional and student producers provide local news updates on the NPR affiliate for North Central Florida, WUFT 89.1/90.1 FM.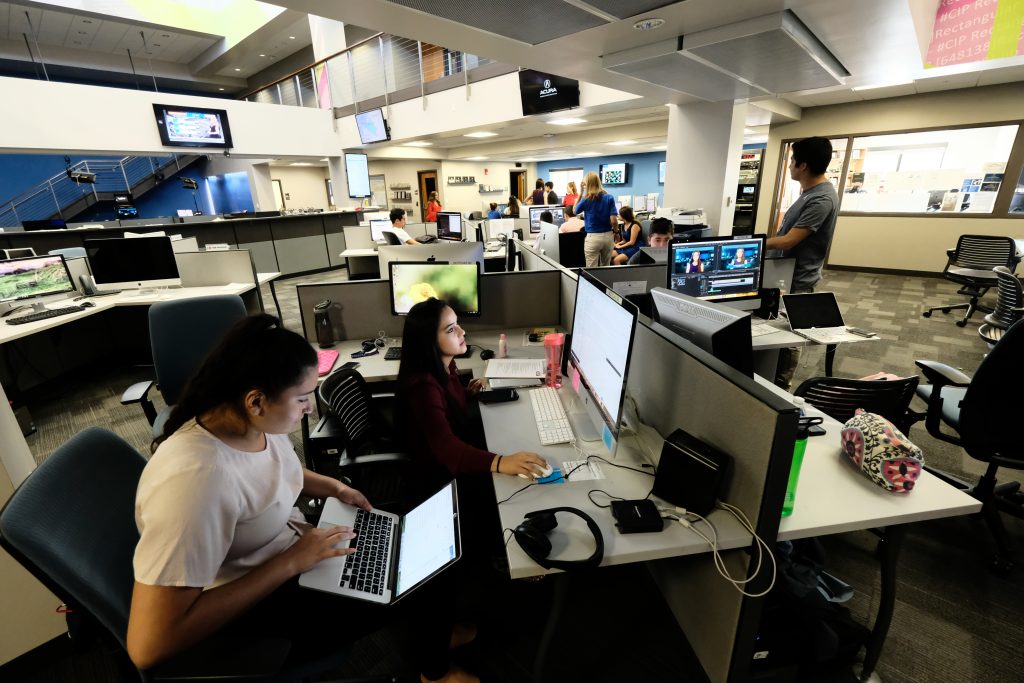 Hourly News & Sports Updates
Every weekday from 10 a.m. to 11 p.m., the INC produces hourly news updates on Florida's WUFT 89.1/90.1 FM. Students working for ESPN 98.1/850 WRUF-AM also produce short updates on what is going on in the world of sports that run on WRUF.
First at Five
Each weeknight at 5 p.m., WUFT News produces a live newscast staffed by a team of student anchors and producers under the supervision of professional news managers for the PBS affiliate, WUFT-TV. This is considered the "flagship" TV experience and is designed to provide a testing ground for local TV news.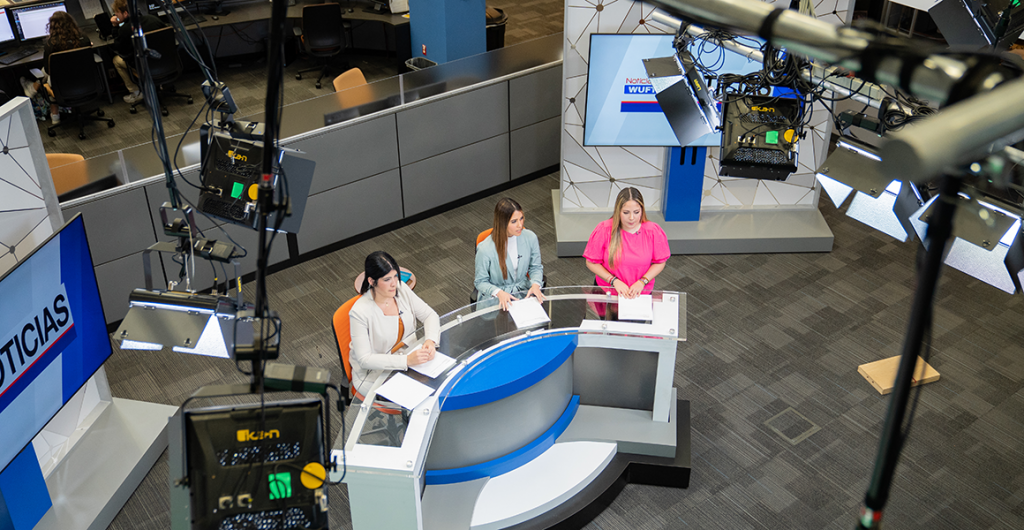 WRUF-TV and WRUF Weather
The 24/7 news, weather and sports format TV station is broadcast digital over-the-air and on Cox cable. Students produce news and sports updates that are interspersed with weather updates by the College's professional meteorologists and student meteorologists in training (MITs). Trainees work through a progression of courses and independent studies, and produce weather segments on WRUF-TV, provide reports for the College's radio stations and anchor weather on WUFT-TV's First at Five newscasts.
WUFT.org
The news content produced by the INC is posted on wuft.org, which serves the local news audience across a 13-county coverage area. The site, which is staffed by students and professionals, also features original enterprise stories, multimedia special reports, video casts, podcasts and newsletters.
Noticias WUFT
This Spanish-language platform is where bilingual students produce news content for radio, TV, web and social media. Under the supervision of a professional news manager, reporters do a weekly radio show that airs Saturday mornings on WUFT-FM, 89.1. They also produce news and sports updates seen on WRUF-TV 6, live newscasts on Facebook and online stories.