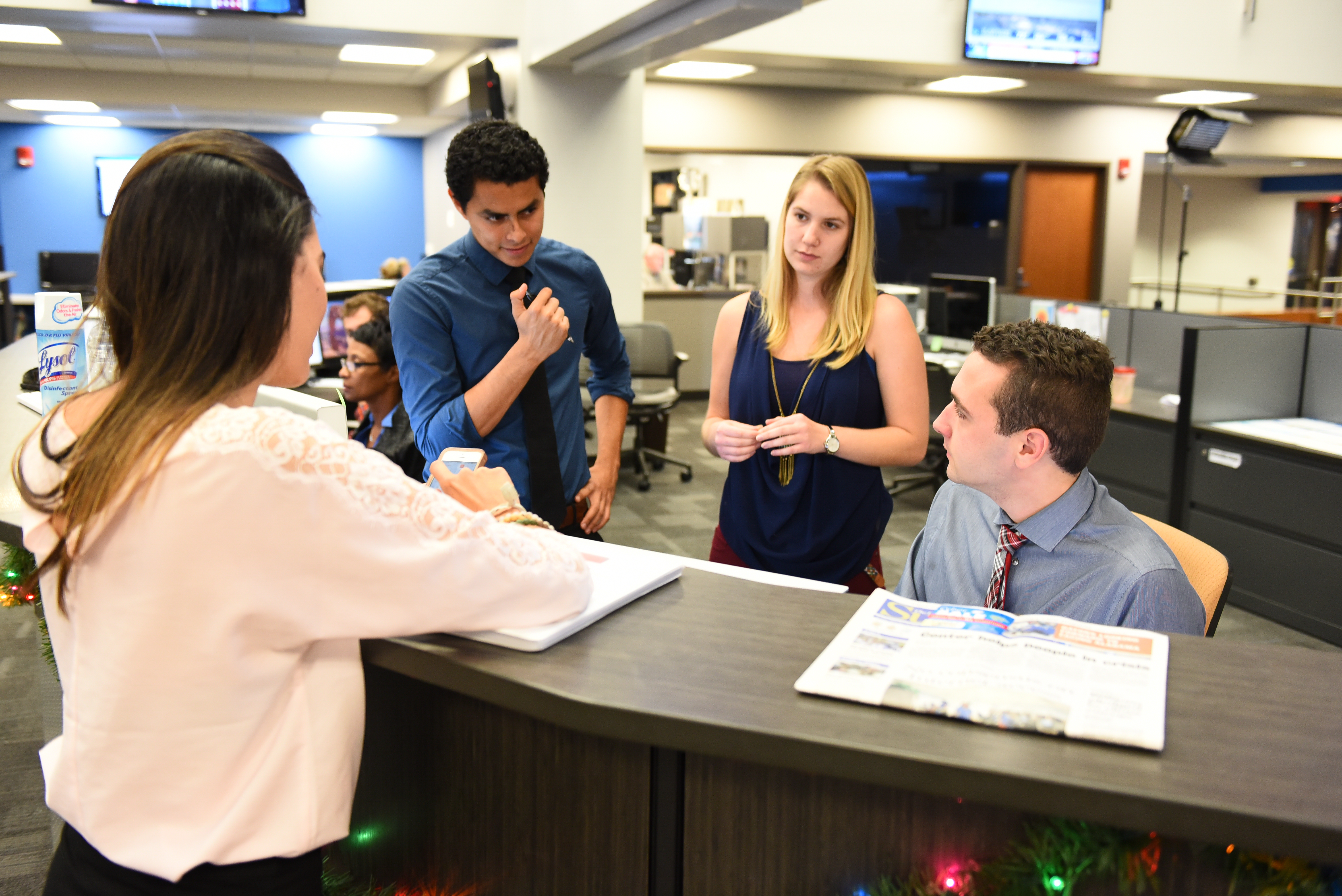 Innovation News Center
The Innovation News Center is the home of the College's news, weather and sports operations. The two-story, 14,000-square-foot space replaced three 1980s-era newsrooms, and provides nearly 100 seats for reporters, producers and editors working together to report the news for the College's many distribution channels, including WUFT-TV, WUFT-FM 89.1, ESPN 98.1/850 WRUF, Country 103.7 the Gator, WRUF-TV 6, wuft.org and other affiliated websites.
The facility, which opened in the fall of 2012, allows the College's students to learn to report from multiple platforms. Using the ROPE model – report once, publish everywhere – students work in a real world environment that prepares them to produce content at any type of media organization.
The INC is organized around a "super desk" where an assignment manager and news managers from web, television and radio are seated. Directly adjacent are seats for senior producers to manage the coverage on each platform. Three pods of nearly 24 seats each hold journalism and telecommunication students as they report and produce stories. Sprinkled through are breakout rooms for team meetings, television and radio editing rooms and audio booths. The space also includes a mini-studio (or "live-shot area") where the College's students create video content for streaming and for broadcast on WUFT-TV and WRUF-TV.
The second floor space includes a video editing laboratory, a conference room and the College's content and product incubator, Hatch. All of these spaces overlook the news floor and are connected by two open staircases and bathed in natural light from the clerestory window overhead.
What We Make
The Innovation News Center produces more than six hours of broadcast content every day, plus digital updates, for the media properties that the College controls. These products include: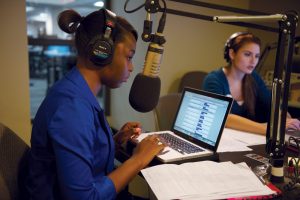 Live news on Morning Edition and All Things Considered
From 6 to 10 a.m. and 4 to 7 p.m. weekdays, student producers, under the supervision of a professional news manager, write and anchor local news updates on the NPR affiliate for North Central Florida, Florida's 89.1 WUFT-FM.
Hourly News & Sports Updates
Every weekday from 10 a.m. to 11 p.m. and Saturdays from 11 a.m. to 7 p.m., the INC produces hourly news updates that run at four past the hour on Florida's 89.1 WUFT-FM. Students working for ESPN 98.1/850 WRUF-AM also produce short updates on what is going on in the world of sports that run on the AM channel. Versions of the updates are also produced for the College's commercial FM country-format station, as well as commercial partner stations owned by Entercom.
First at Five
Each weeknight at 5 p.m., WUFT News produces an evening newscast staffed by a team of student anchors and producers under the supervision of a professional news manager. The team is the same each day of the semester and is considered the "flagship" TV experience produced by WUFT News. It is designed to provide a testing ground for the INC to experiment with what local TV news can and should be. Watch the stream
WRUF-TV & WRUF Weather
The 24/7 news, weather and sports format TV station is broadcast digital over-the-air and on Cox cable. Students produce short news and sports updates that are interspersed with weather updates produced by the College's meteorologist and his meteorologists in training. The MITs work through a progression of courses and independent studies and are seen producing "Weather on the 6s" on WRUF-TV, providing weather for the College's radio stations, and anchoring weather on  "WUFT News First at Five. Stream the station.
WUFT.org
The news content produced by the INC is supplemented and posted on WUFT.org, which serves the local news audience in the 19 counties covered by our terrestrial broadcast towers.  The site is primarily staffed by students in the journalism major who are enrolled in an editing course, who instead of attending a lab-lecture course, spend time working in the INC on real product.