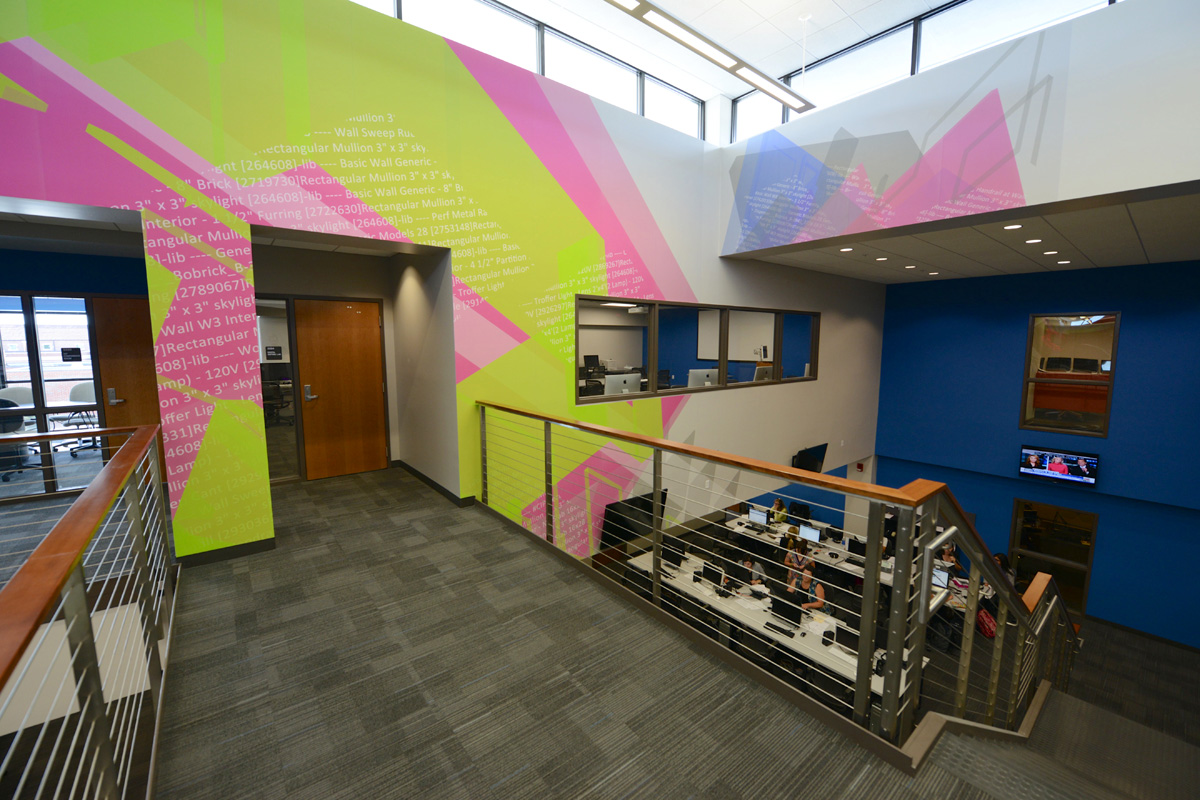 ROLL CALL
May 2017
Alex Cornelio, B.S. Advertising 1991, is president and CEO of EchoPartners in Miami, Fla.
Michael Higdon, B.S. Telecommunication 2014, is the new anchor/reporter at WCSC-TV Live 5 News in Columbia, S.C.
JaSheika James, B.S. Telecommunication 2003, is the executive story editor at Twentieth Century Fox in Los Angeles.
Stuart "Stu" Moore, B.S. Public Relations 1992, is the business continuity manager at JM Family Enterprises in Deerfield Beach, Fla.
Annelie Schmittel, Ph.D. Mass Communication 2015, is celebrating her one-year anniversary with Oakland Raiders Player Engagement.
Kenn Tomasch, B.S. Telecommunication 1987, is southwest region internal communications manager for Cox Communications in Phoenix, Ariz.
April 2017
Albert "Al" Diaz, B.S. Journalism 1983, is a photojournalist for The Miami Herald.
Ronald "Ron" Pecora, B.S. Journalism 1968, is the chief marketing officer for Waste Pro USA.
Michael Petros, B.S. Advertising 1986, is the senior vice president, associate branch manager for private wealth management for Robert. W. Baird & Co.
Brian Siemienas, B.S. Telecommunication 1994, MAMC 1995, is the senior director marketing development for Hilton Grand Vacations.
Heather Traynham, B.S. Telecommunication 1996, is the CEO of LightbulbPR.
February 2017
Paolo Delp, B.S. Public Relations 1991, is the president of Delp & Associates Inc., a healthcare consulting firm.

David Galloway, B.S. Public Relations 1974, is a family law and estate planning attorney in Plant City, Fla.
Steve Sherry, B.S. Advertising 1992, is the president of The Sherry Group LLC, a marketing and brand consulting company focusing mostly on business-to-business and technology.
January 2017
Thomas Armstrong, B.S. Advertising 1986, is the President/CEO of Premium Retail Solutions.

Charles "Charlie" Harris Jr., B.S. Advertising 1978, is the CEO of Central Florida Community Action Agency.
Cindy Kanstoroom, B.S. Advertising 1989, Founder and Principal Managing Partner, NIH Research & Consulting. NIH is celebrating its 25th business anniversary.

Jose Navarro, B.S. Telecommunication 1998, and Mathew Tainow, B.S. Telecommunication 1996, are the owners of Sidebar and Park Bar in Atlanta.
Judge Louis Schiff, B.S. Public Relations 1977, co-wrote Baseball and The Law: Cases and Materials.
Dalton Yancey (aka Frederick D. Yancey III), B.S. Advertising 1967, is the president of Friends of Carr Cabin, Inc. and serves on the board for Florida Hospital Waterman.
November 2016
Julianne Carelli Embry, B.S. Public Relations 1994, is the senior manager, public relations for Office Depot, Inc.
Angela Rodriguez, B.S. Advertising 1999, is the vice president of strategic insights at Alma Advertising Agency.
Sandra Fine, B.S. Public Relations 2002, is senior vice president, director of results measurement for rbb Communications.
Patrick Fraser, B.S. Public Relations 1980, is an investigative reporter for WSVN. Fraser has worked on the "Help Me Howard" segment for over a decade. The segment offers options for viewers facing legal issues.
Lucy Reed, B.S. Journalism 1990, is editor emeritus of The Triton: Nautical News for Captains and Crews.
October 2016
Leslie Zlotnick, B.S. Advertising 2000, is the advertising manager for the Yamaha WaterCraft Group.
Mark Segel, B.S. Telecommunication 1988, is the vice president, market manager for NorthStar Bank.
Ronald Oldano, B.S. Public Relations 1984, is celebrating 21 years as a private wealth advisory practice of Ameriprise Financial Services, Inc.
Dana Kanfer, B.S. Public Relations 1991, is a law clerk at the U.S. District Court Middle District of Florida in Tampa.
September 2016
Courtney Baker, B.S. Advertising 2000, is Anheuser-Busch's Senior Brand Manager for the southeast region.
Cliff Courtney, B.S. Advertising 1980, is the Executive Vice President, Chief Marketing Officer at Zimmerman Advertising.
Jeff Darlington, B.S. Telecommunication 2004, has joined ESPN as a reporter for Sports Center and multiple ESPN platforms.
Kathryn (Stolarz) Deen, B.S. Journalism 2011, was promoted to Managing Editor of The Villages Magazine and The Villages Grandparents Magazine at The Villages Media Group.
Yudi Fernandez, B.S. Journalism 2008, was promoted to Vice President at Schwartz Media Strategies. Fernandez leads bilingual public relations, marketing and digital campaigns for the firm's real estate, hospitality and financial clients.
Robert Imfeld, B.S. Journalism 2011, has written his first children's book entitled A Guide to the Other Side. In his paranormal debut, Imfeld tells the story of a boy, Baylor Bosco, and his ghostly twin sister who work together to pass messages from the beyond. The book will be released on Oct. 4.
Ramon Looby, MAMC 2008, was named Senior Vice President, Public Policy at Bank of America.
Dr. Merrie Meyers, B.S. Public Relations 1978, MAJC 1979, is the grants development manager for the Office of Grants Development of Broward College. She also teaches as an adjunct at several South Florida institutions.
Tony Wickman, B.S. Public Relations 1996, is now the deputy commandant of the Defense Information School at Fort George G. Meade, Md. In this role, he assists the commandant in leading a team of 400 military, civilian and contractor professionals in training nearly 3,000 students a year in various public affairs and visual information disciplines from across the Department of Defense, as well as interagency and international partners.
July/August 2016
Tracy Belcher, B.S. Public Relations 2003, is the Director of Marketing and Communications for the Pérez Art Museum Miami.
Christi Bowen, B.S. Telecommunication 1992, is a voice actor for commercials, corporate narrations, e-learning and business training, phone/on-hold messaging and internet videos
David Bruce, B.S. Advertising 1985, is the Vice President of Corporate Communications and Community Relations for Ryder.
Kristin L. Celano, B.S. Public Relations 2004, is Founder and CEO of JaneHudson, a retail lifestyle brand of luxury basics and womenswear clothing for game day and every day.
Rhonda Victor Sibilia, B.S. Broadcasting 1977, is the Communications Director for the Miami-Dade County Commission on Ethics & Public Trust.
Shane Santiago, B.S. Advertising 1999, is Vice President, Digital Director at St. John & Partners in Jacksonville, Fla.
May/June 2016
Kirsten Flanik, B.S. Advertising 1989
has been promoted to president of BBDO New York.
Amy Hammond, B.S. Public Relations 2002
is a St. Petersburg-based writer. Her five-book series encourages children to form a collegiate allegiance early in life. The series includes When I Grow Up, I'll Be a Gator and follows a young boy as he tours campus and learns what life will be like when he grows up to be a Florida Gator.
Robert McClure, B.S. Journalism 1982
won a Knight Science Journalism Program Fellowship at MIT. The premier global fellowship is for journalists covering science, technology, health and the environment. McClure was one of ten journalists chosen for the 34th class of fellows.
Everton Allen, B. S. Advertising 2011
was promoted to manager of Creative Services for the Miami Marlins.
Carolyn DeWitt, B.S. Public Relations 1980
is a partner at Coherent Counsel where she serves as a diversified business consultant of sales effectiveness, business leadership coaching, strategic planning, and crisis management.
Steve Burkowski, B.S. Telecommunication 1994
is on air talent for the Golf Channel.
April 2016
Don McLearn,  MAJC 1979
was inducted into the National Public Relations Society of America's National Capital Chapter Hall of Fame. McLearn, who is now retired, served as the commissioner for public affairs at the U. S. Food and Drug Administration (FDA) for 17 years before joining FleishmanHillard as a senior vice president in the Healthcare Practice.
Chad Robinson, B.S. Telecommunication 2005
is the Miami Marlins' Public Address Announcer.
David Deliman, B.S. Telecommunication 1994
has recently been named Market Vice President for the Gulf Coast market for Cox Communications.
Mark Feinberg, B.S. Broadcasting 1985
is the owner and executive producer for Fine Productions which specializes in corporate video productions, broadcast television commercials and media video news releases.
C.L. Conroy, B.S. Public Relations 1980
is the founder of The Conroy Martinez Group based in Coral Gables, Fla. Celebrating their 25th anniversary, the organization is a full-service, bilingual and bicultural (English-Spanish) public relations, marketing and social media firm.
Robert "Bob" Rothman, B.S. Journalism 1974
was named Atlanta Lawyer of the Year for First Amendment Litigation by Best Lawyers in America. This is the second time he has been honored in the last three years.  (Profile)
March 2016
Robert "Bob" Bobber Jr., BS Journalism, 1971
is president of RJ Publishing Solutions where he handles small publications. Bobber retired after more than 30 years in newspaper circulation.
Bob Morris, BS Journalism, 1975
is president of Story Farm, a custom publishing company for restaurants, chefs, museums, resorts, and even the average travel noire. Story Farm also offers public relations and marketing. Morris has written five mystery novels set in the Caribbean and Florida.
Ron Rothberg, BS Advertising, 1985
is the digital media manager Mid-South Region for Comcast Spotlight, the Ad Sales Division of Comcast.
Bonnie Solloway, BS Advertising
is the executive producer for the First Coast News WTLV NBC12/WJXX ABC25 show "The Chat."
Jackii Molsick, BS Advertising, 1979
is a signature member of the Florida Watercolorist Society. She teaches classes at her studio named Jackii Molsick Fine Art.
Marc Lubet, BS Journalism, 1969
is a judge for the Ninth Judicial Circuit Court in Orange County. Previously he was a defense lawyer for 32 years.