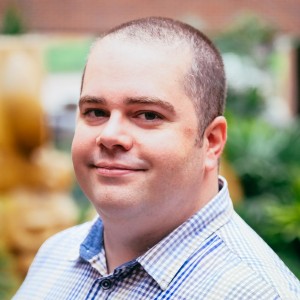 Benjamin Johnson, Ph.D.
Assistant Professor - Department of Advertising
Bio
Johnson comes to UF from Vrije Universiteit Amsterdam where he was assistant professor in communication science. Previously, he was a graduate associate at Ohio State and director of the Telecommunications Center and instructor in English, modern languages and mass communication at Albany State University.
Education
Ph.D., Ohio State University, 2014
M.A., Michigan State University, 2007
B.S., University of Indianapolis, 2005
News
Fall 2018 Office Hours
Tuesdays:  10:00 a.m.-1:00 p.m.
Publications
Johnson, B. K., & Rosenbaum, J. E. (in press). (Don't) tell me how it ends: Spoilers, enjoyment, and involvement in television and film. Media Psychology.
Eden, A., Johnson, B. K., & Hartmann, T. (2018). Entertainment as a creature comfort: Self-control and the selection of challenging media. Media Psychology, 21(3), 352-376.
Johnson, B. K., & Ranzini, G. (2018). Click here to look clever: Self-presentation via selective sharing of music and film on social media. Computers in Human Behavior, 82, 148-158.
Rosenbaum, J. E., Johnson, B. K., & Dean, A. E. (2018). Health literacy and digital media use: Assessing the Health Literacy Skills Instrument – Short Form and its correlates among African American college students. Digital Health, 4, article 14.
Johnson, B. K., & Knobloch-Westerwick, S. (2017). When misery avoids company: Selective social comparisons to photographic online profiles. Human Communication Research, 43(1), 54-75.
Johnson, B. K., Slater, M. D., Silver, N. A, & Ewoldsen, D. R. (2016). Entertainment and expanding boundaries of the self: Relief from the constraints of the everyday. Journal of Communication, 66(3), 386-408.
Courses
Syllabi from the current and three previous semesters: