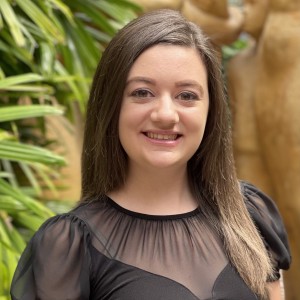 Brittany Shaughnessy
Ph.D.
Public Relations
Bio
Brittany is a doctoral student and graduate assistant in the College of Journalism and Communications at the University of Florida. Specializing in political communication, her research interests primarily include the influence of populist beliefs and behaviors on media and politics. For example, are those consuming certain news media predisposed to populist beliefs? Beyond populism, Brittany is interested in selective exposure, media trust, and political public relations. She received her BA in communication from Coastal Carolina University and her MA in communication from Virginia Tech.
Awards and Honors
Top Paper: Media Communication, Eastern Communication Association, 2020.
Top Paper: Popular Culture, Southern States Communication Association, 2019.
Fellow, Edgar Dyer Institute for Leadership and Public Policy, 2018.
First Place: Series of Articles, South Carolina Collegiate Press Association, 2017.
Publications
Refereed Journal Articles
Holody, K. J., & Shaughnessy, B. R. (2021). #NEVERAGAIN: Framing in community and national news coverage of the Parkland mass shootings. Journalism Practice. DOI: 10.1080/17512786.2020.1816857
Duncan, M., Perryman, M., & Shaughnessy, B. (2021). Same scandal, different standards: The effect of partisanship on expectations of news reports about whistleblowers. Mass Communication and Society. DOI: 10.1080/15205436.2021.1936558
Presentations
Shaughnessy, B., Hutchens, M., & DuBosar, E. (2022). That is so mainstream: Understanding US alternative media audiences and their relationship with misperceptions. Paper/Poster at Association for Education in Journalism and Mass Communnication, Detroit, MI.
Hutchens, M., Shaughnessy, B., & DuBosar, E. (2022). Populist hyper-partisans? The interaction between partisan media exposure and populism in the 2020 US Presidential election. Paper/Poster at International Communication Association, Paris, France.
Shaughnessy, B., Albishri, O., Arceneaux, P., Dagher, N., & Kiousis, S. (2022). Morality on the ballot: Merging agenda building with Moral Foundations Theory. Paper/Poster at International Communication Association Conference, Paris, France.
Quesenberry, B., & Shaughnessy, B. (2021). Transforming group speech assignments for an online classroom. Oral Presentation at National Communication Association, Seattle, WA.
Research
Specialization
Populism, political communication, selective exposure, political public relations