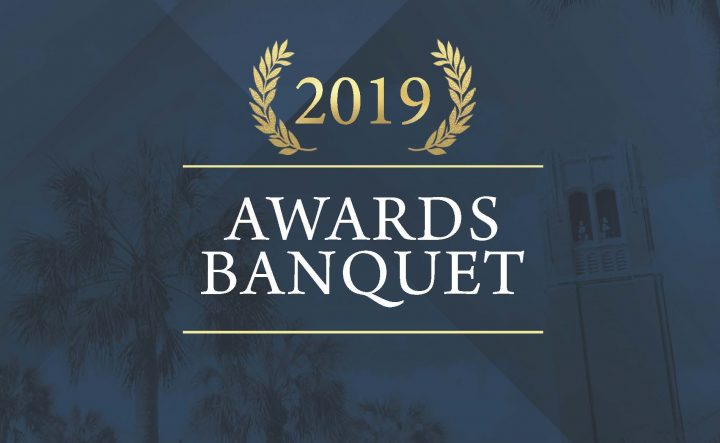 College  Awards
The University of Florida College of Journalism and Communications honors its best and brightest students, faculty and alumni each year. The annual College Awards Banquet was held on April 12 at the UF Hilton and Conference Center in Gainesville. A copy of the program with an explanation of the named awards is available here.
The College inducted four alumni into its Hall of Fame:
Following is the full list of faculty and student awards.
Faculty and Staff
Graduate and Research
Amanda Bradshaw, Julie Dodd Outstanding Graduate Student Teaching Award
Alexis Bajalia, Outstanding Master's Students
Phillip Arceneaux and Min Xiao, Outstanding Student Research Award
Undergraduate Awards
College-Wide Awards
Stella Kim, Ruth and Rae O. Weimer Award
Alexander Duran and Grace King, Dean's Cup for Professional Promise
Eugenia Blaubach and Brooke Rabinovich, Dean's Cup for Scholarship
Meredith Sheldon, Dean's Cup for Service
Brooke Rabinovich, Outstanding Advertising Scholar
Isabella Pinzon, Joseph R. Pisani Service Award
Alexa Padron, W. Robert Glafcke Award
Alexander Duran, Richard W. McGinnis Professional Promise Award
Kathleen Driscoll, John Sutherland Great Ideas Award
Denise Akerman, Respess Award
Katie Campione and Meredith Sheldon, Outstanding Journalism Scholar
Scottie Andrew, John Paul Jones Jr. Award
Paige Fry, Elmer Emig Award
Romy Ellenbogen and Meryl Kornfield, H.G. "Buddy" Davis Award
Max Chesnes, Society of Professional Journalists Award
Brooke Henderson, Jean Chance Service Award
Eugenia Blaubach, Outstanding Public Relations Scholar
Andrea Mora, Frank K. Rathbun PRSSA Award
Nicole Graney and Jamie Honowitz, Charles Wellborn Service Award
Jordan McCrary, Jack Detweiler Professional Promise in Public Relations Award
Stella Kim, Florida Public Relations Association Award
Madison Wolk, Outstanding Telecommunication Scholar
Christian Gentolia and Rachel Wang, Major Garland Powell Award
Tamara Dobry, Mary Burton Award
Nicole Bianco, F. Leslie Smith Management Award
Grace King, WJXT-TV Award
Katie Ryan, Summer 2018
Anna Molinaro, Fall 2018
Nala Velez, Spring 2019
Meredith Sheldon and Laurel Biddy, Jon Quattlebaum Award
Dolores Hinckley, Ralph L. Lowenstein Broadcast News Award
Sofia Millar, Kenneth A. Christiansen Award
Christian Gentolia, TV Production and Creative Services Frank Counts Award
Courtney Mims, "Red" Barber Award
Raymon Troncoso, Doris Bardon Award
Cat Gloria, Excellence in Digital Media Award
Bryan Boggiano, Excellence in Multimedia Meteorology Award
Amy Nelson and Mary Grace Scully, Excellence in Media Leadership
Claudia Perez-Brito, Excellence in Spanish-Language Media Award