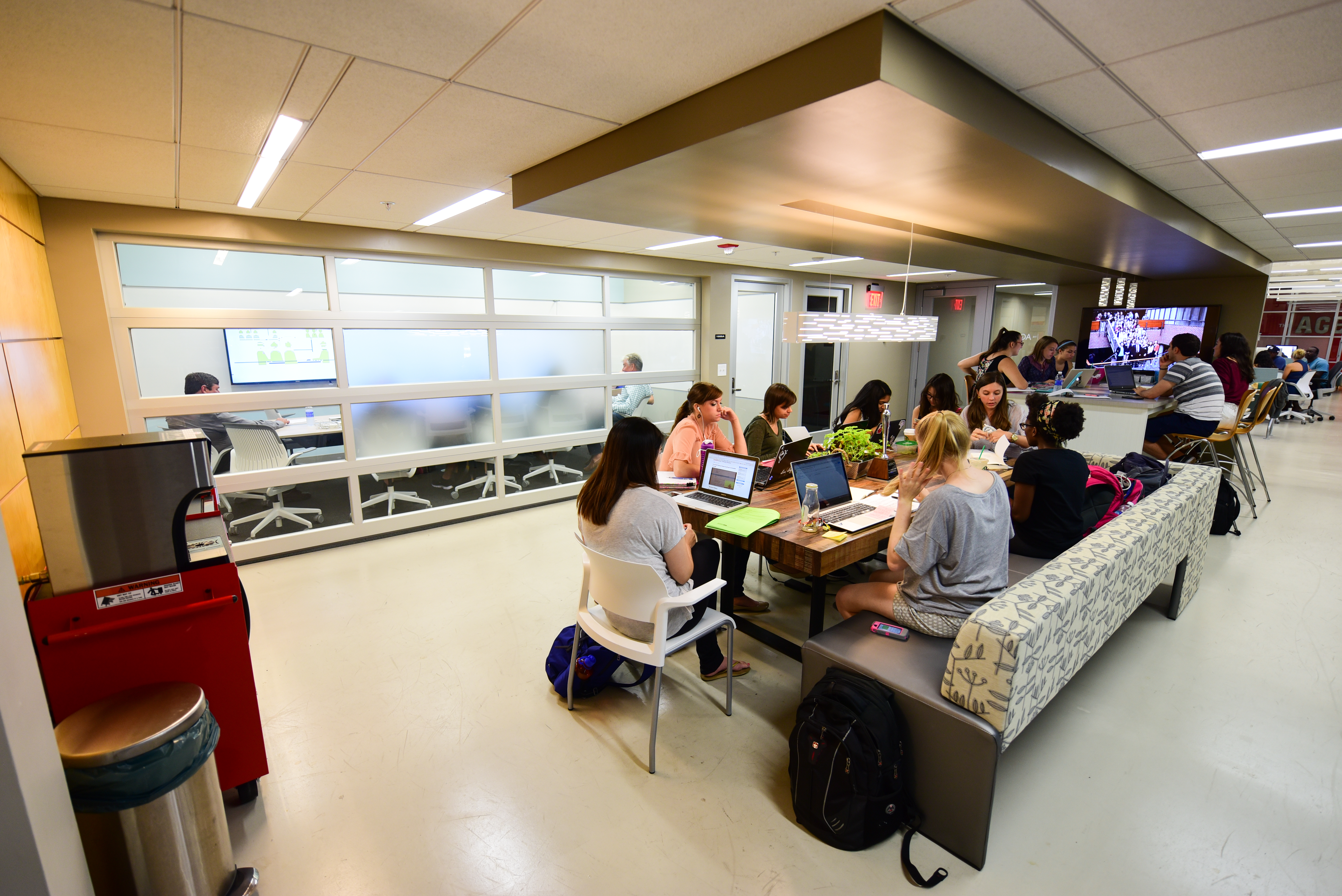 Advertising
The advertising curriculum is designed to provide a foundation for problem-solving, strategic thinking, and persuasion techniques that drive audience-centered marketplace communications. Skills attained can be applied to the advertising industry, to entrepreneurism, and to health marketing, among others. Our graduates are well prepared to create solutions for reaching targeted audiences with strategic messaging in unique ways.
Students choose one of two specializations:
Advertising Agency Track emphasizes skills that are necessary for entry-level positions in an advertising agency and is designed to provide a foundation for advancement to positions of leadership in these firms. This track introduces students to the concepts and skills needed to prepare for careers in account management, account planning, media planning, research, art direction and copywriting.
Persuasive Messaging Track. The Persuasive Messaging Track focuses on skills required to engage media audiences through the use of strategic, persuasive communication. The track emphasizes concepts and application of audience and media analytics, advertising sales, brand storytelling, and message persuasion. The track prepares students for careers in a broad array of industries and organizations, ranging from major brands to healthcare to government to nonprofits and NGOs.
Five Things You Should Know:
The department is home to more than 600 majors.
Approximately 200 of those majors participate in Ad Society, which has organized professional networking trips to Chicago, New York, Atlanta, Austin, and Miami in recent years.
The UF advertising department leads the nation as one of the top universities in student placements for the 4 A's Multicultural Advertising Internship Program (MAIP).
The department also leads the nation in AAF's Most Promising Multicultural Student (MPMS) wins.
In the recent years, graduates have landed jobs at Leo Burnett, Dentsu Aegis, Saatchi & Saatchi, Disney, and Google.
Notable alumni include:
Kirsten Flanik, President and CEO, BBDO New York
Scott Hagedorn, CEO, Hearts & Science
Darrell Hammond, former Prime Time Player, Saturday Night Live
Cliff Marks, President, National CineMedia
Jim Jenkins, Founding Director, O Positive Films
Below are quick links to find information about the department.
Contact Information
Faculty and Staff 
Adjunct Faculty
Advertising Curriculum
Advertising Courses
Advertising Syllabi
Combined Degrees
Advertising Course Sequence
Advising for Advertising
Internal Transfers
Advertising Internships
Equipment Requirements
Advisory Council
The Advertising Department urges students to get involved in the college and gain experience. Below is an overview of the organizations advertising students most frequently become involved with.
Ad Society
Students receive indispensable advice from speakers and mentors, hands-on experiences, opportunities to visit agencies, and a chance to hold a leadership position amongst fellow peers.
The Agency
Led by professionals, staffed by students and inspired by faculty, The Agency is a team of seasoned professionals and hand-selected twenty-somethings with a passion for ideas that resonate with millennials.
STEM Translational Communication Center
Join STEM to help improve human health and well-being by making scientific research more accessible, understandable, and actionable.