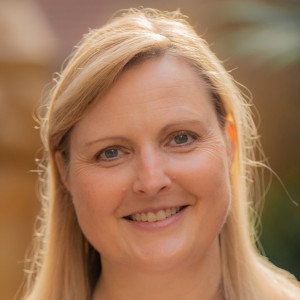 J. Robyn Goodman, Ph.D.
Associate Dean for Graduate Studies
Associate Professor - Department of Advertising
Bio
Goodman earned her Ph.D. at the University of Texas in 2000. Her dissertation was "Mirroring Mediated Images of Women: How Media Images of Thin Women Influence Eating Disorder-Related Behaviors and Women's Negotiations of These Images." She received her M.A. in mass communications at the University of Texas and a B.J. in magazine journalism at the University of Missouri.
Prior to graduate school, she was a sports reporter and later on a feature page and Sunday magazine designer at the Columbia Missourian. After leaving Missouri, she worked as an advertising graphic designer at the Iowa City Press-Citizen. In 1995, she entered graduate school while also working in public relations at the Texas Petroleum and Convenience Store Association and soon after as a freelance graphic designer and public relations consultant on several projects including a Lawrence Erlbaum book cover and printed materials for the American Society of Civil Engineers. Her work with Fox Sports has earned her several bronze Tellys and a silver regional Addy.
She has been recognized and received awards for her scholastic work and teaching including a university fellowship that is awarded to the top 5 continuing doctoral students at the University of Texas, top conference papers from ICA, AEJMC, and AMHCR, and the International Communication Association's award for excellence in teaching by a graduate student. Her work is published in Journalism and Mass Communication Quarterly, Visual Communication Quarterly, and Public Understanding of Science.  She also has multiple book chapters.
She teaches Copywriting and Visualization and Advanced Creative at the undergraduate level.  Graduate courses include Advertising Research Methods and Visual Communication Theory and Method.
Her research interests are visual communication and health communications.  Her current research looks at health communication with low income and minority audiences, media and cosmetic surgery, and emotional responses to beauty types in advertising.
Education
Ph.D., University of Texas at Austin, 2000
M.A., University of Texas at Austin
B.J., University of Missouri
News
Publications
Refereed Journal Articles
Theis, R. P., Stafford, J., Goodman, R., Duke, L. L., & Shenkman, E. (2016). Defining "Quality' from the Patient's Perspective: Findings from Focus Groups with Medicaid Beneficiaries and Implications for Public Reporting. Health Expectations, 20(3), 395-406.
Grumbein, A., & Goodman, R. (2015). Pretty as a Website: Examining Aesthetics on Nonsurgical Cosmetic Procedure Websites. Visual Communication, 14(4), 485-523.
Kang, M., & Goodman, R. (2014). . The Journal of Advertising and Promotion Research, 3(1), 6-42.
Presentations
Goodman, R. (2023). Data Visualization and Storytelling. Lecture at CJC Research Friday.
Lu, L., , ., , ., Goodman, R., & Morris, J. (2021). Sexy or Beautiful: How Celebrity Beauty Types Affect Attitudes, Credibility, and Emotions. Paper/Poster at International Communication Association.
Weigold, M., Goodman, R., Morton, C., Johnson, B. K., & Windels, D. (2021). The role of experiential learning in advertising education. Other at AAA.
Weigold, M., Goodman, R., Johnson, B. K., Morton, C., & Windels, D. (2021). The role of experiential learning in advertising education. Oral Presentation at American Academy of Advertising.
Goodman, R. (2017). How to make a research poster. Lecture at STEM Center educational series, Gainesville.
Goodman, R., , E., , R., , R., , G., , H., , K., & , W. (2017). Teaching Advertising Design in the Traditional University Setting: Goals, Obstacles and Opportunities. Oral Presentation at American Academy of Advertising Boston Mass, Boston, MA.
Goodman, R. (2016). Equity and equality of the sexes in communication: are women getting there?. Other at Lillian Lodge Kopenhaver Center for the Advancement of Women in Communication conference, Miami, FL.
Research
Dr. Goodman's research inquires into the way mass mediated gender messages, in particular visuals messages, influence individual and societal views of women, as well as how women read and incorporate these messages into their everyday view of the world. She also looks at how to communicate health messages with hard to reach audiences including minorities and low income individuals.
Research Keywords
health communication, people of color, beauty, visual communication, qualitative research, quantitative research, womens health, health communication, influence (psychology),cosmetic surgery.
Research Areas
Gender Issues/Media Content and Gender Studies
Health and Science Communication
Visual Communication
Courses
Syllabi from the current and three previous semesters: