CJC Recognizes Four Hall of Fame Inductees for 2018-2019
The University of Florida College of Journalism and Communications (CJC) will induct four alumni into the College's Hall of Fame at its annual awards banquet on April 12, 2019. With more than 31,000 graduates with degrees in advertising, journalism, public relations and telecommunication, only 156 individuals have been selected to receive this honor since its creation in 1970.
The 2019 Hall of Fame class includes: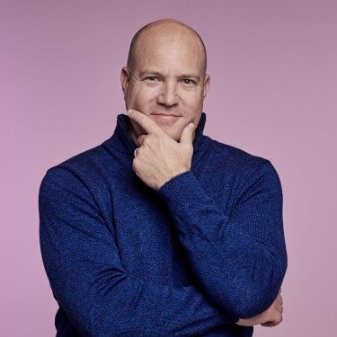 Scott Hagedorn, B.S. Advertising 1993, new CEO of Omnicom Media Group (OMG), was the founder and CEO of OMG's Hearts & Science, a data-driven marketing agency exploring new ways to measure attention and behavior. Under Hagedorn's leadership, Hearts & Science built a technology platform that helped it land a multibillion-dollar contract with Procter & Gamble and AT&T within the first eight months of operation. This feat earned the agency Adweek's "Breakthrough Agency of the Year" and "Media Agency Executive of the Year."
Prior to launching Hearts & Science in 2016, he was the founding CEO of Annalect, the industry-leading data technology platform supporting all OMG agencies worldwide. Since joining OMG more than a decade ago, he has held a number of leadership roles across its flagship agencies, including U.S. CEO of PHD Network, Managing Director of OMD East, and U.S. Director of OMD Digital. Hagedorn now serving on the CJC Dean's Leadership Council.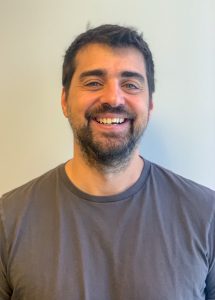 Tony Hernandez, B.S. Telecommunication 1997, is president of Jax Media, an award-winning film and television development and production company acquired last year by Imagine Entertainment.  Among its TV productions are TBS' "Full Frontal with Samantha Bee" and "Search Party," Comedy Central's "Broad City" and "Inside Amy Schumer," BET's "The Rundown with Robin Thede," TV Land's "Younger," and ABC's "Roseanne" revival. Hernandez was executive producer of films including "I Love You, Daddy" and "Top Five" and TV movies "A Very Murray Christmas," "The Demons of Dorina Gunn" and "Sas & Jake."
As executive producer, Hernandez won the 2015 Emmy award for Outstanding Variety Sketch Series for "Inside Amy Schumer, Season 2."  Among his 11 Emmy nominations are Outstanding Variety Talk Series in 2017 and 2018 for "Full Frontal with Samantha Bee," Outstanding Short Form Comedy or Drama Series in 2016 and 2017 for "Hack into Broad City," and Outstanding Television Movie in 2016 for "A Very Murray Christmas." Hernandez has served on the CJC Dean's Leadership Council and provides internships for CJC students in New York City.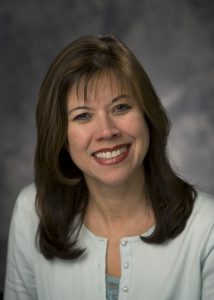 Karen Irwin, B.S. Public Relations 1987, is president and COO of Universal Studios Hollywood, overseeing the iconic theme park, behind-the-scenes Studio Tour and Universal CityWalk. Prior to her current role, she served as executive vice president of Global Merchandise and Partnership Development for Universal Parks & Resorts, where she led a corporate-level team responsible for strategic planning, brand management, concept and product development, assortment planning, merchandising and sourcing/purchasing for all park and resort retail businesses, as well as management of the NBCU Product Safety Center.
She began her career with Universal Orlando in 1990, as part of the opening team for Universal Studios Florida and has served in several leadership and department head capacities, including director of operations and director of support services for Food and Beverage, vice president of Merchandise Operations and vice president of Revenue Operations. Irwin served on the executive committee for the Metro Orlando Economic Development Commission and on the boards of directors for the Rosen School of Hospitality at the University of Central Florida and Valencia Community College. She also was president of Universal Orlando Volunteer Board and chair of the Universal Workplace Giving Campaign.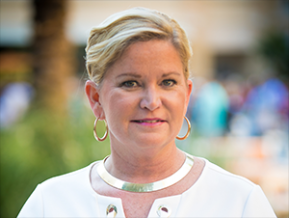 Mary Sellers, B.S. Public Relations 1989, U.S. president of United Way Worldwide, is responsible for leading the organization's enterprise-wide strategy implementation. Sellers joined United Way in 2012 with more than 20 years of leadership experience in non-profit and community organizations including The Children's Museum of the Upstate in Greenville, South Caroline, the South Florida Science Museum, the Science Center of Iowa and the Orlando Science Center.
She has served on the board of the Getty Leadership Institute and as a peer reviewer for the Institute of Museum and Library Services and the National Science Foundation.
Sellers was recognized as one of the 2016 and 2017 Top 25 Most Influential Business Leaders and a 2014 Woman of Influence by the Des Moines Business Record. Sellers has an MBA from the University of Iowa Tipple School of Management and graduated from the Getty Leadership Institute at the University of California Berkeley and the Strategic Perspectives in Nonprofit Management program at the Harvard University Graduate School of Business.
Posted: March 11, 2019
Category: Alumni News, College News
Tagged as: 2019 Hall of Fame, Hall of Fame, Karen Irwin, Mary Sellers, Scott Hagedorn, Tony Hernandez