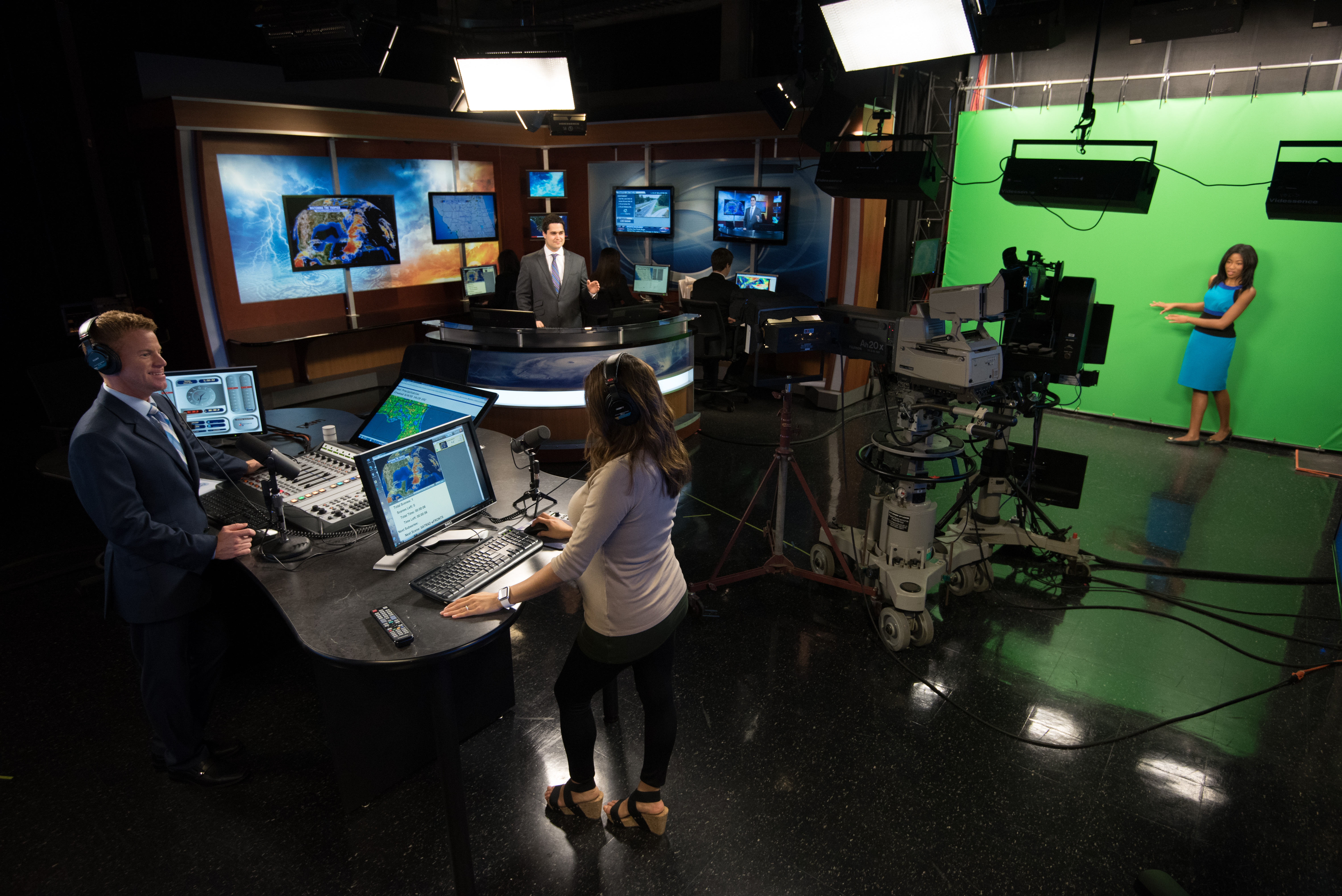 Telecommunication
The CJC Telecommunication program is one of the most comprehensive in the country, with complete specializations in News, Production, Management and Strategy, and Media and Society. In 2015-16, nearly 400 students completed Electronic Media Practicum experiences.
Students in this program can benefit from access to the media properties housed within the College: two commercial radio stations, two public radio stations, one public television and one commercial weather television station. The media properties allow our students to produce professional products for television and the Web, while gaining hands on experience with state of the art equipment. This educational experience translates into national recognition from national entities including the Associated Press, the Hearst Foundation Journalism Awards, Radio Television Digital News Association's Edward R. Murrow Awards and the Society of Professional Journalist's Mark of Excellence Awards.
Telecommunication graduates are well prepared to enter the communications field in a wide variety of capacities. In the production track, students may concentrate on writing, directing, videography or editing. Students in News learn reporting, anchoring or producing. Students in Media and Society study the use of communication in organizations and government, with an emphasis on digital and social media. Those choosing to complete the management and strategy track are well prepared for positions in management, audience research, sales and marketing, and promotion, as well as other administrative positions.
Regardless of track, the students gain a foundation in writing, creative thinking, communication and professionalism making a telecommunications degree a great foundation for multiple graduate programs and professional schools.
Five Things You Should Know
In 2016, our students won national awards for news programs, entertainment programs, scriptwriting, and video title sequences.
In 2017-18 our students won national awards for news and sports programs, multimedia, and entertainment programs
The program has been in the Top 15 of the Hearst Awards every year, Top 10 in the Broadcast News Intercollegiate Champ for 26 of the program's 27 years, top five ranking 16 times and number one ranking five times.
Our faculty have taught and lectured at universities in China, Korea, Sweden, Switzerland, Belgium, the Netherlands, Spain, Brazil, Mexico, Zambia, Cameroon, South Africa, Mozambique, and Angola, and Turkey.
Telecommunication Department faculty and students are working in an international research consortium with such clients as Twitter, YouTube, Nielsen, Google, and Huffington Post.
Notable Alumni:
LaKendra Tookes, TEL, 2005 "Saturday Night Live" comedy writer
Christy Stratton, TEL 1992, writer "The Family Guy"
Miles Doran, TEL 2010, reporter, CBS News
Erin Andrews, TEL 2000, reporter, Fox Sports
Felipe DeAndrade, TEL 2012, Documentary film maker, The National Geographic Channel