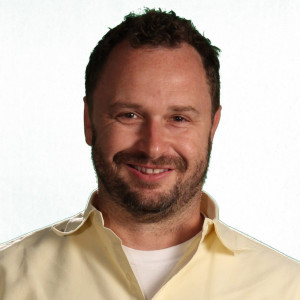 Geoff Thompson
Lecturer - Department of Media Production, Management, and Technology
Bio
For the past four seasons, Thompson has been the commentator for USTA/Tennis Channel's coverage of women's Pro Circuit and men's ATP Challengers, calling approximately 120 matches a year. For the past six seasons, he also has produced the "yellow line" and down and distance graphics for FOX SportSouth ACC football. He also has been an associate producer on national and international live sports broadcasts for networks such as Raycom Sports, NBA-TV, ESPN, FOX Sports, CBS College Sports, and MASN.
For more than seven years, Thompson taught audio and video production, sports media and writing at East Carolina University in Greenville, N.C. In addition to teaching, he was the radio voice of ECU baseball and hosted a local sports call-in show.
Thompson also ventured into narrative filmmaking, producing the award-winning independent feature films Chicks 101, Wesley and StaleMate. In May of 2010, he completed a month-long documentary expedition to Kathmandu and Mount Everest in Nepal, where he produced and directed daily travel logs for Expedition Hanesbrands.
Thompson has produced and directed hundreds of industrial films, documentaries and animations for companies like The Home Depot and Hanesbrands. For three years, Thompson was the voice of HomeDepot.com, has voiced national commercials for Homelite and Briggs & Stratton, as well as industrial films and commercials for YellaWood, Ryobi tools, BMW, WestRock, Hanesbrands, Cox Communications and others.
He will teach courses in sports production, including a new course in Live Sports Production, and will be involved with student immersion experiences.
Education
B.S. Journalism 1994, University of Florida
M.A.MC. 2002, University of Florida
News