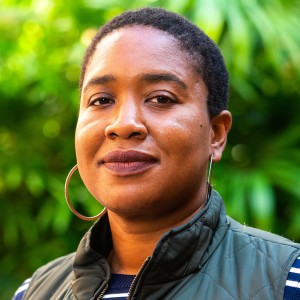 Jasmine McNealy, Ph.D.
Associate Professor - Department of Media Production, Management, and Technology
Associate Director - Marion B. Brechner First Amendment Project
Interim Director of Research - Center for Public Interest Communications
Bio
Jasmine E. McNealy is an associate professor in the Department of Media Production, Management, and Technology, in the College of Journalism and Communications at the University of Florida, where she studies information, communication, and technology with a view toward influencing law and policy. Her research focuses on privacy, online media, and communities. She holds a PhD in Mass Communication with an emphasis in Media Law, and a J.D. from the University of Florida, and a Bachelor of Science degree in both Journalism and Afro-American studies from the University of Wisconsin.
Areas of Expertise
Artificial Intelligence (AI), Communication Technology, Ethics/Professional Responsibility, Human-Machine Communication, Media and Communication Law
News
Publications
 2018-2020
Edited Volumes
"Communicating Artificial Intelligence: Theory, Research, and Practice," Communication Studies, forthcoming 2020, w/Seungahn Nah, Jang Hyun Kim, and Jungseock Joo.
"Blockchain for Good: Special Issue on Democracy and Civic Technology," Frontiers in Blockchain, forthcoming 2020, w/Nichola Cooper and Marta Poblet Balcell.
Refereed Journal Articles
Mullis, Michaela Devyn* & McNealy, Jasmine E. (2020) "Freeing the Nipple One Broadcast at a Time: FCC Indecency Regulations of Nudity," Wisconsin Journal of Law, Gender & Society (forthcoming)
McNealy, Jasmine E. & Mullis, Michaela Devyn.(2019) "Tea and Turbulence: Communication privacy management and celebrity gossip sites," Computers in Human Behavior, 92(1), 110-118.
Reports
"Twitter Reactions to Hurricane Irma: Mining social media for inferences," for UF Public Utility Research Center, February 2018.
Design Projects/Prototypes
Threat Index – April 2019, Shorenstein Center on Media, Politics, and Public Policy, Harvard University Kennedy School, Privacy Forecast 2019.
Shorter Works
"Newsworthiness, the First Amendment, and Platform Transparency," Concurring Opinions FAN 200, September 12, 2018.
"What is doxxing and why is it so scary?" The Conversation, May 16, 2018, available at: http://theconversation.com/what-is-doxxing-and-why-is-it-so-scary-95848
Reviewed by Jasmine McNealy (2018) Carter G. Woodson: History, The Black Press, and Public Relations, by Burnis R. Morris, Mass Communication and Society, DOI: 10.1080/15205436.2018.1471872
Research
Research Keywords
Privacy, reputation, social media, journalism, technology, surveillance, literacy, engagement, culture, intellectual property.
Courses
Syllabi from the current and three previous semesters: