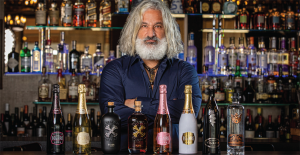 UF alumnus Brett Berish is the president and CEO of Sovereign Brands, a family-owned, international wine and spirits company headquartered in New York, which sells its portfolio of products in more than 100 countries globally.
Berish has created some of the world's hottest brands, including the Luc Belaire line of French sparkling wines, Bumbu, a craft rum that is the best-selling brand in the U.S. premium rum category, as well as McQueen and the Violet Fog, a small-batch gin from Jundiai, Brazil, and Sovereign's newest release, Villon, which is revolutionizing the cognac category. Berish's past brands include Armand de Brignac ("Ace of Spades") Champagne, which he sold to Jay-Z in 2014.
His self-made success has informed his company's values, culture and celebrity partnerships, culminating in Sovereign's prolific marketing campaign "Self Made Tastes Better," which includes a series of interviews hosted by Berish alongside some of the world's biggest celebrities, from recording artists to athletes, actors, TV personalities and influencers – all of whom are also confirmed fans of Sovereign's brands.