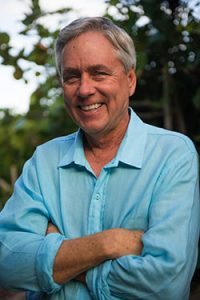 Carl Hiaasen, B.S. Journalism 1974, is an award-winning journalist and columnist and best-selling author. From 1985 to 2021, he wrote a regular opinion column for the Miami Herald.
Hiaasen began writing novels in early 1980s with the late journalist William D. Montalbano. They collaborated on three mystery thrillers – Powder Burn, Trap Line and Death in China – which borrowed heavily from their reporting experiences.
Tourist Season, published in 1986, was Hiaasen's first solo novel. Since then, Hiaasen has published Skin Tight, Native Tongue and eleven national bestsellers. All the novels are set in Florida, where they are read more as documentary than fiction. Hiaasen is also responsible for several popular novels for young readers: His first, Hoot, won a Newbery Honor and was made into a feature film.
For his journalism and commentary, Hiaasen has received numerous honors, including the Damon Runyon Award from the Denver Press Club and the Lifetime Achievement Award from the National Society of Newspaper Columnists. He retired from the Herald in March 2021.