MAMC – Telecommunication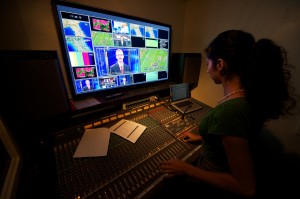 The Master of Arts in Mass Communication – Telecommunication program in the UF College of Journalism and Communications combines courses in Mass Communication, Telecommunication, and other areas relevant to the student's goals. There is a thesis track, appropriate for students who will later seek the Ph.D. or who wish to learn the skills and knowledge associated with thesis research or project in lieu of thesis.
The Telecommunication track is designed for students with the following interests:
Operation or management of telecommunication outlets (broadcast stations, cable systems, program distributors, etc.) and emerging media
Telecommunication regulation and policy
Audience research
Preparation for an advanced degree
This program admits students in Fall and Spring semesters.  Students selected for this specialization may come from any undergraduate discipline.
For admissions information and application materials, contact Sarah G. Lee.
For more information on the program, please contact Dr. Johanna Cleary.
Sample Courses
Telecommunication Regulation
Examines the role of the several branches of government in the development, implementation and enforcement of laws and regulation of the electronic media; and of the structural and behavioral laws and regulations pertinent to the electronic media.
Audience Analysis
The study of audiences and their behavior from both theoretical and practical perspectives, using both quantitative and qualitative methods. Understand, interpret, and use industry data, audience research software, and audience theory. Understand the role technology and economics play in the audience formation process. Students learn to think strategically and theoretically in approaching, conceptualizing, and carrying out audience analysis and behavior studies.
Telecommunication Management
Management principles of the telecommunications industry, with practical and theoretical application for television, radio, film, online, and other electronic media sectors.
Telecommunication Outlets Systems and Practices
Structural and procedural elements of broadcast stations, cable systems, and other local radio-television facilities. Review of research and models in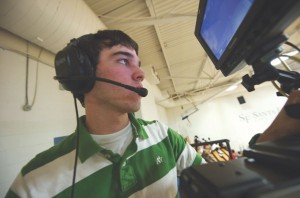 telecommunications administration, economic planning and control, merchandising and positioning, sales and advertisin
Mass Communication Theory
This course includes a survey of some core journalism-focused mass media theories and examines contributions of other disciplines to media theory. Additionally, it includes an introduction to the fundamentals of academic research.
Research Methods in Mass Communication
This course provides an overview of common mass communication research methods. Specifically, we will discuss content analysis, experiments, surveys and focus groups. You will learn the benefits and shortcomings for each method. In addition, you will also be introduced to SPSS, a software program used to analyze data.
Mass Communication and Society
The purpose of this course is to give students in journalism, advertising, public relations, telecommunications, and other mass communications fields the opportunity to explore issues in the interaction between mass media/mass communication institutions and society. The course is aimed at helping students to develop a critical perspective on mass media as they consider different ways in which media institutions and media content affect — and are affected by — individuals and society. In particular, students are expected to engage in evaluation and discussion of the responsibilities media practitioners and media organizations have toward the larger society and how those responsibilities should be translated into individual behavior and organizational (or governmental) policies. Because the focus of the course is on contemporary issues and problems involving mass media institutions and professions, readings tend to be drawn from recent works rather than classic or seminal ones, although the classic works certainly may sometimes inform the debate.
Electives
The program regularly offers electives such as Mass Communication History, Survey of Electronic Publishing, New Media and a Democratic Society and Legal Problems of Mass Communication. Examples of other elective courses in the College include International Communication; Mass Communication Theory; Qualitative Research; Race, Class, Gender and Media; Science and Health Communication; Theories of Advertising;  History of Journalism; and Content Analysis.  Many other electives are offered.  Please check ISIS and work with your advisor to select appropriate options.
Degree Plan
MAMC: Telecommunication – Thesis
MAMC: Telecommunication – Project in lieu of Thesis
Tuition
Tuition and fees are determined by the University of Florida for in-state and out-of-state graduate students.
Apply
Deadlines
Fall Semester
Domestic student application deadline is April 1. Applications may be considered after the April 1 deadline for domestic applicants only, if space is available.
International student application deadline is January 30.
Assistantship/Fellowship applications deadline are March 15
Spring Semester
Domestic student application deadline is September 15. 

International student application deadline is July 15.
Minimum Requirements for Acceptance
Applicants must have a baccalaureate degree
An undergraduate GPA of 3.0 or better
The Graduate School, University of Florida, requires both a minimum grade average of 3.0 for all upper-division undergraduate work and a minimum verbal-quantitative total score on the General Test of the Graduate Record Examination (GRE). Applicants are expected to have received a minimum grade average of 3.0 for all core courses within the Journalism and Mass Communications area and their area of special interest.
Admission is determined by several factors beyond the application material including space availability, and supervisory availability particularly in specialized areas. Meeting the minimum application requirements does not guarantee acceptance.
Direct admission to the Graduate School is dependent upon presentation of a baccalaureate degree from an accredited college or university. Two copies of the official undergraduate transcript should accompany all applications—one for the department and one for the Registrar. These transcripts must be received directly from the registrar of the institution in which the work was done. Official supplementary transcripts are required as soon as they are available for any work completed after application for admission has been made.
Professional and respectful treatment of our admissions and other staff members, faculty and administrators is required.  Unprofessional or disrespectful treatment will result in denial of admission.
Test Score Requirements
GRE
Scores prior to August 2011
550 Verbal/550 Quantitative
Scores after August 2011
156 Verbal/146 Quantitative
GRE scores are valid for five years. Exceptions to minimum scores are considered based on entire packet of application materials. Some applications with scores slightly below the minimum will be considered. GRE writing scores are subject to consideration.
TOEFL
550 Paper-based
90 Internet-based
26 Speaking
27 Writing
6 IELTS
See Communicating for Success for more information.
TOEFL and IELTS scores are valid for two years.
The GRE codes are 5812 for the University of Florida and 4503 for the College of Journalism and Communications. The TOEFL code is 83.
To obtain information on the GRE or to request that official scores be sent to the university, write:
Educational Testing Service
CN 6004
Princeton, NJ 08541-6004
How to Apply
It is the applicant's responsibility to provide complete documentation to the Office of Admissions AND the intended department. Failure to submit forms to the correct offices will delay application processing.
Important Addresses:
Address #1:
University of Florida
Office of Admissions
201 Criser Hall
PO Box 114000
Gainesville, FL
32611-4000
Address #2:
Div. of Graduate Studies
College of Journalism and Communications
University of Florida
2013 Weimer Hall
P. O. Box 118400
Gainesville, FL 32611-8400
Graduate Application: Online Submission – When submitting application online, notify Sarah G. Lee at sglee@jou.ufl.edu so she can be looking for it. You must submit contact information for references during online application process. References will be automatically contacted and letters of recommendation will be requested by the Graduate Admissions Office.In the specialization field, please list Advertising.
Letters of Recommendation: Three Letters of Recommendation – University forms are required (Download form). Written letters should be on letterhead and attached to the forms. The same letters of recommendation may be used for both admission and financial aid applications. Ask authors of your letters of recommendation to send them directly to Address #2 or send as a pdf file to sglee@jou.ufl.edu . If you submitted your recommenders' e-mail addresses on the online application, they do not have to send hardcopies.
Statement of Goals:  You will need to submit your statement of goals during the online application process. Describe your career plans following completion of your master's degree. Tell what experiences have led to your goals and how you think graduate study will help you prepare for the career. Minimum length is 300 words. Please do not center text. Title this document "Statement of Goals" and be sure to include your name and date. Send to Address #2. or send as a pdf file to sglee@jou.ufl.edu. If you submitted your statement of goals on the online application, you do not have to send a hardcopy.
Supplemental Application for College of Journalism:  (Download form).  Send to Address #2.
$30.00 Application Fee: Make Check or money order payable to the University of Florida. Send your application fee to Address #1. Please used Fee Payment Cover Memo (Download form) if paying by check or money order.
Official Transcripts from ALL post-secondary institutions: Contact all colleges and universities you have attended and listed on your application form and have them send certified official transcripts in your original language as well as translated into English. An average grade of "B" for the last two years of undergraduate studies is required. Send one original to Address #1 and one original to Address #2.
Official GRE (Graduate Record Exam) Scores: Contact the Educational Testing Service and have them send your official report. A verbal score of 550/156 and a quantitative score of at least 550/146 are strongly preferred. Some applications with scores slightly below the minimum will be considered. Applications with GRE verbal scores below 400/140 will not be processed. Self-reported scores are accepted temporarily to help speed up processing. GRE scores are valid for five years.  Send to Address #1.
Resume: List all work positions held. Include names, addresses, and telephone numbers of supervisors. Also, remember to include your name, email address, mailing address, and telephone number(s). Send to Address #2. or as a pdf file to sglee@jou.ufl.edu . If you submitted your resume on the online application, you do not have to send a hardcopy.
Application for Graduate Assistantship: This is optional. This is only for those applicants seeking financial assistance (Download form). Send to Address #2.
Samples of Your Work: This is optional. Send to Address #2.
International Applicants Only
Official TOEFL (Test of English as a Foreign Language) score report:  Contact the Educational Testing Service and have them send your official report. A score of at least 550 (paper-based), and 90 (internet-based) is required to be considered for admission. We also accept IELTS scores with minimum of "6." This requirement applies only to applicants from countries in which English is not the official language and includes U.S. territories and protectorates where English is not the primary language. You will not be required to submit a TOEFL score if you have spent at least one academic year at a college or university in a country where English is the official language. Intensive English language programs are excluded from the year of study provision. TOEFL and IELTS scores are valid for two years. Send originals to Address #1.
Certification of Financial Responsibility: All admitted International students who have accepted our admissions offer, are required to submit this form. The International Student Services Office will send you the form via email with instructions. Without it, the University of Florida will not issue an I-20 (Certificate of Eligibility). (Do not send CFR form and bank documents to our office. The International Student Services office will contact you via email with instructions.)
Contact Sarah G. Lee at sglee@jou.ufl.edu or 352-392-6557 if you have any questions regarding your application.