Twelve CJC Students Travel to Munich to Cover German Life Around the First-Ever NFL Game Played in That Country
From Nov. 12 -14, 12 CJC students traveled to Munich, Germany, to cover events and perspectives around the first NFL game to be played in that country. This article is a first-hand account of the study abroad experience. For more student stories from Munich, visit https://www.wruf.com/headlines/category/nfl-in-germany/. For blog posts from students, visit: https://cjcinmunich.wordpress.com. 
By Lily Martin, Public Relations Junior
I tossed. I turned. I switched from movie to movie. I stood up to stretch my legs and sat back down. I tried falling asleep, but I was too excited to keep my eyes closed. I couldn't wait to land.
I was on an overnight flight to Munich with my classmates. We were going to Germany to report on the first-ever NFL game in the country: Tampa Bay Buccaneers vs. Seattle Seahawks, played on Nov. 13, 2022. Our task was to write about the culture and experiences surrounding this historical game.
Getting the Lay of the Land
After a long day of commuting, we touched down at Munich International Airport around 9 a.m. local time. The 12 of us collected our luggage and headed to the bus where we met up with Alicia, our local study abroad coordinator. That we weren't in Gainesville anymore really hit us when the airport doors opened, and frigid air greeted us. The bus ride to the hotel was full of excitement as we saw sights we had never seen and discussed our plans for the next few days.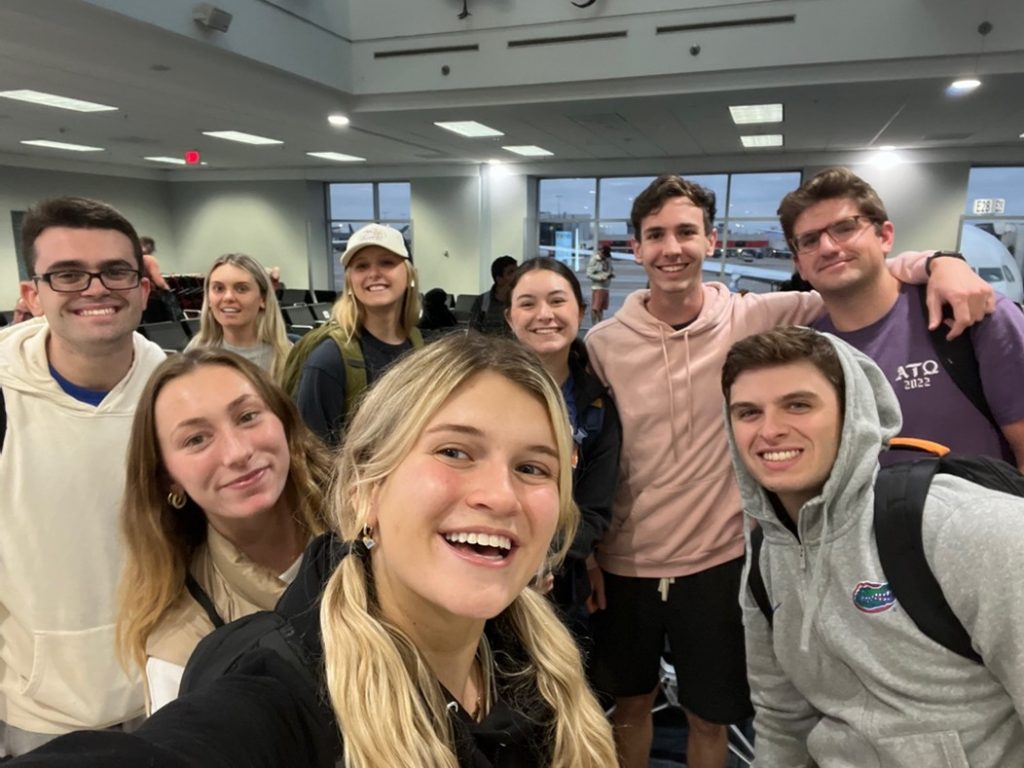 We made our way down to the main city center, Marienplatz, where we were greeted by our local tour guide, Marcus. He guided us as we strolled by significant World War II landmarks and learned about German culture. The Romanesque, gothic architecture lined the cobble-stone paths. Beer gardens and hot sausage stands were at almost every corner.  To my surprise, this European city was filled with NFL fans wearing jerseys from teams across the league. It was then that I realized just how big of an international event I was at. Fans had come from all over the world to experience this monumental event, and I was witnessing it.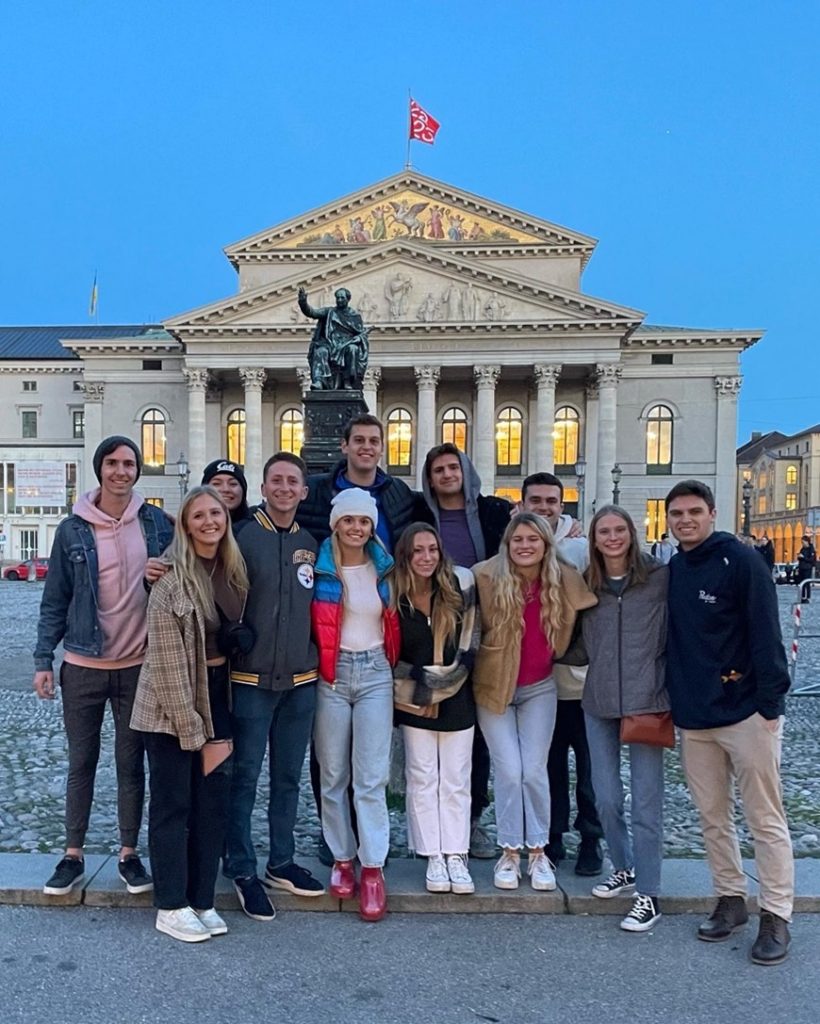 Even though it felt like the day had just begun, the sun was already beginning to set. It was time for our welcome dinner at Augustiner Bräustuben, a traditional German beer hall. The restaurant was filled with large picnic-like tables and steins of beer.
Loud laughter, German music and clinking beer mugs filled the room. We ate a traditional German meal which consisted of pork, duck and kartoffelklöße (aka potato dumplings).
"It was really interesting to explore a different cuisine than I am used to," said senior Jensen Young, a journalism major in the sports and media track. "Everyone there was very passionate about their food."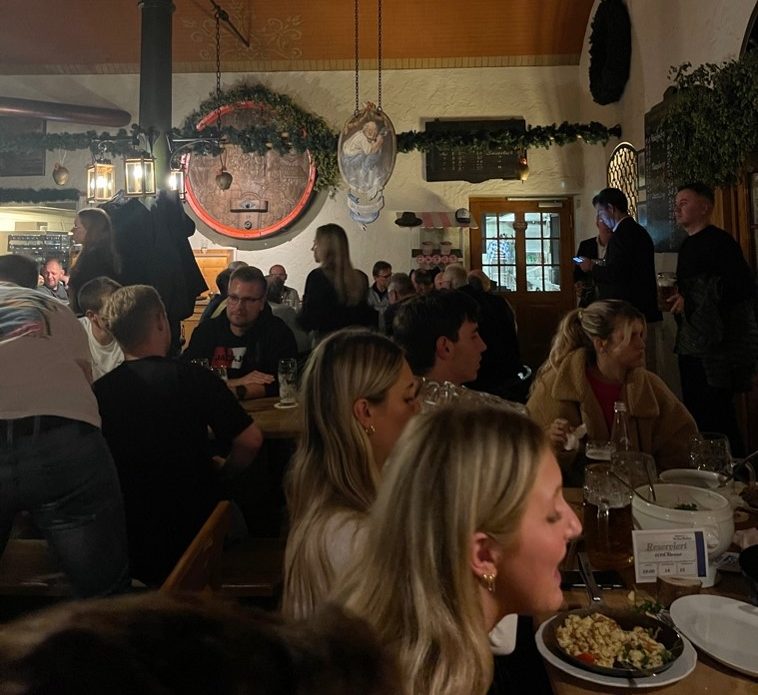 I must admit that sampling the local cuisine is one of my favorite travel experiences.
Even the hotel breakfast was different from the States. The buffet had slices of meat and cheese. I also tried a German yogurt called muesli, which reminded me of overnight oats.
The next day we continued exploring the city. Next stop was the internationally renowned Olympiapark, home of the 1972 Summer Olympics. Bridgett, our tour guide, led us through the Olympic village pointing out its unique characteristics. Colorful tubes lined the sidewalks and served as a guide for the athletes to find their way home during the games. Today, it is mostly student residences.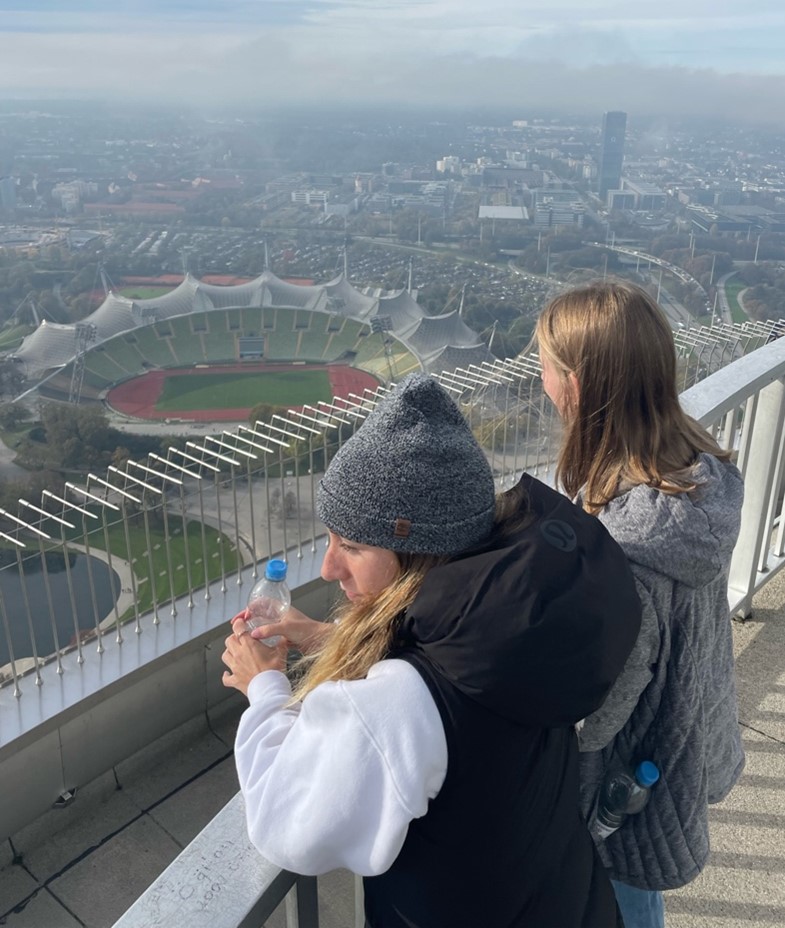 We made our way up the 291-meter-tall Olympic Tower where we got a view of the whole park (including the pool house, track and lake) and beyond. The sun began to burn through the clouds and, in the distance, I could see as far as the Alps.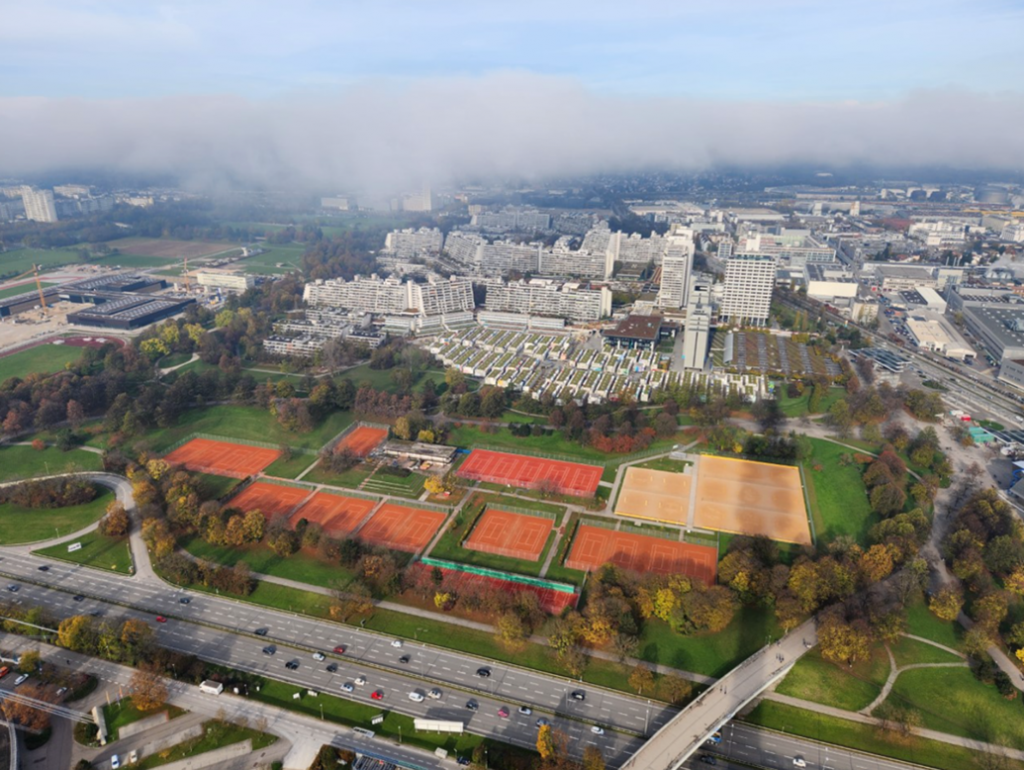 But the next day was going to be the most crucial of them all. It was the reason we traveled—game day. So, we made the decision to return to the hotel and get some rest. We exchanged yawns with one another, as jet lag got the best of us. I finally found the sleep I was looking for on the plane.
Historic Gameday
On Sunday, we woke up early to battle our way through the busy crowds on the metro to the stadium. As we exited at the Allianz Arena stop, thousands of people crowded the walkways. An array of jerseys and chants of "Tampa Bay" and "Seahawks" filled the station. My excitement took over as I attempted to document every detail of this amazing day.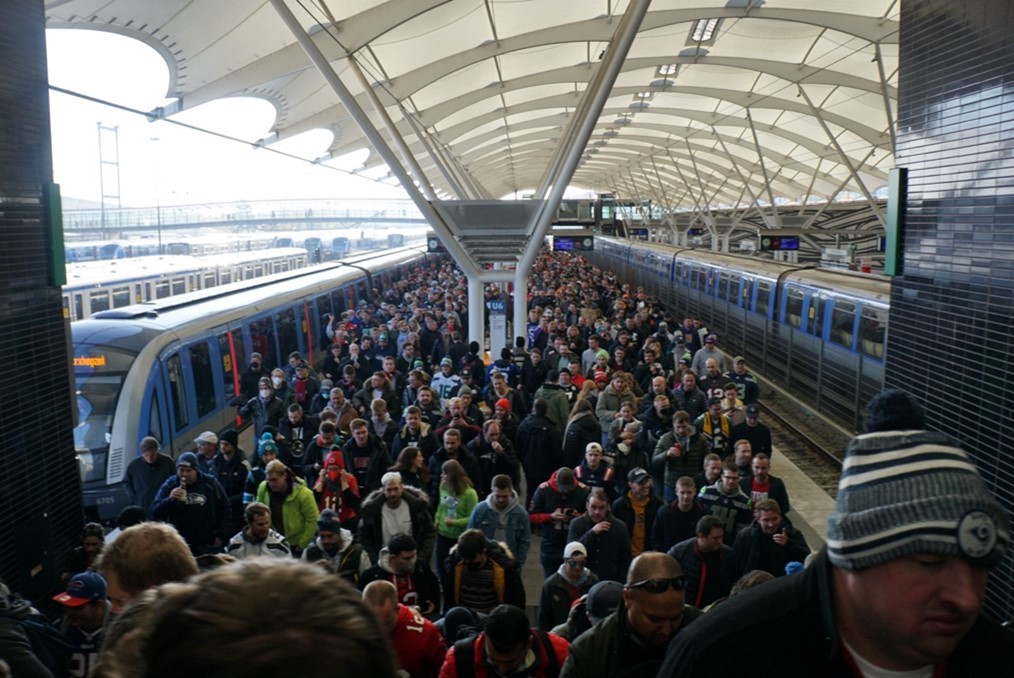 We interviewed fans tailgating from all over the world, Munich residents reveling in the experience, and even die-hard U.S. fans who flew more than 23 hours to be there. The NFL fan zone outside of the stadium offered small football challenges, such as kicking a field goal, running a 40-yard dash, or completing quarterback challenges like throwing the ball at targets. They were great events to familiarize the uninitiated with various elements of American football.
We met an American expatriate, who had brought along his local Munich friends, all wearing Tom Brady jerseys. They didn't know much about the game, but they were enjoying the atmosphere and taking it all in.
The German folks were taking full advantage of this American event. They were ready to embrace the culture surrounding American football.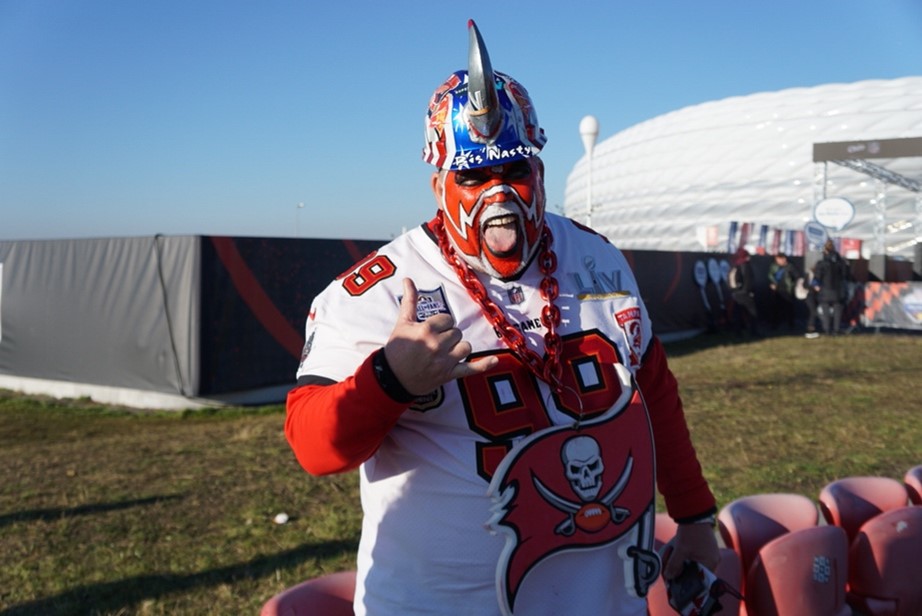 Two of our classmates, senior Will Levenson and junior Bradley Shimel, both in the Journalism Sports and Media Track, were able to attend this historic event.
"The game was unlike anything I have ever experienced," Shimel said. "Easily the greatest thing I have witnessed as a sports fan. The sense of unity and pride was so strong throughout the stadium, and you could just feel that this game was so much bigger than the Bucs versus the Seahawks."
A couple of us watched the game at a local pub nearby. The energy of the crowd was undeniably visible even from the television. The 69,811 fans in the stadium sang "Country Roads" and "Sweet Caroline" and cheered at every play.
"Seeing everyone in their seats and singing an hour after the game ended was something that will resonate with me for the rest of my life," Shimel said.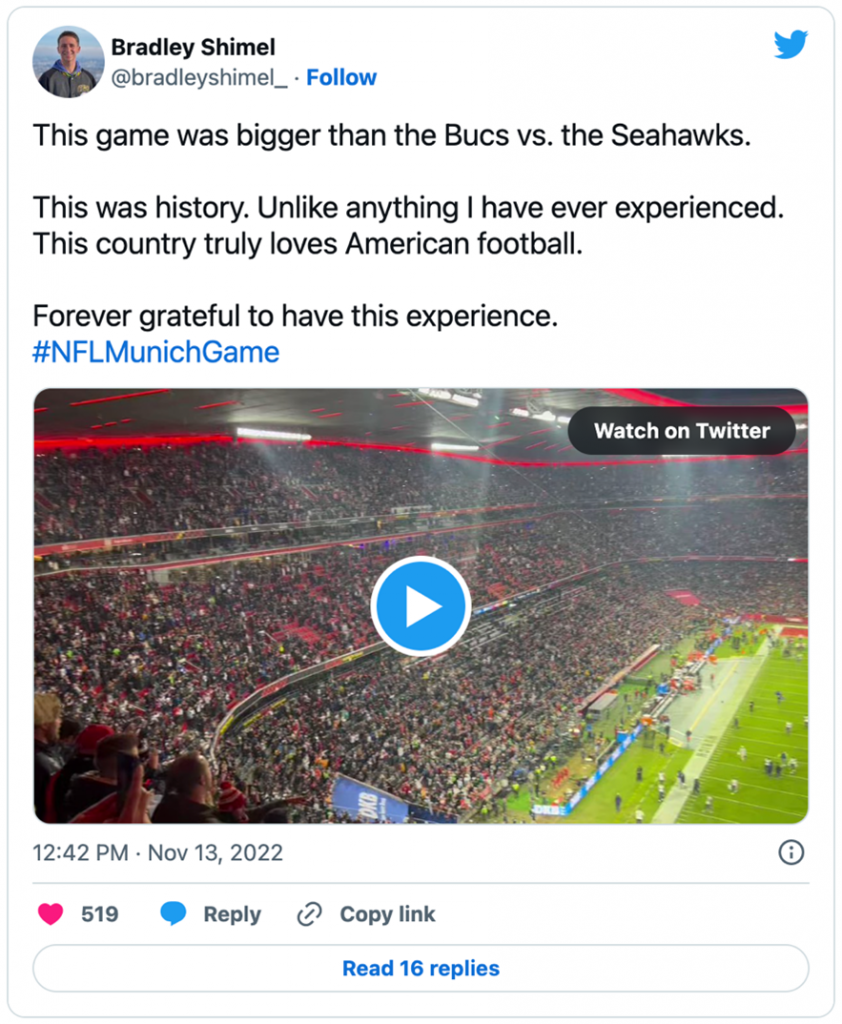 Reflecting on the Weekend
On the last day of the trip, our class decided to visit Dachau, the first and longest-running concentration camp. It started in 1933, six years before World War II even began, and ran until American troops liberated the camp in April 1945.
Walking around the camp, I felt the pebbles crunch beneath my feet. I was overcome by the eerie feeling of being in such a surreal place, walking on the same ground where more than  30,000 innocent people were murdered.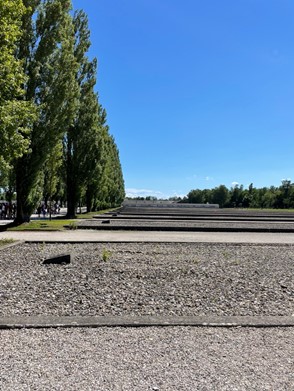 It was a moment I will never forget—feelings of hopelessness, sadness, and remorse ran throughout my body. The camp serves to remind people of the horrors that took place during World War II, and to ensure it never happens again.
We decided to lighten the mood by stopping on the way home to get fresh German soft pretzels.
As the final day came to a close, we gathered one last time as a group to celebrate our memorable weekend. We shared stories and laughs at dinner as we indulged in one last German meal.
The people I see at 12:50 p.m. on Tuesdays in in RTV4930 Globalizing the NFL, are now a part of some of my most unforgettable memories. During my time in the class, I had the opportunity to combine two of my passions: sports and writing. I am especially grateful for Dr. [Roxane] Coche, our professor, for giving us this opportunity.
I feel that travel and worldly knowledge are qualities that can help anyone succeed in any career. Knowing how to navigate unfamiliar places and communicate with individuals from all over the world is a skill set that many have not experienced. I intend to use the insights I gained this weekend wherever my profession leads me.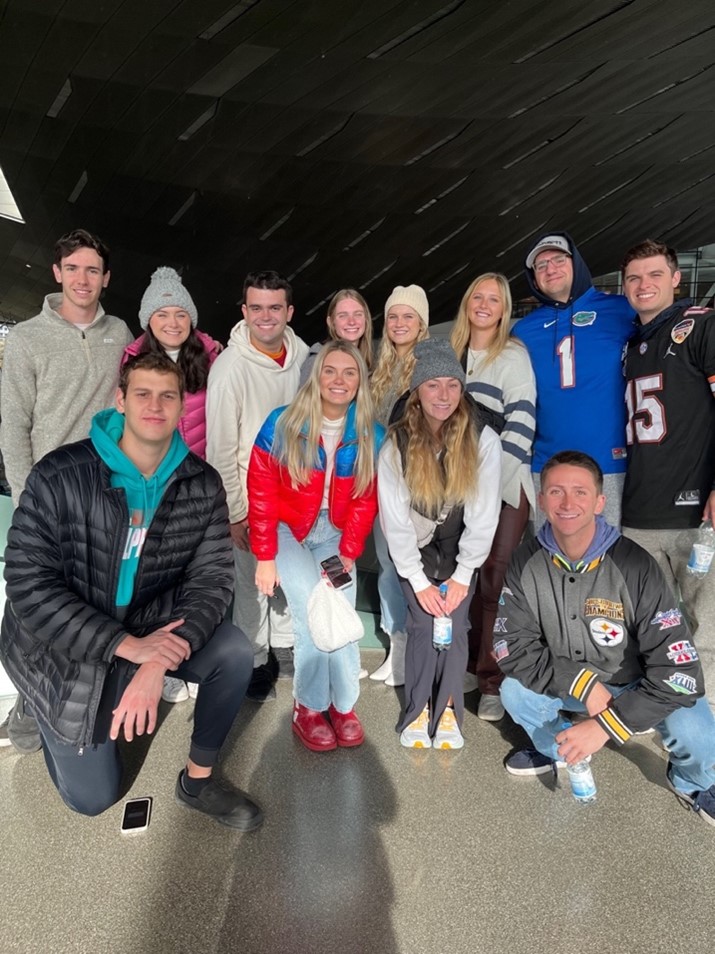 Posted: November 27, 2022
Category: College News, Profiles, Sports