Amy Jo Coffey Comments on Benefits of Newsroom Diversity
Amy Jo Coffey, University of Florida College of Journalism and Communications Telecommunication associate professor, was quoted in "How Three Latina Women Let Go from 9News are Helping Change the Journalism Industry" published in the Denver Post on April 19.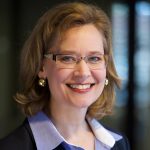 The article features the story of three Latina reporters who were dismissed from 9News, the Denver NBC television affiliate. They exposed allegations of discrimination and racial bias and challenges to an industry that prides itself on holding others accountable and telling increasingly diverse community stories.
According to Coffey, "Those lived experiences and the different lenses in which everyone views the world are crucial to providing news coverage that enables a functioning democracy.
"People who grew up in poverty are going to have much more insights into covering issues of welfare compared to somebody who grew up privileged," Coffey said. "It is important for all of us to be aware of potential biases, but just because we've experienced something doesn't mean we're biased in our work. It could mean we understand an issue better than anybody else… If you see people who look like you and have some similar life experiences, you're also more likely to trust the information they provide to you. It serves our democracy, and it's just good business."
Posted: April 19, 2021
Category: College News
Tagged as: Amy Jo Coffey