Benjamin Johnson Co-Authors Book Chapter on New Theoretical Model for Motivations for Story Engagement
Benjamin Johnson, University of Florida College of Journalism and Communications Advertising assistant professor, is a co-author of "Stories Enlarge the Experience of Self: Evidence for the Temporarily Expanded Boundaries of the Self (TEBOTS) Model, a chapter in the book The Oxford Handbook of Entertainment Theory to be published by Oxford University Press in April 2021.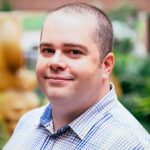 Johnson, Michael Slater, Nathaniel Silver from the University of Pennsylvania and David Ewoldsenexplain their theoretical TEBOTS model that proposes underlying motivations for engaging in stories. TEBOTS points out that fundamental human drives for agency, autonomy, and connectedness are imperfectly attainable and it provides unique hypotheses about how the self-concept relates to the selection, processing, and effects of media entertainment.
According to the authors, "Confirmatory evidence for TEBOTS shows that threats to the self can increase responsiveness to narratives, and that effects are attributable to a boundary expansion mechanism. Recent studies demonstrate that boundary expansion during media use can facilitate positive outgroup perceptions and attitude change. The TEBOTS framework also provides testable propositions regarding the influence of life stressors such as finance, health, and relationships on narrative engagement and enjoyment, carrying potential implications for narrative influence on stressed populations."
Posted: February 15, 2021
Category: College News
Tagged as: Benjamin Johnson