Amy Jo Coffey Selected for NATPE Faculty Fellowship
Amy Jo Coffey, University of Florida College of Journalism and Communications Telecommunication associate professor and director of the online master's program in Audience Analytics, was one of 33 media faculty nationwide selected to participate in the National Association of Television Program Executives (NATPE) Faculty Fellowship in Miami during the week of Jan. 20.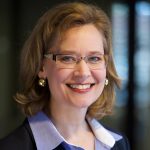 NATPE Miami is the largest global conference for buyers and sellers of media content. Faculty took part in a full-day seminar to listen to and ask questions of industry executives in the content development and distribution sectors. Faculty participants then received full access to the conference sessions and exhibition.
Posted: February 1, 2019
Category: College News
Tagged as: Amy Jo Coffey, NATPE