STUDENT PROFILE: Andrew Briz, Telecommunication Senior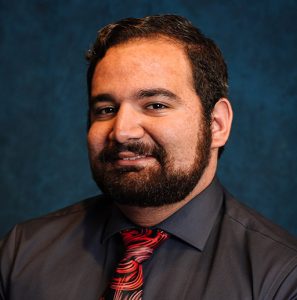 "Can you combine journalism with computer coding? Well of course you can," claims Andrew Briz, University of Florida College of Journalism and Communications Telecommunication senior. "No not only can it be done, but it can be done easily with a new web application I designed."
"LongForm is my crowning achievement. It offers a simple way for journalists to create highly designed multimedia content and tell their stories in a whole new way," said Briz.
Briz grew up in a computer family. His mother works with computers, his father works in IT for the cruise ship industry and his brother is a digital media artist. He was bitten by the coding bug when he was a kid and continues to find new applications — his latest focuses on journalism.
While in high school in Miami, he was part of a broadcast program regarded as the third best in the nation for live television broadcasts. He was accepted to FSU with a full scholarship, but chose to go to UF even though he had to cover his tuition because UF had a stronger journalism school and a great computer science program — just in case he chose that path instead.
"I enjoyed telecommunication classes and working at WUFT-TV, but I never watched the news on TV so I decided to focus more on digital," said Briz. "I knew my background could pay off and I used my coding skills to find a way to make posting stories online easier. Those who could not code now had an option."
"On the national level, there is a need to streamline the posting process. The tools exist, but news organizations cannot afford them. I wanted to create something that can be easily used and readily available," said Briz.
His efforts have landed him internships with WCPO-TV, the Los Angeles Times and, this coming summer, The Washington Post. He credits his mentors Journalism Professor Mindy McAdams and Director of Stories and Emerging Platforms Matt Sheehan for honing his skills and encouraging him to pursue creative projects.
"Professor McAdams introduced me to a whole new world that I did not know already existed," said Briz. "Matt Sheehan gave me my first code paying job and was impressed with my creative problem-solving skills. My title was Digital Content Producer."
Briz's college career is winding down, but he is excited to continue to commingle journalism and his talent for coding. LongForm version two is in the works with much more to come.
Posted: January 17, 2018
Category: Profiles, Student Profiles
Tagged as: Andrew Briz, LongForm