CJC Alum Nick Belmonte Still Calling Gator Baseball Games After 37 years
By Lenore Devore, B.S. Journalism 1984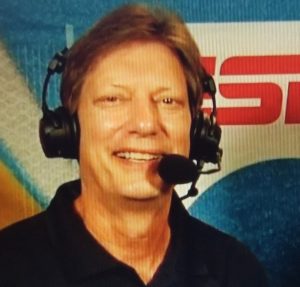 Thanks to former Gator radio announcer and University of Florida College of Journalism and Communications alumnus Otis Boggs, who told a young Nick Belmonte, B.S. Broadcasting 1980, he could become a broadcaster after his baseball playing days ended, Belmonte accepted a full-ride scholarship to UF, a move that changed his life.
"I was the kid who listened to the transistor radio under my pillow," Belmonte said. "I loved the broadcaster and how they told a story. I felt like my personality and sports were a perfect fit.
"When Florida was recruiting me, I got a letter from Otis Boggs, who's in the Florida Sports Hall of Fame. Otis told me about UF, which had a great journalism program, and that I could become a broadcaster just like him. I was very impressed with that letter; I thought UF had the best of both worlds for me."
Belmonte, who lives in Tampa with his wife Melissa, will start his 37th consecutive year announcing Gator baseball games in February; only Boggs has done it longer at 42 years.
He learned baseball from his father, who died when Nick was 14. With his mother raising Nick and his two sisters, he knew the only way he could attend college was to get a scholarship.
He chose UF over five other schools to play baseball and get his degree. In 1976, he broke the SEC single-season stolen-base record with 42 steals, a record that stands today.
He recalls Journalism Law Professor JoAnne Smith with fondness – both for what he learned in the class and for her love of baseball, which keeps them in touch.
One of our great teachers back then was Don Grooms, a "straightforward news guy," Belmonte said. "One day for the WUFT live news broadcast, I convinced then-head football coach Doug Dickey to comment on a story I was doing on airplane safety for sports teams, which was a hot topic at the time. I convinced Dickey to come all the way out to the Gainesville airport to do it. Grooms was impressed."
Belmonte loved performing and being on air, which complemented each other. In 1981, he auditioned for an improv group in Miami called Temporarily Disconnected. They offered him the gig and he was part of the troupe for five years.
"Improv was important to me because when you're on the air, a million things can happen. You have to be ready for any eventuality. That was a good training ground for what was going to be live broadcasts. Baseball is a slow-paced game, so you have a lot of time to fill. You have to have a good rapport with the play-by-play guy."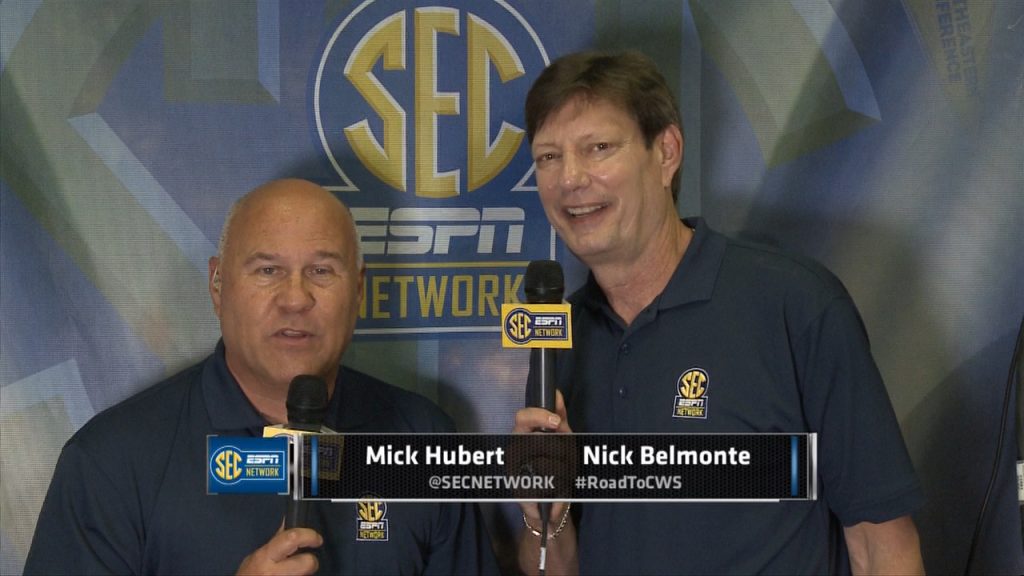 That play-by-play guy was long-time Gator announcer Mick Hubert, who he described as "special."
He would tell today's aspiring play-by-play announcers to go to a game and record yourself broadcasting the game. "Get something down. Get used to the timing of it. Go back and listen to it and have someone critique it. There are a lot of opportunities students don't know about, especially with independent leagues. They need broadcasters. Some go from the minor leagues to the major leagues."
One day shortly after a pro career-ending injury, he was teaching orthopedically disabled students at North Miami Beach High. On a cold day, he was complaining to another teacher about his knee hurting when one of his students, a girl in a wheelchair, overheard him and asked him if his knee hurt.
"Right there I thought what an idiot I was. All I had done in my life to that point and I'm complaining about knee surgery. Looking back, I truly believe God was sending me a message. From that point on I never dwelled on my career being cut short."
He got a break covering high school baseball games and four other sports for Miami public station Channel 17 – WLRN.
In 1988, when regional sports television was brand new, SportsChannel Florida was looking for someone to cover college baseball. Because of his work at WLRN, he had his audition tape ready to go.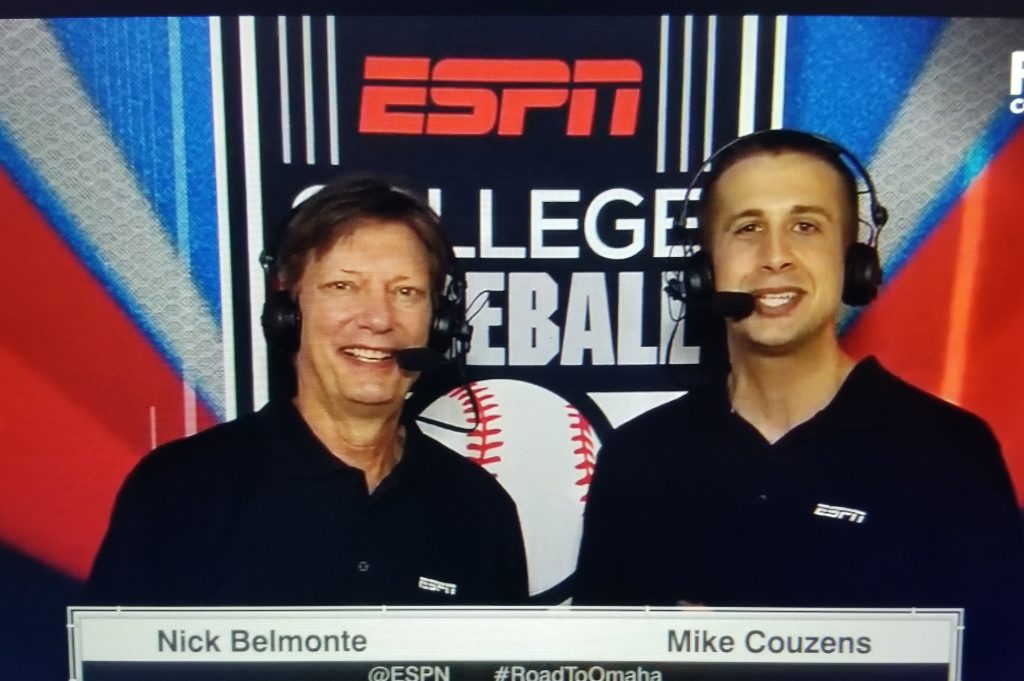 He later joined FOX Sports, covering the college game of the week and the ACC/SEC tournaments.
In 2003, he became a college baseball color analyst for ESPN, something he's done for 20 years, working more than 150 broadcasts.
He now also works with the Chicago Cubs as a pro scout. He has a World Series ring from 2016, when the Cubs won in seven games.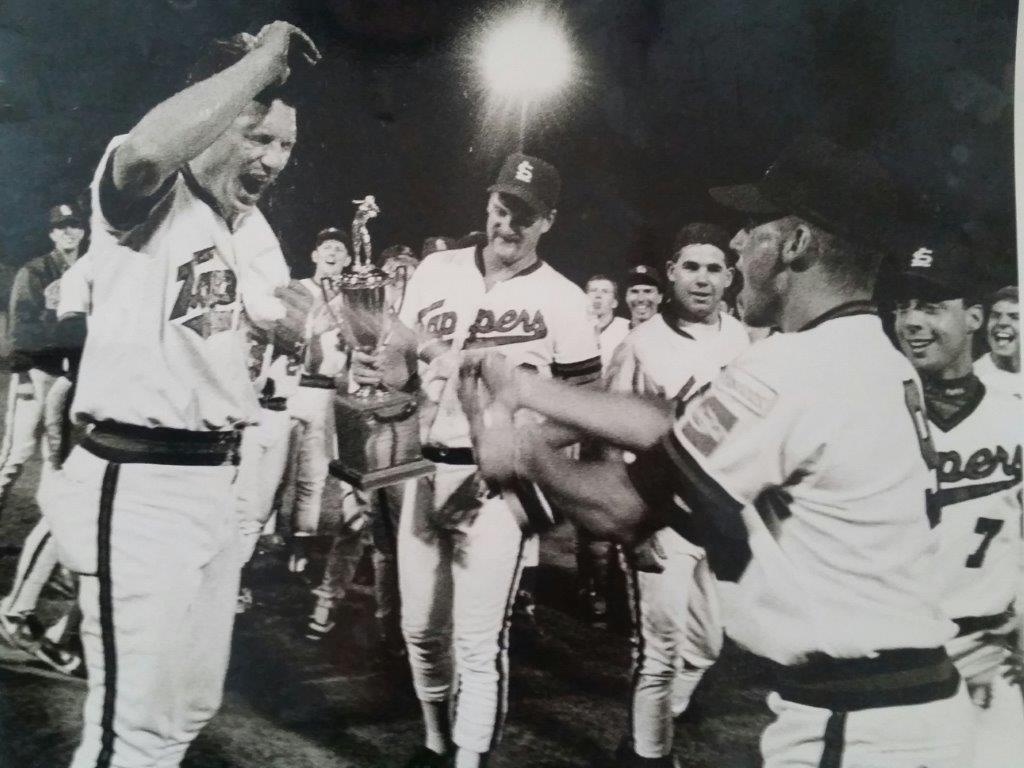 Along with broadcasting and scouting, Belmonte has been a professional baseball manager. In 1989, he received a call asking him if he would manage a minor league team, the Salt Lake City Trappers. "It was that time in my life when I really needed to see if I was as good as I thought I was. I decided to do it and either fall on my face or see if I'm any good at it."
The Trappers made the championships all three years and won it in 1991. Belmonte had the best winning percentage of any pro manager in those three years. "I'm very proud of that," he said.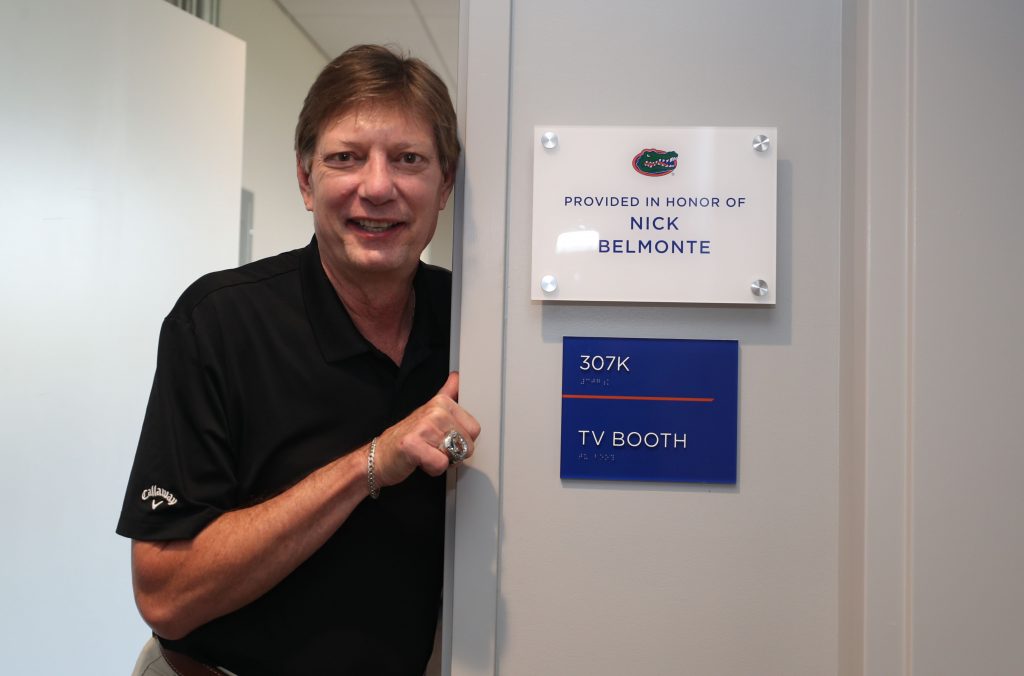 Now, his mission is to bring back high school baseball at six inner-city programs in Miami-Dade County, something the schools dropped at the beginning of the pandemic. "I want those kids to have the same opportunities I did."
Posted: November 8, 2023
Category: Alumni Profiles, College News, Sports
Tagged as: Gator Baseball, Nick Belmonte