In Memoriam: UFCJC Public Relations Professor Emeritus Glenn Butler
Glenn Butler, University of Florida College of Journalism and Communications Public Relations Professor Emeritus, passed away on Nov. 23 in Gainesville. During his 38-year tenure at the College, he served as the first chair of the Public Relations Department from 1972-1976, Associate Dean from 1976-1982 and Director of Student Services from 1982-1994.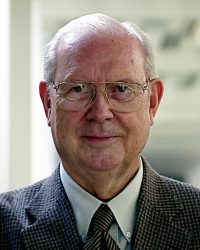 In 1992, he was named a Distinguished Service Professor of Public Relations and in 1999 the UF Division of Housing created the Dr. Glenn Butler Faculty Recognition Award in his honor. After retiring from teaching in 2003, he assisted the UF Division of Housing with academic advising and training programs. In recognition of his 60 years of teaching and service, the annual Glenn A. Butler Leadership and Service Award was established in 2013 to honor a deserving UF student.
Butler earned a B.A. in News and Advertising and two master's degrees in Counseling and Guidance and Journalism Management from the University of Oklahoma and his Ed.D. from Oklahoma State University. He served in the U.S. Army from 1950-1953 attaining the rank of Master Sergeant in the 45th Infantry Division. He also served as a medic in a M.A.S.H. unit in the 120th Medical Battalion in Korea and was awarded two Bronze Stars and a United Nations Service Medal.
A graveside Celebration of Life will be held on Dec. 1 at 2 p.m. at Forest Meadows Cemetery-Central in Gainesville.
Posted: November 29, 2022
Category: College News
Tagged as: Glenn Butler, Public Relations