Jeff Huffman Authors Op-Ed on the 2021 Hurricane Season
Jeff Huffman, University of Florida College of Journalism and Communications Division of Media Properties Chief Meteorologist and Florida Public Radio Emergency Network Director, is the author of the opinion column "We Actually Don't Know How 'Bad' Hurricane Season Could Be Yet" published in The Hill on June 4.
Huffman focuses on the 2021 hurricane season and emphasizes that the storms can be deadly, destructive and at times very difficult to understand.
"Now that the headline of an active season has passed, let's remember that it only takes one storm to devastate a community or shift one's paradigm on preparedness," said Huffman. "The misaligned perception of risk a seasonal forecast presents is just one of the many challenges public safety communicators face prior to hurricane season."
He suggests that the correlation between the total number of hurricanes that form and those that affect land can be weak or unpredictable.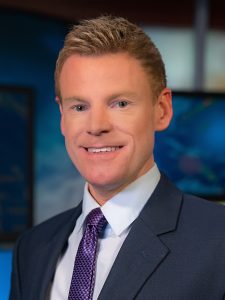 According to Huffman, "The way in which risk is communicated immediately before, during and after a hurricane is far more effective than the seasonal forecasts that get reported each spring. It's also plausible that climate change and population growth is playing a role in how extreme the impact could be from any given hurricane. But whether those impacts are related to a larger seasonal change in the frequency or strength of storms is still unknown."
"What matters most is that those who live, work or play in harm's way understand their risk — and most importantly recognize that the hazards are unique to each storm and their situation," he said.
Posted: June 7, 2021
Category: College News
Tagged as: Division of Media Properties, Florida Public Radio Emergency Network, Jeff Huffman