Randy Wright Receives 2019 Public Radio Regional Organizations Award
Randy Wright, University of Florida College of Journalism and Communications Division of Media Properties executive director, is the recipient of the 2019 Public Radio Regional Organizations (PRRO) Award for becoming a leader in public safety and emergency messaging by creating the Florida Public Radio Emergency Network (FPREN).
In presenting the award, PRRO said, "Our Honoree has done groundbreaking work to build meaningful emergency preparedness capacity for public media."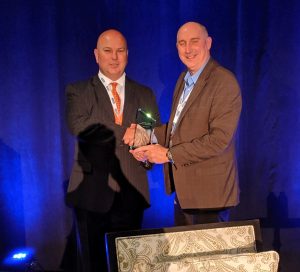 FPREN is a multi-platform emergency messaging concept feeding vital hurricane, tropical storm and other significant emergency messaging content to 13 public radio stations serving the entire state of Florida.  FPREN provides live and produced content for radio, online, social media and mobile platforms 24/7/365 along with a free mobile app that has more than 140,000 downloads to date. Since its inception, FPREN has expanded to provide emergency information to the state of South Carolina.
Established in 1987, the PRRO Award recognizes and honors someone who has made significant and enduring contributions in advancing the growth of public media; has furthered the interests of the regional organizations and stations; and exemplifies the qualities of leadership and commitment and service to public media.
The award was presented at the 2019 Public Radio Super-Regional Meeting on Oct. 17 in New Orleans. The Super-Regional Meeting is the pre-eminent national gathering of public media CEOs, thought leaders and top executives. Complete with relevant and provocative sessions, this conference focuses on the vital, pressing and complex issues facing public media.
Posted: October 17, 2019
Category: College News
Tagged as: FPREN, Randy Wright