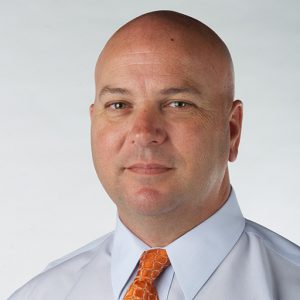 Randy Wright
Executive Director - Division of Media Properties
Bio
Randy Wright joined the College of Journalism and Communications in 2010 as the Executive Director of the Division of Media Properties (DMP), where he oversees the continued growth and development of the University's media enterprise into one of the leading multiplatform commercial and public media operations in America.
Encompassing both commercial and public television and radio stations, websites, social media and mobile platforms, the media properties are positioned to ensure CJC students receive the best professional training to accompany their academic program curriculum in addition to serving the Gainesville-Ocala market with the highest quality television, radio and online news, information and entertainment content.
During Wright's tenure at CJC, a formalized student immersion program was developed, which provides between 200-300 students per semester with immersive professional experiences in various areas of the media properties.
Under his direction, DMP switched the format of long-time radio station WRUF-AM to an ESPN-affiliated sports format that now serves as the flagship for Florida Gator broadcasts in addition to training students in sports journalism. DMP also transitioned WRUF-FM to a country format where the station is now one of the top-rated in the Gainesville-Ocala market, especially in the prized 25-54 demographic.  WUFT-FM remains a market-leader, especially in Gainesville. The media properties commitment to the arts and humanities was reaffirmed in 2015 with the launch of a 24-hour arts and classical formatted radio station in WUFT Classic.
In 2017,  Wright oversaw the creation of GHQ, a new student immersive experience targeting radio and the campus experience through a student-produced Top-40 radio station, website and mobile app.  GHQ was one of the first college-focused media products to partner with national broadcasting technology firm Futuri to do extensive market research to drive the buildout of a mobile app targeting 18-24 year olds with traditional and new radio and app-based entertainment content.
Wright was also the founder of the Florida Public Radio Emergency Network (FPREN) concept, which has become a nationally-recognized public safety product in support of public broadcasters across the state of Florida providing hurricane and other public safety alerting content to public television and radio stations in every Florida market.  In 2018, the FPREN service was expanded to serve the state of South Carolina through South Carolina ETV and South Carolina Public Radio. In 2019, WUFT/FPREN received the Corporation for Public Broadcasting's "Community Lifeline" award for FPREN's coverage for Hurricane Irma for stations throughout Florida.
In addition to oversight of CJC's media properties operations, Wright also leads the College's facilities, technology and infrastructure department which has led CJC's COVID-19 response and action in addition to safety and security efforts at the College.
Wright has received national recognition through the Madison Hodges Public Media Innovator Award from the University Station Alliance in 2015, and the PRRO Award from Public Radio Regional Organizations in 2019.  He currently serves as the Chairman of Florida Public Media, the statewide public media advocacy organization, and is the Past-President of the Missouri Broadcasters Association in addition to other community and civic leadership.  Wright holds undergraduate and graduate degrees from the University of Missouri.
Areas of Expertise
Media Competition, Media Management and Economics, Multimedia Journalism, Sports Media, Sports Reporting and Production
News