University of Florida Announces $25,000 Collier Prize for State Government Accountability
The University of Florida College of Journalism and Communications (UFCJC) today announced the creation of The Collier Prize for State Government Accountability, a prize that will be awarded annually at the White House Correspondents' Association (WHCA) dinner starting in 2020.
The $25,000 prize, one of the largest journalism prizes in the nation, is designed to encourage coverage of state government, focusing on investigative and political reporting.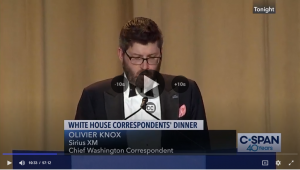 The award is funded by Nathan S. Collier, founder and chairman of The Collier Companies headquartered in Gainesville, Florida. Collier is a descendant of Peter Fenelon Collier, who in 1888 founded Collier's, a weekly magazine focused on investigative journalism and publishing stories from renowned journalists such as Jack London, Upton Sinclair, Ida Tarbell and Samuel Hopkins Adams.  One of the magazine's most famous investigative series was the "The Great American Fraud," which analyzed the contents of popular patent medicines and led to the first Pure Food and Drug Act in 1906.
"Collier's Weekly had a long history of investigative journalism, shining light in the dark recesses of government," said Collier, great grandnephew of the magazine's founder. "I am honoring Peter Fenelon Collier's vision and dedication by supporting a vibrant free press, particularly at the state government level."
In announcing this award, UFCJC Dean Diane McFarlin cited a diminished investment in statehouse coverage over the last decade.
"The professional news media's watchdog role in state capitols has declined precipitously over the last decade in the number of journalists employed to cover state governments," said McFarlin, former publisher of the Sarasota (Fla.) Herald-Tribune. "The result is that citizens don't know what they don't know, and the danger is that corruption and malfeasance can proceed unchecked. We hope this prize will encourage more rigorous coverage of a government body that has a direct impact on citizens' lives every day."
A 2014 assessment of state capitol press corps by the Pew Research Center found that the number of newspaper reporters covering state capitols declined by 35 percent between 2003 and 2014. Less than one-third of newspapers today assign even one reporter to the statehouse. Among local TV news stations, it is just 14 percent.  In Florida alone, the number of journalists stationed in Tallahassee and assigned to cover the Legislature and government agencies has dwindled by as much as half in the last decade, by some estimates.
UFCJC will partner with WHCA to promote, administer and present the annual award.
"I'm deeply grateful to the University of Florida's College of Journalism and Communications for partnering with us to create the Collier Prize for Statehouse Accountability," said Olivier Knox, chief Washington correspondent for SiriusXm radio and WHCA president. "Few trends in news worry me more than the widespread hollowing-out of local and regional coverage. The WHCA cannot, by itself or even with a generous partner, reverse this corrosive phenomenon, but we owe it to ourselves and to the public to sound this call to arms."
Details for submitting nominations for the 2020 award will be available in fall 2019.
About Nathan S. Collier
Nathan S. Collier is founder and chairman of The Collier Companies, the largest owner of multifamily housing with more than 45 properties and approximately 11,000 apartments in Florida, Oklahoma and Georgia. Collier, who earned a bachelor's, master's and J.D. from the University Florida, has endowed the Nathan S. Collier Master of Science in Real Estate program at UF's Warrington College of Business. He is a generous supporter of the arts in Gainesville and financial patron of New York's Museum of Modern Art, Guggenheim Museum, and Metropolitan Museum of Art.
About the White House Correspondents Association
The White House Correspondents' Association exists to promote excellence in journalism as well as journalism education, and to ensure robust news coverage of the president and the presidency.
 About the University of Florida College of Journalism and Communications
 The University of Florida College of Journalism and Communications, recognized by its peers as one of the premier programs in the country, is driving innovation and engagement across the disciplines of advertising, journalism, public relations and telecommunication. The college's strength is drawn from both academic rigor and experiential learning. It offers bachelor's, master's and doctoral degrees and certificates, both online and on campus. CJC students have the opportunity to gain practical experience in the Innovation News Center, which generates content across multiple platforms, and The Agency, an integrated strategic communication and consumer research agency focused on marketing to young adults. The College includes seven broadcast and digital media properties, the Joseph L. Brechner Center for Freedom of Information and the nation's only STEM Translational Communication Center and Center for Public Interest Communications.
Posted: April 25, 2019
Category: College News
Tagged as: Collier Prize for State Government Accountability, Journalism, Nathan Collier, Prize, State Government, WHCA