WUFT-TV/FM Receive Eight 2019 RTDNA Regional Edward R. Murrow Awards
WUFT-FM and WUFT-TV, operated by the University of Florida College of Journalism and Communications, are the winners of eight Region 13 RTDNA Regional Edward R. Murrow Awards.
WUFT-FM received six and WUFT-TV received two regional awards and the winning entries will go on to the national competition.
Radio awards include:
Breaking News Coverage: WUFT-FM, "Gilchrist Deputies Killed"
Excellence in Innovation: WUFT-FM, "Legislative Tracker"
Excellence in Sound: WUFT-FM and Alexa Lorenzo, "Python Hunt"
Multimedia: WUFT-FM, "The Voters"
News Series: WUFT-FM and Ramsey Touchberry, "Hurricane Prep 2018"
Television awards include:
Excellence in Innovation: WUFT-TV, "Locked Out: Florida Sentences are for Life"
News Documentary: WUFT-TV, "Silenced: 1.5 Million Felons Without a Vote"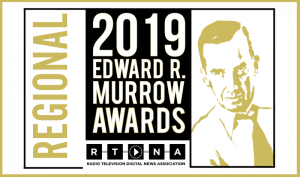 The 2019 competition recognized outstanding achievement in broadcast and digital journalism, technical expertise and adherence to RTDNA's Code of Ethics. The competition received 4,600 entries and 720 regional winners were selected for breaking news, continuing coverage, investigative reporting, overall excellence and more.
Region 13 is comprised of media outlets from Florida, Georgia, Puerto Rico and the U.S. Virgin Islands. Regional winners automatically advance to the national Edward R. Murrow Awards competition, which will be judged in May. National awards, including those for network news organizations, large digital news organizations and for students, will be announced in June. The national awards are presented at the RTDNA Edward R. Murrow Awards Gala in New York City on Oct. 14.
Posted: April 25, 2019
Category: College News, Student News
Tagged as: RTNDA Regional Edward R. Murrow Awards