STUDENT: CJC Public Relations Senior Reaches for the Sky, Literally
By Denise Trunk Krigbaum, M.A.M.C. 1997
From the time Erin Jauch could walk, she was in the gym. Sure, it was her mother's gym, so Jauch felt at home there. But, from the get-go, she took to tumbling and gymnastics. She said she kind of fell into it – a full-twisting double layout kind of fall.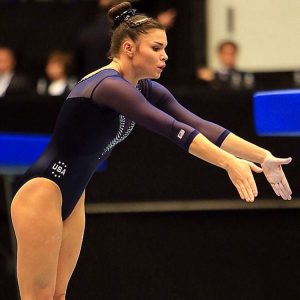 Jauch, a native of Crystal Lake, Illinois, now a Public Relations senior, developed a passion for and excelled at one gymnastic event that many people have never heard of – the Double Mini Trampoline.
Gymnastics comprises more than bars, beam, vault and floor, which are part of  artistic gymnastics typically seen in the Olympic Games. In addition, there is rhythmic gymnastics with its rope, hoop, ball, clubs, ribbon and freehand events, also an Olympic sport. Acrobatic gymnastics has groups performing Cirque de Soleil-like balancing routines at a world championship level.
"And then there is my discipline, which is Trampoline and Tumbling," Jauch said. "It has three specialties – the rod floor exercise (or tumbling) with no dancing or music; the trampoline, which is the square trampoline, and the double mini trampoline, which is my specialty and nobody really knows what it is."
Jauch compared the Double Mini Trampoline, which has world championships as its highest-level competition, to the women's vault in artistic gymnastics.
"You sprint up to it, but instead of flipping on a stationary object, you flip on and off of the trampoline," Jauch said. "Looking back, it's a little bit insane."
Her mom, Stacy Jauch, had been an artistic gymnast. She opened Fox Valley Tumbling and Trampoline when Erin's older sister was born. Erin said she never had an interest in artistic gymnastics, and just took to trampoline and tumbling.
When Jauch was 13 years old, she and her coach/mother were attending a competition when someone suggested she start competing with the USA Gymnastics organization.  "My mom and I just looked at each other, and said, 'OK, I guess we will try for that,'" Jauch said.
In order to compete at the world trials, Jauch had to first qualify by testing her skills at multiple events. By age 14, she had competed in the trials and qualified for Team USA.
"Each season you have to try out for the USA team and every year I continued to make the team, I was always as grateful as I was the year before," Jauch said. "Having the opportunity to represent your country while doing something you love is an unbelievable feeling and experience. It was, and will always be, such an honor to have competed for Team USA, and I am lucky to have had so many opportunities to do so."
In 2009, when she was 15, she went to the World Age Group Championships at the junior level in St. Petersburg, Russia. The next year, in France, she took first place. At 17, she participated in Championships competition for the first time as a senior and took the team bronze.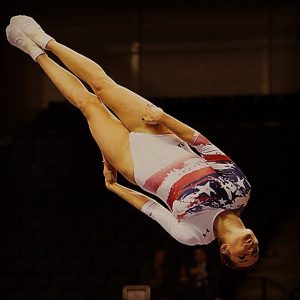 During her career, Jauch competed in all three tumbling and trampoline disciplines, even though there was no benefit to the athlete since there is no all-around event.
In 2008-09, Jauch had a dislocated elbow. To take some of the strain off it, she became a specialist in the double mini trampoline.
"I had a pulled hamstring before the 2015 world championships. I didn't really feel ready. In fact, I never graduated from physical therapy. I just said, 'bye I have to go to this event' and they gave me a t-shirt," she laughed. "I just had to hope it would hold."
She said she wonders what she was thinking, going that second time while injured.
Her mom had a strategy. In the qualifying round, Erin performed the easiest routine that could get her qualified. In the final round, she pulled out all the stops and clinched the individual gold with an expert, high-difficulty performance.
"When I was out on the competition floor at any international meet, it was more about performing my best so that I represent the United States well, rather than doing it for myself," Jauch said. "Of course I wanted to do well, but I mostly did not want to let the country down."
After her second world gold, she retired at 21. Gradually she took up CrossFit at her brother's new gym, located across the parking lot from her mom's gym.
"When I first started, I couldn't sprint. My hamstring was still healing," Jauch said.
Eventually she got her CrossFit L-1 trainer certificate and coached adults at her brother's gym, then crossed the parking lot to coach kids in tumbling at her mother's gym. Meanwhile, she debated whether to build on her associate's degree in science with a degree in a medical field, but she wasn't sure what discipline interested her the most.
After a few fits and starts at various colleges, including a stint at Santa Fe College, she landed in the UF College of Journalism and Communications.
"I came to Gainesville before applying to UF after my girlfriend moved here," Jauch said. "My dad told me he wouldn't buy the gear until he was sure I was accepted. He already had gear from three different schools I went to. Now he is decked out as a full Gator."
"I just kind of fell into public relations. I wanted a degree in a field that can prepare me to work in business for an athletic apparel company," she said.
And falling into place, as a gold-medal gymnast, or a CrossFit coach, or a public relations student, came as the result of years of hard work and dedication.
"I say things fall into place. It's not that I haven't had a choice, but I did live a very different life than most people my age," Jauch said. "I didn't graduate high school and go to college and do all the partying and stuff that kids do. So, a lot of my things just fell into place based on choices that I made and promises that I made to myself to be this athlete that I wanted to be."
As a student a few years older than a traditional undergraduate, Jauch is focused on getting the most from her time in Gainesville and from her degree.
"I think that in comparison to traditional-aged students, not only do I not go out or party, I also am using this time here to grow as an individual and network as much as I can so that I will have a better chance at getting a job that I want," she said. "I feel like in my first few years of college I didn't care about networking or building relationships, but now that is high on my priority list."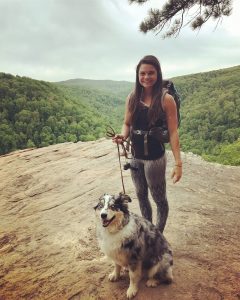 Coming from the snowy Chicago area she said she has enjoyed the weather in Gainesville, particularly in telling her family that it's cold here when it is 60 degrees. She has also enjoyed being away from her tight-knit family so she can grow and explore.
"Being away and living on my own and going through this journey on my own, I've grown as an individual and I've kind of put into perspective what is more important in my life," Jauch said.
She appreciates her professors at UF, saying Ted Spiker has been, "the bomb."
"I think if I needed any advice from him in the future, I'm certain that I could reach out and I'm certain that he would help," Jauch said. "He is a great teacher. The reporting course he taught was challenging, but he genuinely wants you to learn and do well."
Jauch still has the competitive spirit. She competes in Cross Fit and has won the Sunshine State Cup. Now she is exploring Olympic Weightlifting, which involves two lifts.
As she looks toward the future she says she will always like to coach, even when working a more structured job that will give her security and benefits.
When she coached tumbling she said she didn't sugar-coat her critiques. She was tough and encouraging.
"I saw the girls try to do their best to impress me," Jauch said. "[It was good to be] a positive role model for them."
Posted: January 8, 2019
Category: Profiles, Student Profiles