Lee Wetherington Makes $1 Million Bequest to CJC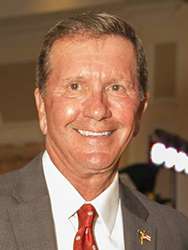 Lee Wetherington, a Sarasota homebuilder and philanthropist, has made a bequest of $1 million to the University of Florida College of Journalism and Communications for the advancement of watchdog journalism.
The gift will be in the form of a grant from the Lee Wetherington Foundation, administered by the Community Foundation of Sarasota County. It will be used to provide faculty support in the areas of freedom of information and open government, to make the imperative for investigative reporting in a democratic society, to teach journalism students the skills and critical thinking needed to do their jobs well, and to advance the sort of public service journalism that deeply engages the public in civic matters.
"It's with great pleasure that the Lee Wetherington Foundation will provide the means to help our next generation of journalists continue the tradition of being on the front lines of making sure our government and leaders do not take advantage of the trust we have put in them," Lee Wetherington said. "Investigative journalism is one of the best means to do this."
Diane McFarlin, dean of the college, said Wetherington is a close follower of the media and has been deeply involved in civic life.
"This gift represents his belief that the tradition of watchdog journalism and investigative reporting is a cornerstone of American democracy," McFarlin said. "We are at a crucial intersection of government and media. Governments are becoming more reluctant to release public records to the media and the public at large. At the same time, there is a precipitous decline in resources being spent on investigative journalism. This trend is undermining the people's right to know."
Journalism Department Chair Ted Spiker added: "This gift will serve a critical mission at a critical time: to hold government accountable to the public by making its decisions and actions transparent to the people it serves. We are grateful to Lee Wetherington, both for his generosity and for his belief in the importance of public access."
Posted: November 12, 2015
Category: College News