UF College of Journalism and Communications dedicates the Allen H. Neuharth Reading Room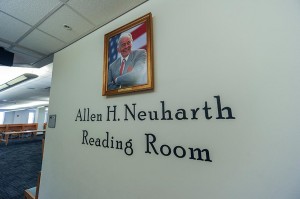 More than 80 University of Florida faculty, staff and students, and members of the Allen H. Neuharth family gathered March 10, 2014 to dedicate the "Allen H. Neuharth Reading Room" at UF Library West in memory of the former Chairman and CEO of the Gannett Company and founder of USA Today, who died on April 19, 2013.
The mission of the Neuharth Reading Room is to serve the instructional and research needs of students, faculty and staff in UF's College of Journalism and Communications.
The collections from the Neuharth Library, which was previously located in Weimer Hall, relocated to Library West in 2012.  The newly renovated space for the Neuharth Reading Room opened in 2013.
Speakers included UF College of Journalism and Communications Dean Diane McFarlin; George A. Smathers Libraries Dean Judith Russell; UF Provost Joe Glover; College of Journalism and Communications Dean Emeritus Ralph Lowenstein; Jan Neuharth, daughter of Al Neuharth; and April Hines, Journalism and Mass Communications Librarian.
"A journalism reading room can carry no name more distinguished and exemplary of the best in the profession than that of Allen H. Neuharth," said Lowenstein. "The University of Florida is honored that during his professional lifetime Neuharth chose to associate his name with ours, and publicly named the College of Journalism and Communications the most exciting educational journalism program in America."
Neuharth's first job after graduating with a degree in journalism from the University of South Dakota was with The Associated Press.  In 1952, he was hired as a reporter for The Miami Herald and his love for the state of Florida began.  In 1966, he helped in the launch of "Florida's Space Age Newspaper" – Today – now known as Florida Today. That newspaper became the first successful new newspaper of any size since World War II.
Neuharth joined the Gannett Co. Inc. in 1963 and served as its chairman from 1976 to 1989. In 1979, Neuharth began thinking about a national newspaper and in 1982, he launched USA Today, the nation's first national daily newspaper.
After retiring from Gannett, he founded the Freedom Forum, a nonpartisan foundation that champions the First Amendment as a cornerstone of democracy. The Freedom Forum is the major funder of the operations of the Newseum located in Washington, D.C.
View the photo gallery on MyCJC →
Photos by William A. England.
Posted: March 10, 2014
Category: College News
Tagged as: facilities, Neuharth Reading Room