Matt Sheehan named Director of the Innovation News Center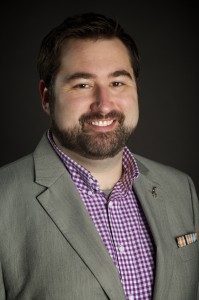 Matthew C. Sheehan has been named director of the Innovation News Center for the University of Florida College of Journalism and Communications, effective immediately, Dean Diane McFarlin announced today. He also holds a faculty appointment as a lecturer in the College's Department of Journalism.
As the INC director, Sheehan will serve as the executive editor and news director of a cross-platform professional and student newsroom generating content for citizens in 18 counties in North Central Florida. His charge also will include developing an engagement hub and digital development studio dedicated to exploring new technologies in creation and dissemination of information.
"This is a pivotal role for our College because of the many opportunities afforded by the INC, which is an extraordinary venue," said McFarlin. "In addition to being the integrated newsroom for our media properties, the INC is our center for immersion and a laboratory for new ways of delivering news and deepening engagement. Matt has the knowledge and the sensibility needed to lead us in maximizing the possibilities."
The Innovation News Center, the home of the College's news, weather and sports operations, opened in August 2012.  The two-story, 14,000-square-foot space provides nearly 100 seats for reporters, producers and editors working together to report the news for the College's many distribution channels, including WUFT-FM (NPR), WUFT-TV (PBS), ESPN 850 WRUF, WRUF-FM, WRUF-TV6 and wuft.org. The College's students work with professional news directors and College faculty to report from multiple platforms.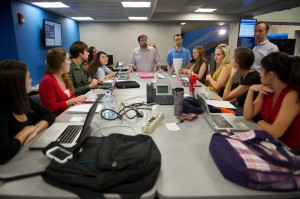 "I'm pleased to be officially joining a team of professional managers with deep history and knowledge of our news market as we explore and develop our properties into information leaders, serve as an incubator for new models of local news and train the next generation of outstanding journalists," said Sheehan. "It's an exciting time to be in news, and I'm confident that Florida is the perfect Petri dish to test new ideas."
Sheehan joined the College in May 2011 as the director of the 21st Century News Laboratory, a component of UF's Center for Media Innovation + Research.
Prior to moving to Florida, Sheehan spent more than a decade working in established and emerging media organizations and in journalism education, including a stint as the chief operating officer of Mad Mariner, LLC, a former Washington, D.C.-based media company focused on boating and marine industries.
From 2002 to 2006, Sheehan served as an assistant news editor at The Washington Post where he worked on local, national and international stories including the start of two wars, memorial sections for the victims of 9/11, a shuttle explosion and the DC sniper.
From 2005-2010, he was an academic administrator, Web strategist and developer for the University of Maryland Philip Merrill College of Journalism while in grad school. He also taught visual journalism at Maryland from 2003 to 2006.
Sheehan earned his master's of business administration and a bachelor of arts degree in journalism from the University of Maryland.  He was a fellow in the visual innovation and conceptual thinking seminar at the Poynter Institute for Media Studies in 2004.
While a student at Maryland, Sheehan served as editor of the independent daily, The Diamondback, and was named a Scripps Howard Foundation Top 10 Scholar, a scholarship given annually to the top 10 student journalists in the country. He was an "innovations" intern at The Atlanta Journal-Constitution and was a Dow Jones Newspaper Fund Editing Intern at the St. Petersburg (now Tampa Bay) Times.
Posted: July 29, 2013
Category: College News
Tagged as: Matt Sheehan