Cameron Taylor wins National Murrow Award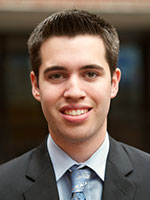 Congratulations to Cameron Taylor, TEL 2013,  and the news staff of WUFT-FM.  For the second year in a row, a UF student has won a National Edward R. Murrow Award.
The Radio Television Digital News Association announced today that Cameron has won the 2013 National Murrow in the Radio Small Market Reporting: Hard News category for his story "Cedar Key Oyster Industry On the Brink."  The RTDNA Murrow Awards honors achievements in electronic journalism; the awards ceremony will be held this October in New York City.  Cameron was competing against professional journalists from across the country.
Last year Steven Gallo, TEL 2013, was honored in the Murrow Radio Small Market Audio News category for his piece on the execution of Manuel Valle for killing Coral Gable's police officer Louis Penna.
Cameron's piece on the Cedar Key industry also won first place in the Society of Professional Journalists' Mark of Excellence Awards, Region 3, Radio News Reporting category, and was also named a national finalist.
In addition, the piece won first place in the Florida Associated Press Broadcasters Award,  Small Market, Radio's Hard News Feature category; and the grand prize in the National Broadcasting Society's Audio News Segment.
Cameron is currently a reporter at WJHG-TV in Panama City.
Related:
Posted: June 13, 2013
Category: College News, Student Awards
Tagged as: Cameron Taylor