Matt Sheehan
Interview by Aurora Martínez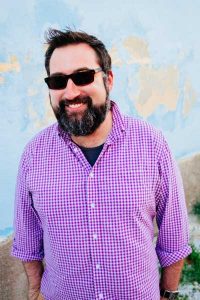 Matt Sheehan is the managing director of the Center for Public Interest Communications and senior lecturer in journalism. He is the CJC journalism faculty representative on the CJC Inclusion, Diversity and Equity Committee, and recently became the co-chair. At UF, he has taught classes in audience engagement, emerging technologies, media leadership and innovative storytelling, among others.
1. Halloween or Christmas? I grew up in New England. Christmas by a more multicultural Currier and Ives, please.
2. Ice cream or cake? Again, that Vermonter in me has to root for Ben & Jerry's. But left to my druthers, I'm going to go with cheese.

3. What game have you spent the most hours playing? Lately, I've been playing a lot of UNO with my nieces and friends' kids. (And like their mother and great-great-grandmother, my nieces cheat.)
4. What does diversity mean to you? What happened to the easy questions? To me diversity isn't tokenism, it's a desired state of plurality of all demographic and psychographic segments represented and achieving equitable opportunity and self-actualization. It's an acknowledgement that we're stronger together.
5. How is your identity going to play a role in serving as the new chair of the Inclusion, Diversity and Equity Committee? Well, you caught me. I'm not out of central casting when it comes to what folks expect a co-chair of a diversity committee to be. And that's the problem. We need to stop making the people who are most affected by the unintentional (and sometimes intentional) structural challenges in our society and institution drive the change to a more inclusive and equitable state. I've tried to be a change agent in my time here at UF and it's not enough for me to be an ally on the sidelines. I look forward to continuing to collaborate with our IDE director, my co-chair and the many members of the IDE committee – just in a more formal sense than I have in the past.
6. What is one thing you wish you knew sooner about the media industry? The industry has changed so much in my career, and unfortunately, I haven't been surprised by how we've gotten here. (Friends accuse me of being an "early rejector" in a made-up category of the diffusion of innovation theory.) I wish I had more clarity on just how quickly we were ceding the power of news as a platform because the capital value (and our mission's sustainability) is not in the news content, but the eyeballs.
7. What advice would you give to young journalists who seek audience engagement on social media? Too many people confuse "being on social" as the strategy when it is very much a tactic. A thought exercise I like giving students is to see if their strategy statement still makes sense if they replace "social" or "platform name du jour"   with "telephone." Like the telephone, social networks are a method of connecting with people. So your strategy must be with WHOM are you communicating and WHY, not the HOW. The power of the social platforms are that they allow us to reach into and customize to conversations that many different communities are having. You just need to find the ones that work for your goals. The social platforms just make that so much easier than in the past.
8. What do you hope for the future of CJC? Our College has a long history of being on the leading edge of communication, from the early days of networks and e-newspapers to the leading scholarship produced by my faculty colleagues each year. I hope we continue that leading-edge mission and become a proactive advocate for our industries instead of simply reacting to the rapid changes surrounding us.