Center for Public Interest Communications to Offer Communication Strategy Sessions for Social Change Organizations
The Center for Public Interest Communications at the University of Florida College of Journalism and Communications in collaboration with Stanford Social Innovation Review will present How to Power Up Your Communications Strategy with the Science of Systems Thinking.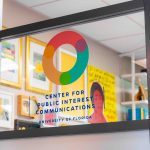 The two-part e-certification program, on Dec. 7 and 9, is designed to help social change organizations revamp communications to increase impact and connection with internal and external audiences. The online program is open to everyone.
Center Director Ann Christiano, Research Director Annie Neimand, Managing Director Matt Sheehan and Aaron Bady, Sanford Social Innovation Review editor and moderator for the sessions, will use academic research on how the human mind, behavior and society work to help participants build the world they wish existed as well as how to increase support for ideas.
Posted: December 1, 2021
Category: Center for Public Interest Communications, College News
Tagged as: Ann Christiano, Annie Neiman, Center for Public Interest Communications, Matt Sheehan, Stanford Social Innovation Review