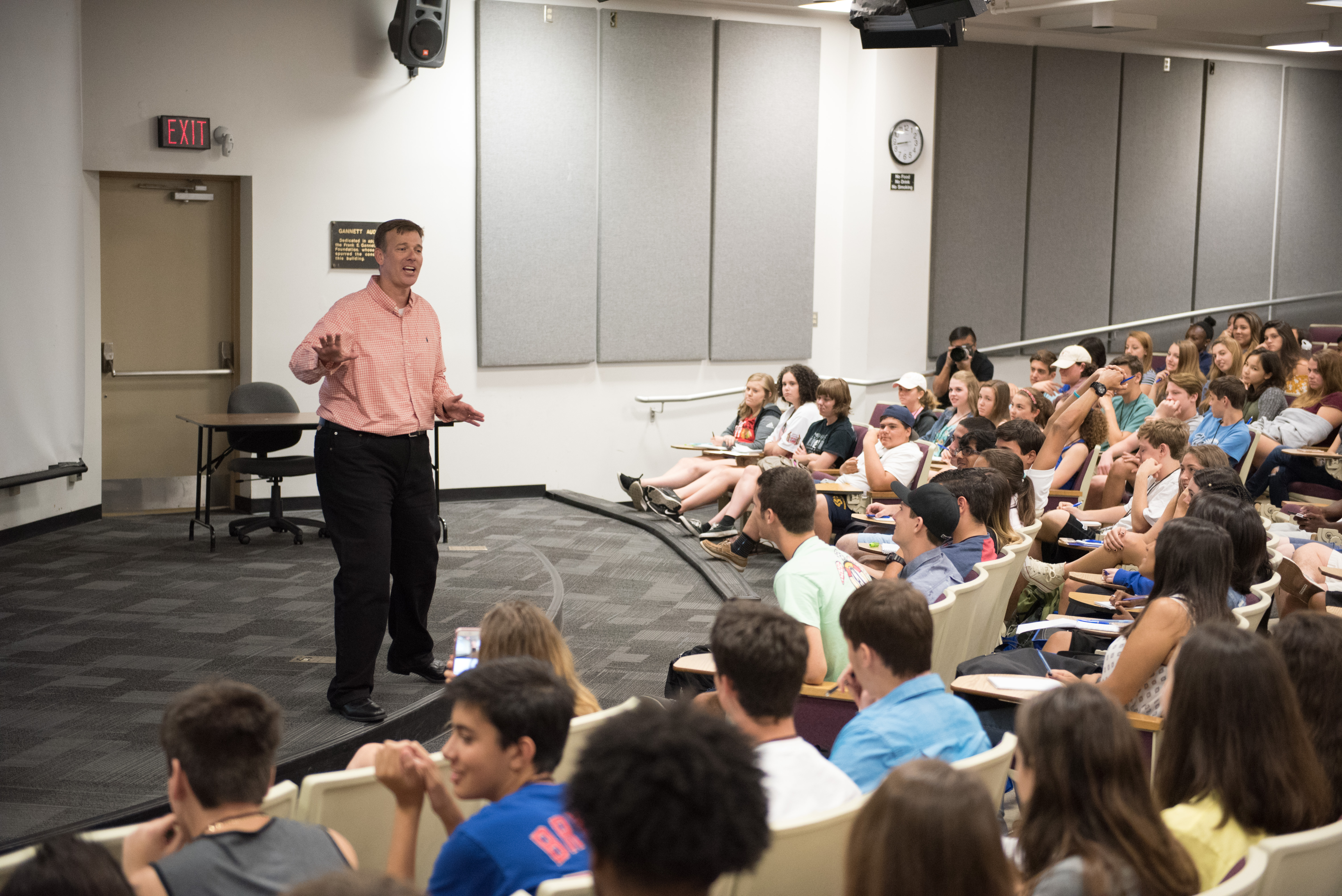 People
Eric Esterline is the Director of Sports Journalism and Communication and a lecturer for the College of Journalism and Communications. He also holds an appointment for the College of Health and Human Performance in sport management. 
He teaches a wide range of courses that include PUR 3463 Sports Communication, RTV 3593 Multimedia Sports Reporting as well as the Sports Capstone course.  He also teaches SPM3403, Sport Information Management and helps oversee the Sport Management Internship program.
Before coming to Gainesville in 2015 he worked in sports radio and journalism in Indianapolis, Jacksonville and Washington D.C. and was a freelance producer for FoxSports. Esterline has a bachelor's degree in Telecommunication and Education from Butler University and a master's degree from Indiana University in Informatics and New Media.
Esterline is an avid supporter of Butler University athletics, Indiana Pacers, Indianapolis Colts, Philadelphia Phillies, Chelsea FC, Borussia Dortmund, Tampa Bay Lightning and of course, the Florida Gators.​
Follow him on Twitter @EricEsterline
Chair, Department of Journalism
#SportsMedia UF
Ted Spiker is the mastermind behind one of UF's most talked about courses: MMC 3703 Sports Media and Society. He has been teaching at the University of Florida since 2001, was awarded tenure in 2007, and promoted to full professor and chair in 2015.
Spiker has written and co-written books and magazine articles focused on health and fitness. His work has been published in TIME.com; Esquire.com; Outside; O, The Oprah Magazine; Fortune; Men's Health; Men's Fitness; Women's Health; Runner's World and many others. Before coming to UF, Spiker was the articles editor of Men's Health.
When asked how he would fare in a pick-up basketball game against Steph Curry, Spiker is quoted saying, "Please. Dude can't stop me in the post." Speaking of basketball skills, Spiker's greatest athletic accomplishments are scoring 2 points during his entire eight-grade basketball season – he came in the final 2 minutes of the last game of the season. He also ("barely") completed at Ironman in 2013. Spiker says his athletic ability is comparable to that of a caged parrot, "I don't move very well, but I sure can squawk a lot."
Follow him on Twitter @ProfSpiker
Assistant Professor, Telecommunication Department
Dr. Roxane Coche joined the CJC faculty in fall 2018.  Prior to coming to Gainesville, she had been an assistant professor in the Department of Journalism and Strategic Media at the University of Memphis, teaching undergraduate and graduate students in broadcast, sports journalism and entrepreneurial media.  Prior to that, she was a lecturer in the Department of Communication, Media and Journalism at the University of North Georgia Dahlonega and a visiting professor in the Communication and Sciences Program at the Tecnológico de Monterrey, Campus Guadalajara in Mexico.
Coche, who was born and raised in France, began her career as a freelance sports reporter and producer in Paris. She worked on major events such as the 2008 Soccer European Championship and U.S. Open, 2010 Olympic Games, Australian Open and 33rd America's Cup, and the 2014 FIFA World Cup in Brazil.
In Fall 2018, Coche is teaching Sports Reporting (JOU 4313C) and Intro to Sports Production (RTV 4930). In Spring 2019, she will will be teaching a grad-level class about sports communication research.
Follow her on Twitter at @roxanecoche
Sports Radio Personality
Sports Director, WUFT/WRUF
Steve Russell has been the Sports Director of ESPN Gainesville since 1998 and also serves as the Sports Director for WUFT-TV. In this capacity Russell supervises all sports radio and sport television students in the INC. In addition to his duties as Sports Director, Russell also works for the University Athletic Association and IMG as one of the radio voices for gator baseball broadcasts and also hosts the Amanda Butler TV coaches show. Russell has also worked play-by-play and as a color analyst for Gator volleyball, women's basketball and softball.
Russell is a graduate of the University of Florida's College of Journalism and Communications and has worked in the broadcast industry in Gainesville since his time at UF.
Russell was a member of the State of New York bowling championship team at 16. As a coach, he has won a district championship while coaching Newberry High baseball and numerous championships coaching middle school football. Russell once tried to run on base in a national softball tournament for his team and forgot how many outs there were…he got doubled up to end the game…his team lost the semifinal game by one run.
If ESPN hired Steve as president his first task would be to hire all CJC sports students – at least those who never use sports clichés, "He knows how to win? If you are a good athlete, you know how to win".
You can hear Steve weekdays from noon – 2 p.m. on ESPN Gainesville's Sportscene with Steve Russell.