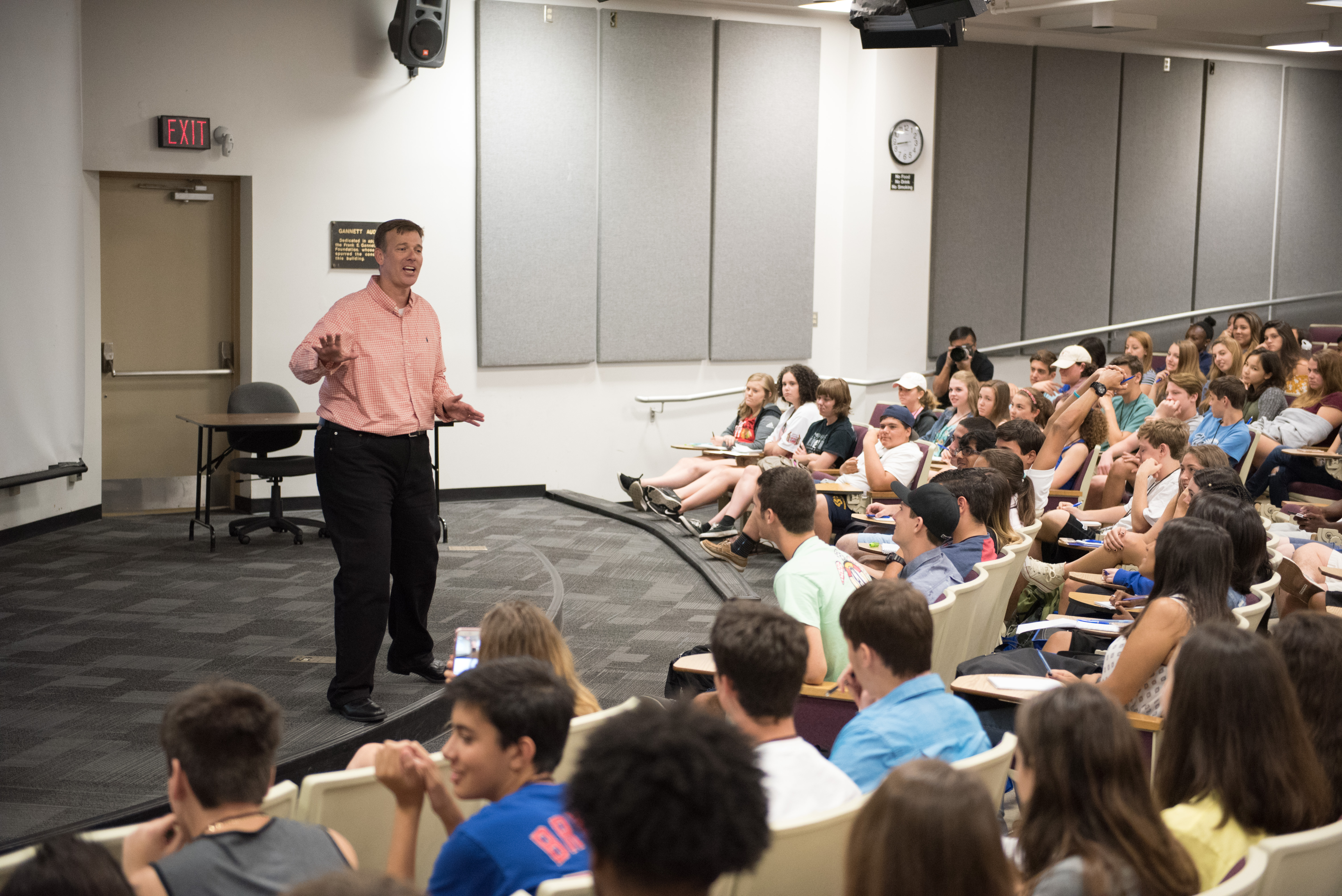 People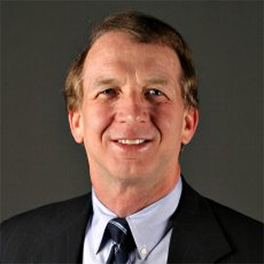 John W. Wright, Ph.D.
Professor and Director, Sports Journalism and Communication
Interim Chair, Dept. of Public Relations
Former Dean, 2006-2013.
John Wright is a professor who teaches a variety of courses, including RTV 3593 Multimedia Sports Reporting and MMC 2740 Intro to Media and Sports. He also will be teaching a course in online sports, focusing on audio and video podcasting. Before pursing his doctorate, Wright had seven years of experience in radio, including radio journalism and sports reporting, as well as program management. Wright earned his bachelor's and master's degrees from UCF and his doctoral degree from Ohio State University.
Wright earned multiple letters in three sports at Avon Park High School, focusing on football, and ventured to Furman University to attempt to play receiver at the college level. He quickly faced the cold hard truth that heart and drive only take you so far with average speed at 155 pounds, and the college game was far beyond his reach!
He loves teaching sports journalism and other courses at the University of Florida and is a highly devoted Gator fan across all sports.
Chair, Department of Journalism
#SportsMedia UF
P 352-392-0500
E tspiker@jou.ufl.edu
Ted Spiker is the mastermind behind one of UF's most talked about courses: MMC 3703 Sports Media and Society. He has been teaching at the University of Florida since 2001, was awarded tenure in 2007, and promoted to full professor and chair in 2015.
Spiker has written and co-written books and magazine articles focused on health and fitness. His work has been published in TIME.com; Esquire.com; Outside; O, The Oprah Magazine; Fortune; Men's Health; Men's Fitness; Women's Health; Runner's World and many others. Before coming to UF, Spiker was the articles editor of Men's Health.
When asked how he would fare in a pick-up basketball game against Steph Curry, Spiker is quoted saying, "Please. Dude can't stop me in the post." Speaking of basketball skills, Spiker's greatest athletic accomplishments are scoring 2 points during his entire eight-grade basketball season – he came in the final 2 minutes of the last game of the season. He also ("barely") completed at Ironman in 2013. Spiker says his athletic ability is comparable to that of a caged parrot, "I don't move very well, but I sure can squawk a lot."
Follow him on Twitter @ProfSpiker
Associate Director of Sports Journalism and Communications
Newsroom Manager for Sports, WRUF/WUFT
Eric Esterline is a lecturer in sports communication, teaching PUR 3463 Sports Communication and RTV 3593 Multimedia Sports Reporting. Before coming to Gainesville in 2015 he worked in sports radio and journalism in Indianapolis, Jacksonville and Washington D.C. (XM Satellite radio) through 2002 and was a freelance producer for FoxSports. Esterline has a bachelor's degree in Telecommunication and Education from Butler and a master's degree from Indiana University in Informatics and New Media.
Esterline says his athletic ability is comparable to that of a swiss army knife, "I am good at a lot of different things, but I am great at NONE!". EE was once thrown out of a little league game for throwing the bat at the umpire after striking out…He swears that the bat slipped out of his hands while twirling the bat around!
Follow him on Twitter @EricEsterline
Sports Radio Personality
Sports Director, WUFT/WRUF
Steve Russell has been the Sports Director of ESPN Gainesville since 1998 and also serves as the Sports Director for WUFT-TV. In this capacity Russell supervises all sports radio and sport television students in the INC. In addition to his duties as Sports Director, Russell also works for the University Athletic Association and IMG as one of the radio voices for gator baseball broadcasts and also hosts the Amanda Butler TV coaches show. Russell has also worked play-by-play and as a color analyst for Gator volleyball, women's basketball and softball.
Russell is a graduate of the University of Florida's College of Journalism and Communications and has worked in the broadcast industry in Gainesville since his time at UF.
Russell was a member of the State of New York bowling championship team at 16. As a coach, he has won a district championship while coaching Newberry High baseball and numerous championships coaching middle school football. Russell once tried to run on base in a national softball tournament for his team and forgot how many outs there were…he got doubled up to end the game…his team lost the semifinal game by one run.
If ESPN hired Steve as president his first task would be to hire all CJC sports students – at least those who never use sports clichés, "He knows how to win? If you are a good athlete, you know how to win".
You can hear Steve weekdays from noon – 2 p.m. on ESPN Gainesville's Sportscene with Steve Russell.
Jason Cole
Sports Reporter Bleacher Report
Adjunct Professor
Jason Cole is considered one of the top NFL reporters in the country and is a selector for the Pro Football Hall of Fame. He teaches JOU 4313c Sports Reporting and investigative journalism at the CJC. Prior to BleacherReport.com, he worked for Yahoo! Sports, The Miami Herald and the Fort Lauderdale Sun-Sentinel. He has also authored several books.
Prior to covering the NFL as a whole, Cole covered the Miami Dolphins for 15 years for both The Miami Herald and the Fort Lauderdale Sun-Sentinel. His work has earned numerous awards and honors from arguably the most prestigious group in sports journalism, the Associated Press Sports Editors (APSE).
Cole's greatest professional achievement is his investigative work that exposed former USC running back and Heisman Trophy winner Reggie Bush's receipt of approximately $300,000 in cash and other benefits during his final season in college in direct violation of NCAA rules. The investigation eventually led to Bush becoming the first person to relinquish his Heisman and USC was stripped of its 2004 National Championship in football. He is also proud of his work uncovering James Hogue, a 26-year-old man posing as a 16-year-old runner who lied his way into Palo Alto High and later in Princeton University.
Cole says his ability is comparable to a rhinoceros, stating "You don't think I'm too quick or dangerous, but I'll kill you if I get a chance". This will likely happen after a reporter uses any variation on the "a year ago at this time" lead, which Cole claims is the worst.
Cole is a 1984 graduate of Stanford University, regularly does more than 400 radio and TV appearances a year on stations around the country.
Follow Cole on Twitter @JasonColeBR