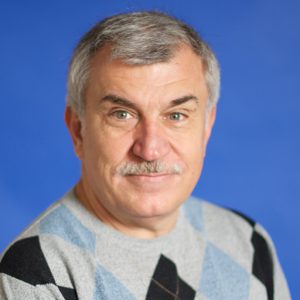 Steve Russell
Sports Director - Division of Media Properties
Bio
Steve Russell has been the Sports Director of ESPN Gainesville since 1998 and also serves as the Sports Director for WUFT-TV. In this capacity Russell supervises all sports radio and sport television students in the INC. In addition to his duties as Sports Director, Russell also works for the University Athletic Association and IMG as one of the radio voices for gator baseball broadcasts and also hosts the Amanda Butler TV coaches show. Russell has also worked play-by-play and as a color analyst for Gator volleyball, women's basketball and softball.
Russell is a graduate of the University of Florida's College of Journalism and Communications and has worked in the broadcast industry in Gainesville since his time at UF.
Russell was a member of the State of New York bowling championship team at 16. As a coach, he has won a district championship while coaching Newberry High baseball and numerous championships coaching middle school football. Russell once tried to run on base in a national softball tournament for his team and forgot how many outs there were…he got doubled up to end the game…his team lost the semifinal game by one run.
If ESPN hired Steve as president his first task would be to hire all CJC sports students – at least those who never use sports clichés, "He knows how to win? If you are a good athlete, you know how to win".
You can hear Steve weekdays from noon – 2 p.m. on ESPN Gainesville's Sportscene with Steve Russell.