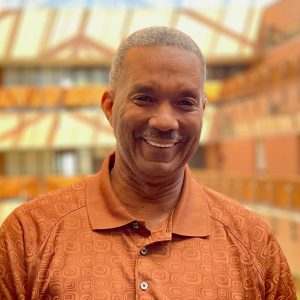 Herbert Lowe
Senior Lecturer - Department of Journalism
Bio
Herbert Lowe is a senior lecturer who teaches courses on multimedia journalism as well as on the intersection of race, sports and media.
WUFT News has published more than 1,600 stories produced by students in Lowe's intermediate multimedia reporting course since he started at UF in fall 2017. Two students in his fall 2022 advanced course had their stories place second and third, respectively, in a multimedia category in the 2023 Hearst Awards competition, considered the Pulitzer Prizes of college journalism.
Lowe has also taught a fundamental reporting course and an honors class focusing on Roberto Clemente and how Afro-Latino athletes advocate for a more diverse and tolerant world. And he has taught a graduate-level digital storytelling course and chaired and/or served on multiple capstone committees for students pursuing master's degrees.
He also created a special topics course presenting an intercollegiate opportunity for students from UF and Florida Agricultural and Mechanical University to report from Alabama, Arkansas, Georgia, Mississippi and Tennessee. The students produced a news website and documentary.
Lowe is a former director of the UF Summer Media Institute, an annual, immersive weeklong program attracting as many as 150 high school students to campus for a weeklong workshop.
Before joining UF, he was the journalism professional in residence, and founding director of the Perry and Alicia O'Brien Fellowship in Public Service Journalism, at the Diederich College of Communication at Marquette University in Milwaukee. He taught classes in digital journalism, journalism history, sports journalism and media coverage of elections and campaigns.
A native of Camden, New Jersey, he earned his B.A. and M.A. in journalism and communication, respectively, from Marquette. Before joining the academe, he worked for 22 years as a reporter at several daily newspapers, including The Press of Atlantic City, The Record (New Jersey), The Virginian-Pilot (Norfolk, Virginia), The Philadelphia Inquirer and Newsday (New York).
A past president of the National Association of Black Journalists (NABJ), Lowe was twice selected by EBONY magazine as among the "100+ Most Influential Black Americans." He also has served as a senior writer and editor at the U.S. Abraham Lincoln Bicentennial Commission and communications director for the Congressional Black Caucus Foundation in Washington.
Lowe has written articles related to journalism education for CNN Digital, ESPN (Andscape), Poynter.org and PBS MediaShift. During summer 2023, he wrote for the Los Angeles Times as an academic reporting fellow as part of a CJC faculty development program.
News
Courses
Syllabi from the current and three previous semesters: