UFCJC Names Marcia DiStaso Associate Dean for Research
The University of Florida College of Journalism and Communications (UFCJC) today named Public Relations Department Chair Marcia DiStaso to the new position of Associate Dean for Research, where she will provide leadership in management, promotion, and strategic planning for the College's research enterprise.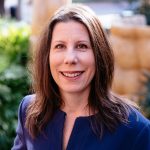 In her new role, she will represent research interests across all UFCJC programs, departments, centers, related units within the University of Florida, and with external stakeholders. She will provide leadership in facilitating faculty and student research and creative efforts, and in identifying, soliciting, and managing sources of funding.
"Dr. DiStaso has distinguished herself as an administrator, teacher and respected researcher," said Dean Hub Brown. "Her experience and vision will continue to elevate our renowned scholars and our widely acclaimed research."
DiStaso joined the College in 2017 after 10 years as a professor at Penn State University. Her current research primarily focuses on corporate purpose – or how companies create value for all stakeholders. Much of her past research has been on digital/social media, financial communication and investor relations.
In 2021, DiStaso won the Institute for Public Relations' Pathfinder Award, the organization's lifetime achievement honor recognizing significant and sustained contributions to the body of knowledge of public relations through published research.  In 2020, she was selected as one of the PRNEWS Top Women in PR, and in 2019 she won the PRNEWS Educator of the Year Award and was elected to the PR Measurement Hall of Fame. In 2016, she won the Public Relations Society of America (PRSA) Educator of the Year Award. With her students, she has won a PRSA Silver Anvil Award of Excellence, a Hermes Creative Award, and MarCom Awards.
Under her direction, the Public Relations Department received honorable mention in the 2021 PRWeek Top Education Program competition, and is one of five finalists for the 2022 award. The Department's Bateman Competition team placed second nationally in 2020, and for the past three years, student teams have received top wins in the Page Case Study Competition.
DiStaso is also actively involved in the public relations industry having served as a trustee for the Institute for Public Relations and Director of their Digital Media Research Center. She also served as a member of the Page Society and on the 2019-20 Global Alliance Board of Directors. She currently is on the Advisory Council of the industry's Diversity Action Alliance, an organization she helped found and of which UFCJC was one of the first academic institutions to join. She serves on the 2022 Ragan Editorial Advisory Board and is part of the RepTrak Academic Collaborative.
Since 2013, the research leadership function has been integrated with the College's Graduate Division administration. The new Associate Dean for Research was created to provide more focus on elevating UFCJC's scholars and scholarship.
Posted: March 11, 2022
Category: College News
Tagged as: Marcia DiStaso