Marcia DiStaso Wins IPR Pathfinder Award Honoring Lifetime Achievement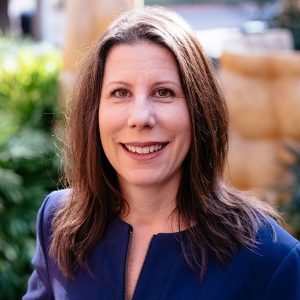 The Institute for Public Relations (IPR) today announced that University of Florida College of Journalism and Communications (UFCJC) Public Relations Department Chair Marcia DiStaso is the winner of their 2021 Pathfinder Award. DiStaso will receive the award at IPR's 2021 Annual Distinguished Lecture and Awards Dinner on Dec. 2, 2021 in New York City.
IPR, which is housed at UFCJC, presents this lifetime achievement award annually to an individual who has made significant and sustained contributions to the body of knowledge and practice of public relations through published research. The IPR Pathfinder Award committee, comprising IPR Trustees, past winners, and academic leaders in the field, recognized DiStaso's commitment to research that matters to the profession.
IPR Trustee Terence Flynn, associate professor of communications management at McMaster University, said the committee selected DiStaso for the impact of her research contributions on the profession. "Dr. DiStaso is one of the top researchers who focuses on research our field needs when it matters most," said Flynn. "Throughout her career, she has been one of the leading scholars in social media research, including publishing landmark research projects on Wikipedia, financial and investor communications, and purpose. She has also been an outstanding leader in both professional and academic organizations, elevating our field through her work."
DiStaso pioneered research in digital media, financial communication and investor relations. She has won many awards over the years, dating back to her IPR Best Master's Thesis Award in 2004. Some of her most notable awards include the 2020 PRNEWS Top Women in PR Award, the 2019 PRNEWS Educator of the Year Award, the 2019 PR Measurement Hall of Fame, and the 2016 Public Relations Society of America Educator of the Year Award. With her students, she won a Silver Anvil Award of Excellence, Hermes Creative Awards, and MarCom Awards.
DiStaso, an IPR Trustee and the director of its Digital Media Research Center, has co-authored/edited two books, A Communication Guide for Investor Relations in the Age of Activism and Ethical Practice of Social Media in Public Relations. She has also published in multiple public relations, corporate communication, and mass communication journals, and has contributed chapters to books on digital media, crisis communications, and corporate reputation. Her current research primarily focuses on corporate purpose, or how companies create value for all stakeholders.
The Institute for Public Relations is an independent, non-profit research foundation dedicated to fostering greater use of research and research-based knowledge in corporate communication and the public relations practice. IPR is dedicated to the science beneath the art of public relations.
Posted: October 27, 2021
Category: College News, Diversity News and Profiles
Tagged as: Institute for Public Relations, Marcia DiStaso, Pathfinder