Natalie Asorey
Interview by Aurora Martínez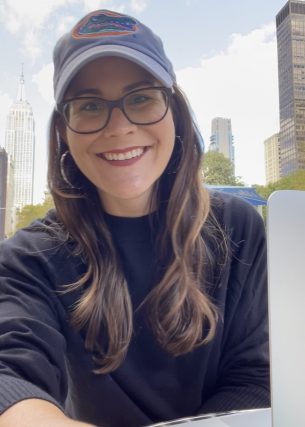 Natalie Asorey is a lecturer based in New York, where she is helping establish the Public Relations Department and CJC's footprint in one of the nation's media and communication hubs.
Asorey is the PR Department Representative of the Inclusion, Diversity and Equity Committee. She is also the Associate Director/Student Engagement at The Agency and this year was selected as one of the 2021 PRNEWS Top Women in PR Rising Stars.
1. Winter or summer? Summer. I love the long days of sunshine.
2. Instagram or Twitter? Instagram.
3. What is your favorite kind of vacation? One with outdoor adventures and delicious food.
4. What made you choose a career in Public Relations? From when I was a kid, I was always interested in communication (Where are my other middle school TV crew folks?). I loved writing and telling stories. But it wasn't until I did my first internship and realized I could focus my career on communicating with U.S. Hispanic/Latino/e audiences that I knew I was on the right path in public relations.
5. What does diversity mean to you? It means we are all seen, heard, respected and valued for who we are, just as we are, and we have opportunities to thrive. Yes, it's about representation, but not just to "check a box."
6. This semester, you began working for CJC from New York City. What is it that you are doing for the college? We're bringing the CJC to NYC! I'm building a new immersion program, CJCxNYC, that will blend professional experiences with the city's culture and energy to give students the opportunity to learn, work, explore⁠—and even live⁠—in one of the most important media and communication hubs in the nation. For communication agencies and organizations, it's a gateway to the next generation of talent.
7. What is it like to work remotely? I won't pretend it's always easy. I do miss seeing my students and colleagues at Weimer and interacting in person. But I'm also incredibly grateful for the opportunities remote work can create for us as we establish a footprint in NYC, and hopefully, other cities too. Plus, it makes my visits to Gainesville even more special and energizing.
8. What is the best advice you received growing up? My mom always said, "If you can do something about it, do it. If you can't, it's OK to let it go." It was the serenity prayer (mom's version).