About the Prize
The Collier Prize for State Government Accountability at the University of Florida is designed to encourage coverage of state government in every state, focusing on investigative and political reporting.
The $25,000 prize is one of the largest journalism awards in the nation and clearly the largest focused on state government. The prize is available to any news organization on any platform and will be announced annually at the White House Correspondents' Association dinner.
The Collier Prize was founded by Nathan S. Collier, founder and chairman of The Collier Companies headquartered in Gainesville, Florida, to encourage coverage of state government, focusing on investigative and political reporting. Collier said, "The greatest good the Collier Prize can have lies in creating a deterrent effect. Let it be known far and wide that someone is watching, that there are guardians, that accountability does exist." Collier is a descendant of Peter Fenelon Collier, who in 1888 founded Collier's, a weekly magazine focused on investigative journalism and publishing stories from renowned journalists such as Jack London, Upton Sinclair, Ida Tarbell and Samuel Hopkins Adams.
Mr. Collier endowed the Nathan S. Collier Master of Science in Real Estate program at University of Florida's Warrington College of Business Administration, where he teaches a real estate case studies course. He is on the board of UF's Bergstrom Center for Real Estate Studies, is a member of the Urban Land Institute, and is active in World Presidents' Organization. Collier also serves as a member of Columbia University's Columbia Journalism Review Board of Overseers.
A Brief History of Collier's
This history is adapted from a Wikipedia article.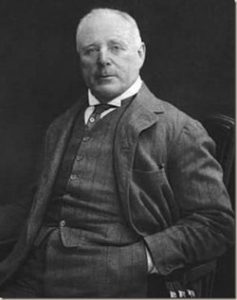 Peter Fenelon Collier (1849–1909) was a successful book publisher when he launched Collier's (then Called Collier's Once a Week) on April 28, 1888 as a magazine of "fiction, fact, sensation, wit, humor, news." By 1892, with a circulation climbing past the 250,000 mark, Collier's Once a Week was one of the largest selling magazines in the United States. The name was changed to Collier's Weekly: An Illustrated Journal in 1895.
With an emphasis on news, the magazine became a leading exponent of the halftone news picture. To fully exploit the new technology, Collier recruited James H. Hare, one of the pioneers of photojournalism.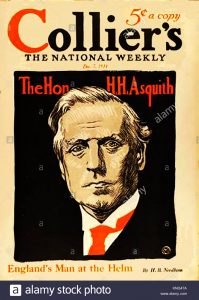 Collier's only son, Robert J. Collier, became a full partner in 1898. By 1904, the magazine was known as Collier's: The National Weekly. Peter Collier died in 1909.[6] When Robert J. Collier died in 1918, he left a will that turned the magazine over to three of his friends, Samuel Dunn, Harry Payne Whitney and Francis Patrick Garvan.
When Norman Hapgood became editor of Collier's in 1903, he attracted many leading writers. In May 1906, he commissioned Jack London to cover the San Francisco earthquake, a report accompanied by 16 pages of pictures. Under Hapgood's guidance, Collier's began publishing the work of investigative journalists such as Samuel Hopkins Adams, Ray Stannard Baker, C.P. Connolly and Ida Tarbell.
Hapgood's approach had great impact, resulting in such changes as the reform of the child labor laws, slum clearance and women's suffrage. In April 1905, an article by Upton Sinclair, "Is Chicago Meat Clean?" persuaded the Senate to pass the 1906 Meat Inspection Act.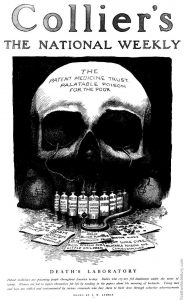 Starting October 7, 1905, Adams startled readers with "The Great American Fraud", an 11-part Collier's series. Analyzing the contents of popular patent medicines, Adams pointed out that the companies producing these medicines were making false claims about their products and some were health hazards. The series had a powerful impact and led to the first Pure Food and Drug Act (1906). The entire series was reprinted by the American Medical Association in a book, The Great American Fraud, which sold 500,000 copies at 50 cents each.
Collier's also popularized the short-short story which was often planned to fit on a single page. The numerous authors who contributed fiction to Collier's included Ray Bradbury, Eleanor Hoyt Brainerd, Willa Cather, Roald Dahl, Jack Finney, Erle Stanley Gardner, Zane Grey, Ring Lardner, Sinclair Lewis, E. Phillips Oppenheim, J. D. Salinger, Kurt Vonnegut, Albert Payson Terhune and Walter Tevis. Humor writers included Parke Cummings and H. Allen Smith.
The magazine ceased publication with the issue dated for the week ending Jan.  4, 1957.