Assistant Dean Wears Multiple Hats to Improve CJC Student Experiences
By Lenore Devore, B.S. Journalism 1984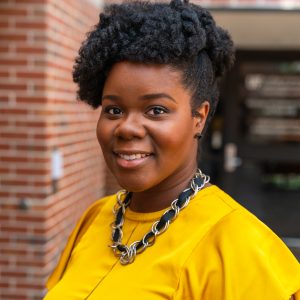 Katrice Graham, assistant dean for Student Experiences and director of the Knight Division for Scholarships and Student Inclusion, wears three hats on most days, but it's something she prepared herself for when getting three degrees.
And she's one of the primary reasons CJC is leading UF in recruiting and retaining a diverse student population.
Graham was originally recruited to UF to study engineering, but CJC popped up on her radar during a high school visitation program. "I always knew I would go into grad school for business. So I wanted an undergrad degree in something different but complementary. I originally started off as a PR major; I didn't connect with that major at all. I switched to advertising and that worked out perfectly."
After getting her bachelor's in advertising, she got her master's in management from the UF Hough Graduate School of Business. She then worked as a financial aid adviser at UF and as a supervisor at Nationwide Insurance and project manager at 352 Media Group.
"The people were nice, but the job was not something I loved," she said. "It prompted me to make a promise to myself that I would never again apply for a job I didn't think I would love."
What she did love was working with students at UF – in housing, financial aid and at CJC. So she applied for a job to be an academic adviser and career coach in the business college. "After five years of being out of school, I decided to get a doctorate in higher ed administration because I was going to work at a university forever."
She says she has three degrees in three really different fields, and she's found "the unicorn of a job where she can use all three."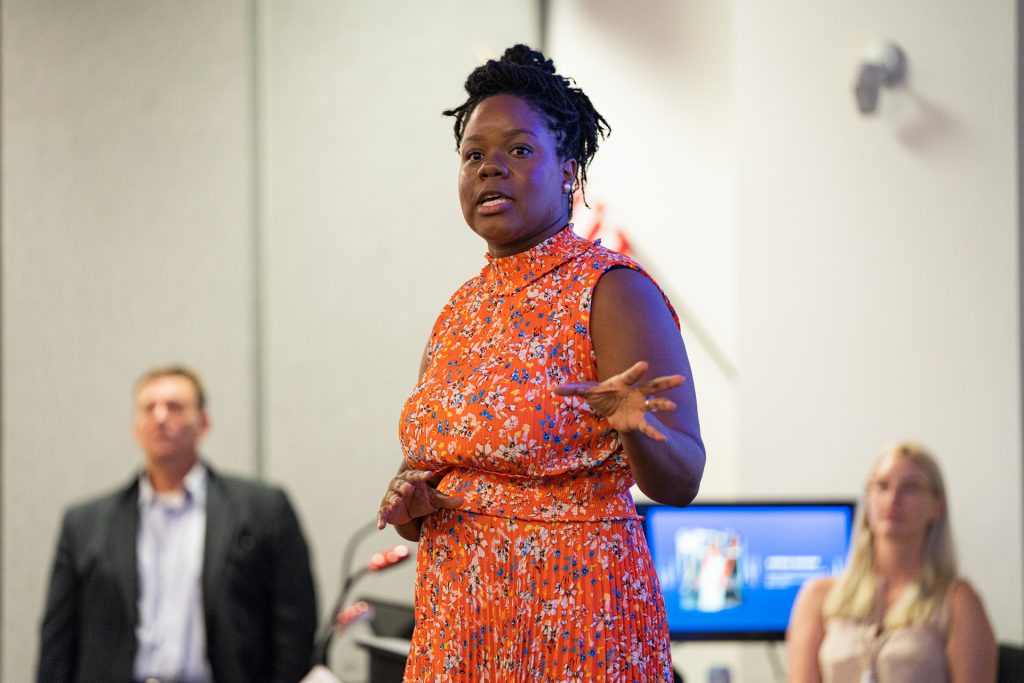 Graham is the second person in the role of assistant dean for student experiences, where she oversees "everything non-academic that has to do with successfully getting the student to and through our program."
She supervises the Office of Careers and Corporate Partnerships, which exposes students to professional development opportunities. In that role, she tries to ensure students are prepared with resumes and work samples when employers come to recruit them.
She's also the liaison for immersion opportunities, those hands-on experiences in CJC like The Agency and news stations. "I focus on making sure our in-house professionals are prepared to help students learn while doing. And vice-versa. We're making sure students are learning current and emerging professional skills so they can apply what they're learning in the classroom to professional practice."
Graham uses a variety of methods to help students navigate internship opportunities and gain experience in their fields before they graduate.
"We bring in guest speakers from industry, whether they are coming in to speak to a class or a student organization or putting on workshops for students to come in and learn directly from those recruiters and those who are currently successful in industry – what it takes to get there."
Other student experiences include:
The Careers in Communication Fair, which started in CJC but has grown so much that it's now a collaboration with the Career Connections Center.
Sending a weekly e-newsletter with new internship opportunities.
Maintaining a database of internships, full-time jobs, fellowships and even volunteer opportunities.
CJCxNYC, an immersion program that blends professional experiences and New York City culture to give students an experience to learn in a communication hub. The program was successful in its first year in 2022 and CJC is trying to expand it to include additional majors.
Knight Talks, "an immersive learning class where students can come in with no experience and film a talk show. The content brings in people who have been successful in unique jobs from a communications background to really explain to students what the road to success looks like. We try to highlight people who have had colorful journeys to prepare students for what they may face on their way there."
NBCU Academy, which CJC partnered with in 2022. The Academy is a multi-platform journalism training and development program.
The goal of all of it is to "evolve with the industry and keep up so our students are leaving with the most up-to-date experiences," Graham said.
As director of the Knight Division for Scholarships and Student Inclusion, she is responsible for recruiting and retaining students from under-represented communities and undergraduate scholarships – something more important now than ever.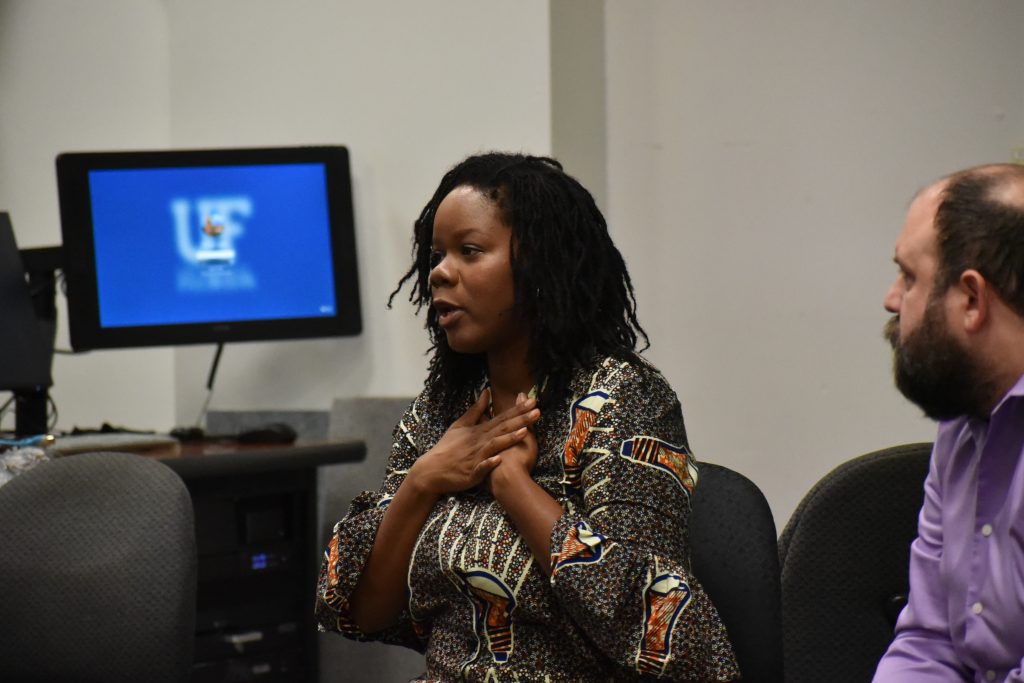 "Everything is more expensive now than when I was a student," when Bright Futures Scholars got 100% of their tuition and a $300 book stipend, she said. Now, the stipend has been eliminated and students get a set dollar amount – at a time when tuition is rising. Then factor in higher interest rates on student loans and inflation and it becomes clear.
"Students are dealing with a difficult financial climate," she said. "There are a lot more students who are contributing to living expenses back home. Particularly with non-traditional and transfer students, families back home are dependent on that student's income, making it harder for students to find time to study."
The pandemic impacted recruiting, which is back on track, Graham said. CJC is hosting virtual workshops targeted to high school and potential transfer students, traveling the state to attend community college job fairs and building a network of advisers to college newspapers and media outlets to tap into students who may be candidates to transfer.
The College has partnered with two diverse Gainesville high schools to allow students to take a field trip to the CJC, implementing CJC PATHS transfer student success program and offering scholarships to increase the number of diverse students at the Summer Media Institute. In the first year under new director Harrison Hove, Black enrollment in the institute increased 15%. "We're hoping to inspire some of them to stay committed to journalism and communications as a career."
She's working on hiring a recruiter to increase that bandwidth and further engage the communities around Gainesville and across the state, she said.
Graham said she's very proud of the team at CJC. "We are most critical of ourselves, and I think that's a sign of a number of people who are very passionate about their job… when you are vested in the outcome and you care about it, and you feel like you can do better, I think that's a great sign. I love that we have that energy. We set very high goals for ourselves, and some we are still working to reach."
She's also happy that the College is making up ground lost during the pandemic. "The university as a whole has had difficulty with the diversity of the student class admitted, so the fact CJC has kind of cushioned the blow some in comparison to the overall number, I think we should be proud of ourselves."
When not at UF, Graham spends her time with her husband Hamadi, who teaches IB math, and their two little girls, ages 2 and 4-1/2. She also loves house plants and is learning how to "make things grow."
Posted: March 9, 2023
Category: College News, Faculty Bylines, Profiles
Tagged as: Dean's Report, Katrice Graham