Moni Basu Named 2019-20 UF Undergraduate Teacher of the Year
Moni Basu, University of Florida College of Journalism and Communications Michael and Linda Connelly Lecturer for Narrative Nonfiction, has been named the 2019-2020 University of Florida Teacher of the Year. The award encourages and rewards excellence, innovation, and effectiveness in undergraduate teaching.
A testimonial from one of her students sums up Basu's impact:
"In my four years at UF, I never encountered another professor who was so impactful on my career and on my life. From the first time I stepped into her narrative feature-writing class, I knew that she was going to challenge me in the best way. She gets to know each of her students intimately so that she can pinpoint the exact areas she can help them grow in, both personally and professionally. I left the class with an entirely new skillset, a heightened enthusiasm for storytelling, and a lifelong mentor."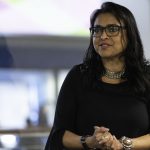 Basu, who is in only her second year as a faculty member, is the fifth College faculty member to receive this recognition. Journalism Professor Ted Spiker received the honor in 2016-17, Public Relations Professor Ann Christiano received the award in 2014-15, Journalism Associate Professor Norm Lewis won in 2009-10 and Mike Foley, the Hugh Cunningham Professor in Journalism Excellence, won in 2006-07.
Basu is an author and award-winning journalist focusing much of her work on people who survive immense loss and trauma and on issues of race and identity. Most recently she was a senior writer at CNN. She covered the Iraq War from its inception, for which she won several national awards. Her e-book, "Chaplain Turner's War," grew from a series of Atlanta Journal-Constitution stories on an Army chaplain serving in Iraq. She also was a distinguished professor of practice in the University of Georgia's narrative nonfiction MFA program.
Posted: April 17, 2020
Category: College News
Tagged as: Moni Basu, UF Undergraduate Teacher of the Year