Jordan Alpert, Huan Chen and Alyssa Jaisle Author Article on E-Cigarette Promotion on Twitter
University of Florida College of Journalism and Communications Advertising Assistant Professor Jordan Alpert, Advertising Associate Professor Huan Chen and Alyssa Jaisle, Ph.D. 2019, are the authors of "A Content Analysis of the Promotional Strategies Employed by E-Cigarette Brands on Twitter" published in the journal, Health Marketing Quarterly on Nov. 7.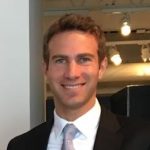 The study categorizes the promotional techniques e-cigarette brands are using on social media. They found that e-cigs are marketed using similar methods as tobacco companies in the 70's and 80's, in which the product is portrayed as "cool" and the behavior is normalized. They suggest monitoring the promotion of e-cigs within social media platforms to prevent the e-cigs brands from shaping the attitudes and perceptions of young adults.
A summary of similar research from Alpert and Chen — E-Cigarettes and Social Media: Attitudes and Perceptions of Young Adults to Social Media Messages – is available on the College's Research and Insights site.
Posted: November 7, 2019
Category: Alumni News, College News
Tagged as: Alyssa Jaisle, Huan Chen, Jordan Alpert