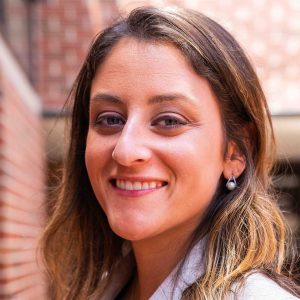 Sara Ganim
Hearst Journalism Fellow - Brechner Center for Freedom of Information
Bio
Sara Ganim is a Pulitzer-Prize-winning journalist, and the current Hearst Journalism Fellow at the University of Florida's Brechner Center for Freedom of Information, where she hosts the award-winning podcast Why Don't We Know. The podcast was honored with the 2020 EWA award for public service.
Ganim started her career as a newspaper reporter and won a Pulitzer Prize at age 24 for breaking and covering the investigation into former Penn State assistant football coach Jerry Sandusky's sexual abuse of young boys.
Ganim then spent seven years at CNN, covering federal government agencies, the rise of the anti-fascist movement in the U.S. the NCAA's mishandling of concussions, and American drinking water issues.
In 2015, she won a Sigma Delta Chi award from the Society of Professional Journalists for her investigative report exposing the low reading levels of some college athletes.
In 2020, she made her first independent film, No Defense, which garnered film festival recognition, and she has consulted or reported for several other films, including the Emmy-nominated films, Deadly Haze and Paterno.
Education
B.A. Communications, Pennsylvania State University
News
Courses
Syllabi from the current and three previous semesters: