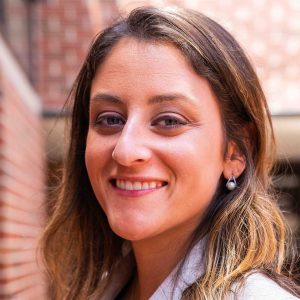 Sara Ganim
Hearst Journalism Fellow - Brechner Center for Freedom of Information
Bio
In 2012, Ganim, then a reporter for the Patriot-News in Harrisburg, Pennsylvania, won the Pulitzer Prize for Local Reporting for her coverage of the Jerry Sandusky-Penn State scandal. At 24, she was the third-youngest person to win a Pulitzer. She also won the 2011 George Polk Award in Journalism for the story and the Patriot-News received the Scripps Howard Award for Community Journalism.  That same year, Newsweek magazine named Ganim one of "150 Women Who Shake the World."
Ganim left the Patriot-News in 2012 to join CNN and in 2015 received the Sigma Delta Chi Award from the Society of Professional Journalists for a story claiming that some student-athletes at NCAA Division I member colleges and universities read at a third-grade level or below.
In 2012, she also was recognized by the Associated Press Managing Editors Association for her work with student journalists. She has taught college-level journalism and spends several days each year speaking to college and high school journalists about the profession of journalism and the transition from print to broadcast.
She recently left CNN to work on a book and documentary film project.
Education
B.A. Communications, Pennsylvania State University
News
Courses
Syllabi from the current and three previous semesters: