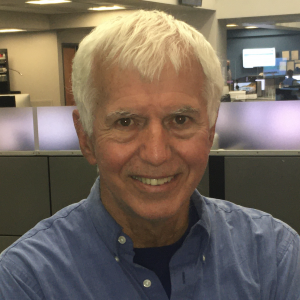 James Babanikos, Ph.D.
Associate Dean for Undergraduate Affairs - Professional Advising and Teaching Hub Professor - Department of Media Production, Management, and Technology
Bio
Babanikos has been working as a writer/director in video and film since 1984. He has received production grants from the Independent Television Service, the National Educational Telecommunication Association, the Florida Arts Council, as well as the National Film Board of Canada. His works include Portrait of an Actor (2017, 25:00, documentary), Fred Turns Fifty (2016, 20:00, comedy), Pillow Talk (2015, 12:00, drama); By The Way, Meet Vera Stark (2014, 11:00, drama); Coming Home (2013, 25:00, drama); Table for Two (2013, 15:00, drama); Make Believe (2012, 25:00, TV sit-com pilot); The Wedding Ring (2011, 15:00, drama), Somewhere Beyond (2009, 47:00, drama); Santa Rules (2007, 25:00, drama); A Second Chance (2004, 75:00, drama); Catherine's Story (1999, 81:00, drama); The Science Directorate (1999, 6:00, corporate); Color My World: The Arts in Medicine (1998, 57:30, documentary); C.P. Cavafy: From Ithaca to Tarpon Springs (1996, 29:50, documentary); The Death of a Bachelor (1995, 25:00, drama); and Goodbye, Socrates (1992, 37:00, drama). Dr. Babanikos' work has been screened in a number of national and international venues, and his projects have won many awards in various production competitions. Dr. Babanikos joined the faculty of Florida's Department of Media Production, Management, and Technology in 1993 and teaches courses in the production sequence.
Areas of Expertise
Editing (visual/audio), Film/Video: Feature, Video and Film Production and Post-production
Education
Ph.D., University of Texas at Austin
M.A., Broadcasting and Film Production, University of Iowa
Bachelor, Mechanical Engineering, Concordia University, Montreal, Canada
News
Research
Encoding practices of video and film production, media writing, and documentary theory and practice.
Research Keywords
Documentary theory and history, narrative strategies, film/video production
Research Areas
Creative Production/Documentary/Visual Communication
Courses
Syllabi from the current and three previous semesters: