James Babanikos Named CJC Associate Dean for Undergraduate Affairs
James Babanikos, University of Florida College of Journalism and Communications Telecommunication professor, has been selected as the new Associate Dean for Undergraduate Affairs effective Dec. 1. In this role, he will oversee undergraduate and transfer student recruitment and enrollment, student advising, student academic progress and updates to the undergraduate catalog.
Babanikos has been entrenched in undergraduate education as a CJC faculty member since 1993 and as a Preview Faculty Advisor for 15 years. He has received the College's Faculty Advisor/Mentor Award, twice been named CJC Teacher of the Year, received a UF Research Foundation Professorship and earned a Service, Teaching and Research Award.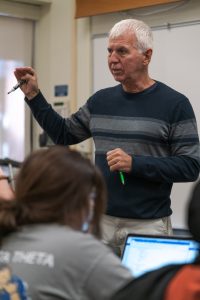 He has been an award-winning writer and director in video and film since 1984 and has writing/editing/directing/producing credits on nearly 40 projects. While serving in this new administrative role, he will continue his creative activities on a limited basis and will teach two courses per year.
Babanikos succeeds Michael Weigold who has held this role since 2010. Weigold, a CJC Advertising professor, will continue to teach and oversee the CJC Online undergraduate program.
Babanikos has a Bachelor's in Mechanical Engineering from Concordia University in Montreal, Canada; a Master's in Broadcasting and Film Production from the University of Iowa; and a Ph.D. in Radio-Television-Film from the University of Texas at Austin.
Posted: November 19, 2019
Category: College News
Tagged as: James Babanikos