CJC Students and Alumni Receive 2019 BEA Festival of Media Arts Awards
University of Florida College of Journalism and Communications Telecommunication alumni and students were recently honored in the 2019 Broadcast Education Association (BEA) Festival of Media Arts – News and Student Film and Video Competitions.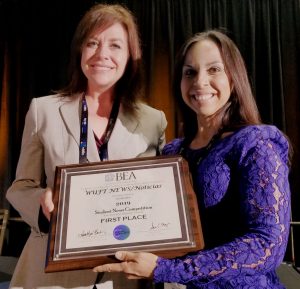 In the Student Television News competition, Noticias WUFT, the student Spanish-language news program, received top honors in the Television News Magazine category for "Life After Maria." The special chronicled life on Puerto Rico one year after the devastating hurricane. In the Television Feature category, Alexa Lorenzo, B.S. Telecommunication 2018, received second place for "Python Hunters."
In the Student and Video Competition Narrative category, Tamara Dobry, and Christopher Petow, both B.S. Telecommunication 2018, won second place for their film "I Remember." The film was their final project in Telecommunication Professor James Babanikos' Advanced Production Workshop course.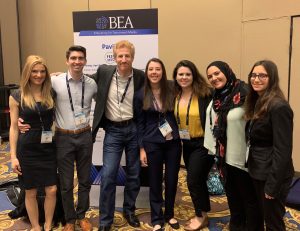 In addition, two student collaborations from Telecommunication Lecturer Iman Zawahry's Advanced Production class won Awards of Excellence in the Narrative category. Telecommunication seniors Kirby Dobbs and Kristina Perez were honored for their film "Finding Spencer Price." Stephen Panella and Erin Cooper, both B.S. Telecommunication 2018, and Telecommunication senior Gaby Muino won for their film "Crumbs."
In BEA's Inaugural Case Study Competition, Telecommunication Assistant Professor Roxane Coche won first place for her documentary "Once More at the River: From MLK to BLM." In the History Division, doctoral student Colin Kearney won the Top Paper Award for "Remakes and Retakes: A History of Television's Second Chances."
The BEA Festival of Media Arts is the world's largest digital media and broadcast competition for students and faculty. The 2019 competition featured 295 awards from over 1,500 entries received from 300 participating schools. The competitions for faculty and students cover the range from dramatic narratives, through non-fiction documentary and news to the frontiers of interactive multimedia. The awards were presented at BEA Conference held in Las Vegas from April 6-9.
Posted: April 10, 2019
Category: Alumni News, College News
Tagged as: BEA, Iman Zawahry, James Babanikos, Roxane Coche