Seungahn Nah Explores the Intersection of AI and Democracy
Seungahn Nah's curiosity hooked him on the path of research and took him from an internship in South Korea's National Assembly in the mid-1990s to pursue academia in the United States.
"I enjoy being curious about something new," said Nah, a Journalism professor, the inaugural Dianne Snedaker Chair in Media Trust, and research director in the Consortium on Trust in Media and Technology at the University of Florida College of Journalism and Communications. "I tend to bring up a lot of questions about why, how, and I'm not afraid of being on the edge of intellectual dialogue."
While at the National Assembly, he helped publish a guidebook regarding the internet and democracy, which was one of the factors that motivated him to pursue research on the intersection between technology and democracy.
He earned his doctorate from the School of Journalism and Mass Communication at the University of Wisconsin-Madison, where he specialized in political communication.
Three key words outline his scholarship: media, community and democracy. He focuses on news trust, credibility and civic engagement, which goes beyond voting and includes a sense of community.
"We bring knowledge and apply that to the real community," he said. "My policy focuses on those who have been underserved, underrepresented or marginalized from the mainstream society."
In particular, Nah is looking at marginalized communities without a single newspaper or few local media outlets. Nah said there are 200 predominantly rural counties that have experienced the loss of their local papers.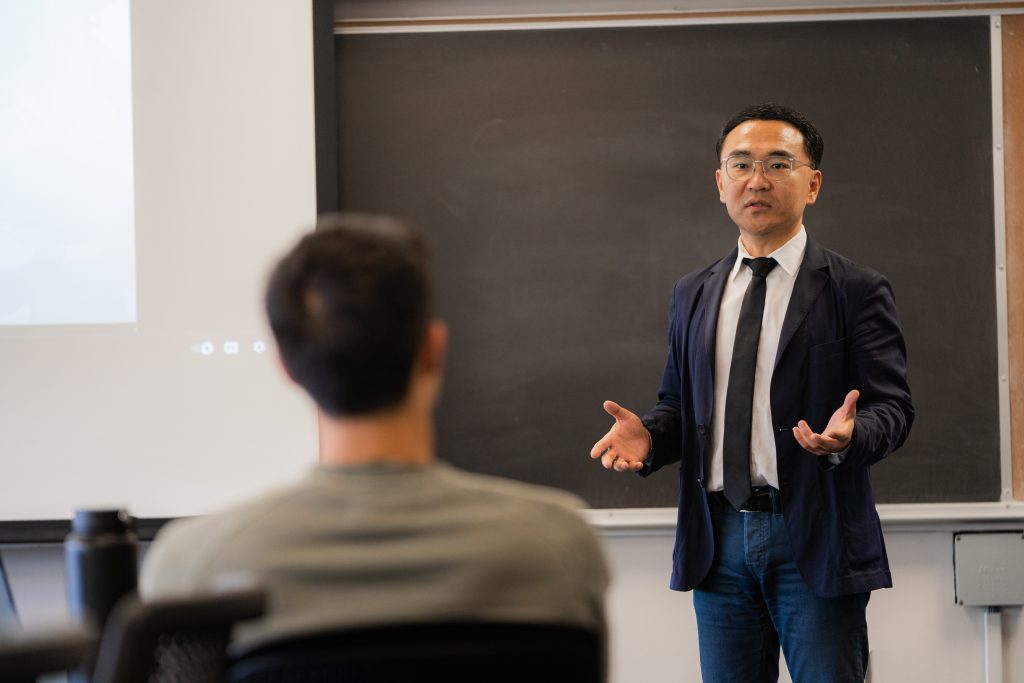 To address these news deserts, his research poses these questions: What can AI do for democracy? How can AI revitalize journalism for local communities?
The answer potentially lies in launching an AI-centered news platform to target news deserts and neighborhoods in larger cities that often receive less coverage. After news content from an AI platform is distributed throughout a community, Nah and his fellow researchers can examine the degree to which the platform can influence trust in news media, trust in journalists and the degree of civic engagement.
Last Fall, his team launched a pilot study in two rural Florida counties, Calhoun and Union, where there are limited news and information outlets.
The team used GPT2, the pretrained natural language processing model, to generate news stories based on their data from community websites and social media. Nah said this study was a valuable lesson in generating AI-enabled news platforms in those local communities. A survey gauging civic engagement and interaction with media will be conducted this year.
The next step, he said, is to launch an AI news platform in Miami focused on the 26 neighborhoods and the thousands of nonprofit and volunteer organizations in that region.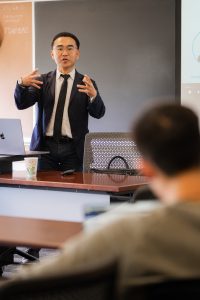 His goal is for the platform to be a community intervention and to examine the change in the residents' civic engagement and media viewpoints.
To examine this change, the team will survey residents about their news view, trust and civic engagement, expose them to the AI-generated news content and resurvey those same residents months later.
Miami is not considered a news desert and has several large media outlets. However, mainstream media rarely cover nonprofit and volunteer organizations, Nah said. These organizations provide services and programs related to health, affordable housing and vulnerable populations.
"[Nonprofit and volunteer organizations] create even stronger communities," Nah said, "but they have not been fully covered."
The distribution of nonprofit news in Miami will be a multi-year project. Nah said he wants to keep projects like these sustainable in local communities.
"The more citizens rely on news content concerning community issues, the more likely citizens are to engage in civic activities," he said. "They're more likely to have a higher level of social capital or trust or credibility in news and other social institutions and nonprofit organizations, which leads to higher levels of civic engagement."
Posted: February 27, 2023
Category: College News, Profiles
Tagged as: AIatUF, Consortium on Trust in Media and Technology, Democracy, Seungahn Nah